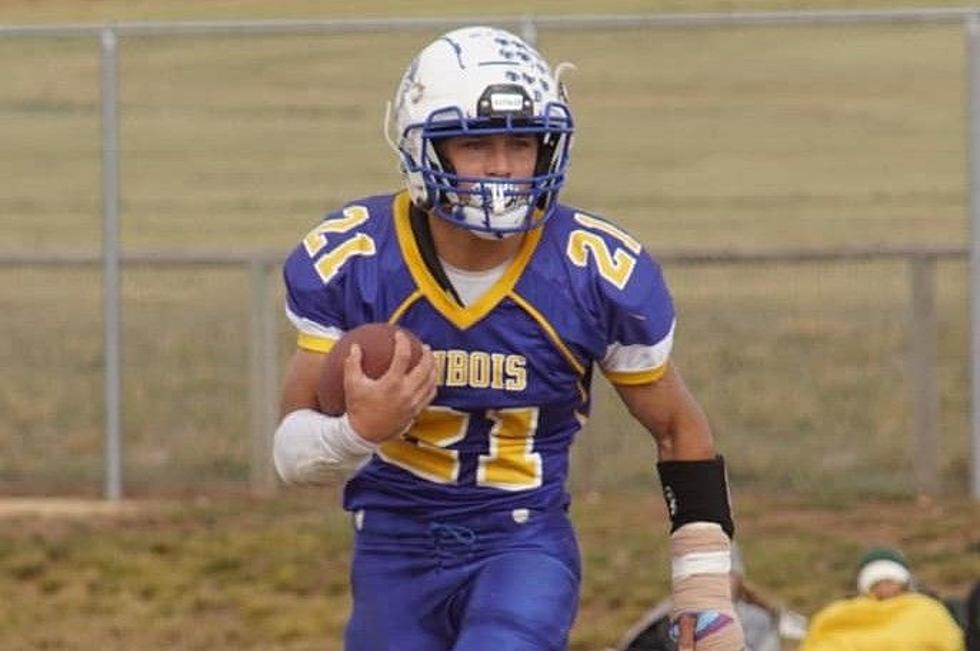 Dubois Posts Convincing Win over Farson-Eden in 6 Man Ranks
Adria Trembly Townsquare Media
The Dubois Rams won their first two games of the season, then lost 2 in a row and now have won 2 in a row following a 59-22 win over Farson-Eden on Saturday afternoon. The Rams outscored the Pronghorns in each quarter with a 21 point outburst in the 2nd stanza. Dubois running back Wyatt Trembly had 159 yards rushing in the game on 20 carries with four touchdowns, plus he caught a TD pass.  He had 210 all-purpose yards as the Rams had 433 yards of total offense. Trembly also had 10 solo tackles.
Farson got 122 yards and a touchdown from their super-back Trevor Jones with Conner Weese catching 3 balls for 74 yards and a couple of touchdowns. Levi Johnson led the Pronghorns on the other side of the ball with 20 defensive points.
Dubois is 4-2 overall and 2-2 in conference play and they'll be at Meeteetse this week. Farson is 3-2 overall and 1-0 in the league and they'll travel to Encampment on Saturday. We have a few photos of that game from Adria Trembly on that Farson-Dubois game this past week.
Farson-Eden Vs. Dubois Football 10-9-21
Farson-Eden Vs. Dubois Football 10-9-21
POKES: The Seven Best Games In The History Of The Wyoming-CSU Border War Rivalry (Naturally, they were all Wyoming wins)