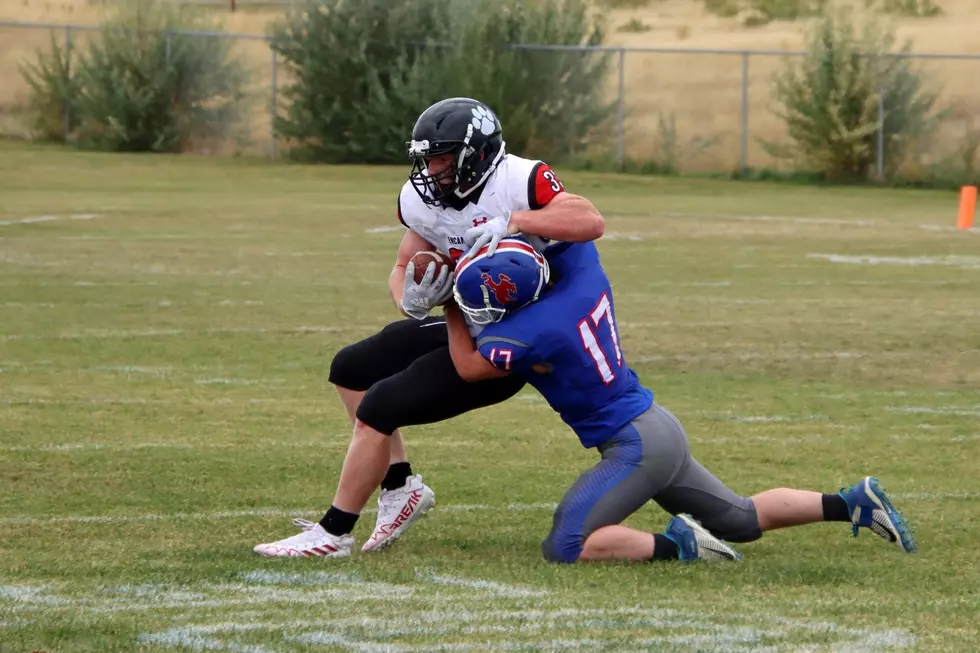 Encampment Claims 2nd in a Row With One-Sided Win Over Kaycee
Photo Courtesy: Anita Bartlett
The Encampment Tigers were the 1A 6-man runner-ups a year ago and this group is formidable this season too. They are 4-1 on the year after a 71-6 road win over Kaycee in a game where they amassed 372 yards rushing. The Tigers put 20 points on the board in the first quarter as Jordan McQuade turned in a 38 run for a touchdown, Bristin Sifford caught a 14-yard scoring pass from Gunner Henrie and Kaban Pickett ran it in from 8 yards out.
Kaycee finally got on the board on an 8-yard run to the end zone from Vaun Pierson but Encampment put the pedal to the metal after that. Jordan rang up 2 more touchdowns in the 2nd quarter and Pickett found his way to the end zone so the Tigers led 34-6 at halftime.
Pickett scored again in the 3rd quarter for Encampment, Bristin Sifford caught his 2nd and 3rd TD passes of the game, Jordan scored for the 4th time and Ryan Miller also had a rushing TD. Sifford ended up with 5 TD grabs for the game and Brian Smith added a rushing touchdown.
Encampment has a gigantic game this week in the 6-man ranks as they will host #1 Little Snake River on Saturday. Kaycee at 4-1 has a big game too when they travel to meet Burlington on Friday afternoon.
Be sure and take a peek at a few images of this Encampment-Kaycee game in our gallery below, courtesy of Anita Bartlett. Enjoy!
Encampment Vs. Kaycee Football
Encampment Vs. Kaycee Football