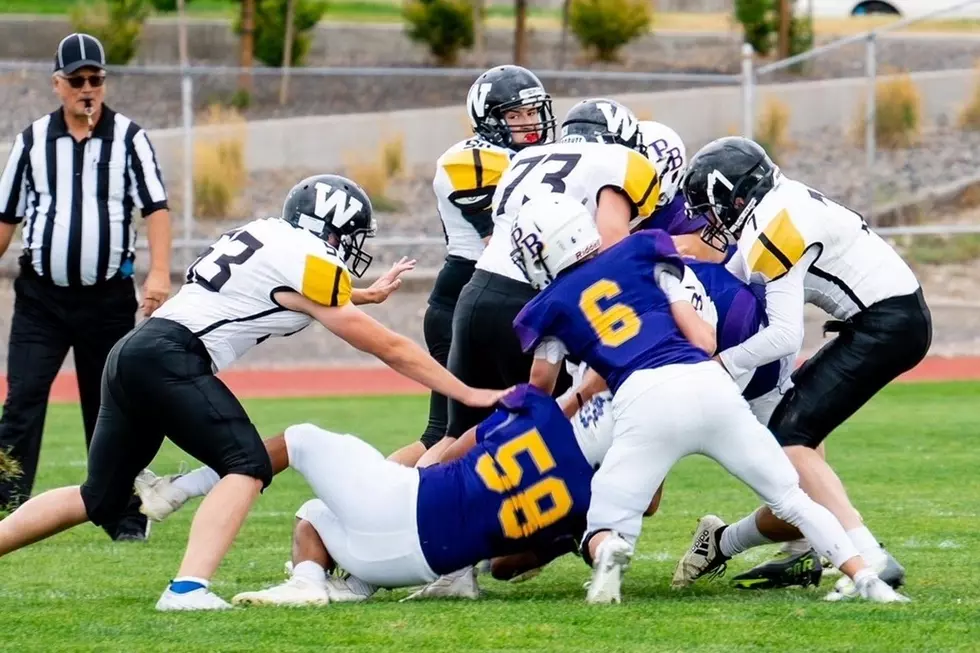 Pine Bluffs Rolls Wright to Stay Unbeaten in 1A 9-Man Football
Photo Courtesy: Ashley Jessen
Pine Bluffs put together another strong performance in 1A 9-Man football as they throttled Wright on Friday 40-18. The Hornets have all the pieces in place to win it all in 9-Man this year and have not been at full strength since Dalton Schaefer injured his shoulder in the season opening game against Shoshoni.
Wright started the game with a bang as Parker Worman returned the opening kick-off 95 yards for a touchdown to put the Panthers in front 6-0. After that, the Hornets took over as quarterback Stu Lerwick scampered into the end zone from 7 yards out and Pine Bluffs led 7-6. Lerwick threw a couple of touchdown passes  in the 2nd quarter, one to Ryan Fornstrom that went for 5 yards and the other to Collin Jessen that covered 17 yards.  Abe Serrano also had a 14 yard run to the end zone so the the intermission, the Hornets led 26-6.
Serreno added 2 more touchdowns in the 3rd quarter on a 9 yard run and 64 yard reception but Wright also scored twice in the 3rd as Worman got into the end zone from the doorstep and Angel Hernandez returned a kick-off 80 yards for a TD.
Pine Bluffs is 3-0 and will be on the road at Moorcroft this week. Wright is still looking for their first win of the year and they'll have a tough home encounter against Lingle-Fort Laramie also on Friday night.
We have a few photos of that PB-Wright game compliments of Ashley Jessen in our gallery below. Take a look!
Pine Bluffs Vs. Wright Football
Pine Bluffs Vs. Wright Football