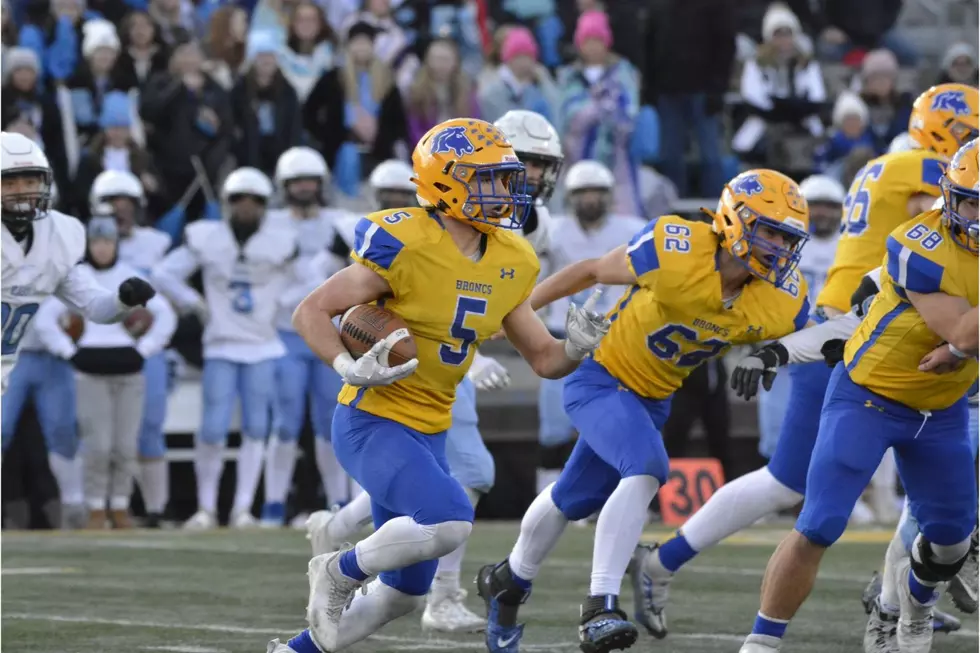 Sheridan's Colson Coon is the Gatorade Wyoming Football Player of the Year for 2022-23
Photo Courtesy: Carla Sessions
For the second consecutive year, Sheridan's Colson Coon is the winner of the Gatorade Wyoming Football Player of the Year Award, this time for 2022-23.
In its 38th year of honoring the nation's best high school athletes, The Gatorade Company announced the winner on Friday. Coon is the ninth Gatorade Wyoming Football Player of the Year to be selected from Sheridan High School. He's also the second member of his family to win this award, joining his older brother Garrett, who won it in 2019.
The 5-10, 180-pound Coon led the Broncs to a 12-0 record and the Class 4A State Championship last fall for the second straight year. It was Sheridan's 29th state title in program history. The senior running back and linebacker ran for 2,195 yards and 34 touchdowns on 222 carries. Coon also caught 14 passes for 217 yards and two more TDs. On defense, the senior had 93 tackles, two sacks, five tackles for loss, a fumble recovery, and an interception. Coon scored two defensive touchdowns, as well. He was a unanimous choice for the Class 4A Offensive Player of the Year in 2022 for the second straight season in a row. Coon was all-state at running back and linebacker. He also served as the team's kicker and punter.
In the three playoff games, Coon rushed for 986 yards and 13 TDs. He set a single-game state record with 517 yards in the state semifinal win over Cheyenne Central.
In the release from The Gatorade Company, Rock Springs head coach Mark Lenhardt was very complimentary of the Sheridan senior.
"Coon is one of the best all-around football players that I've seen in a long time. His competitive spirit cannot be understated. Sheridan relied on him (in every phase). His durability to never come off the field and get stronger as the game goes on shows his leadership and competitive desire."
Coon is also a standout wrestler and soccer player at Sheridan High School. He finished second in the Class 4A 170-pound weight class at the state wrestling championships as a junior in February 2022. His record last season was 34-9. On the soccer field, Coon was an all-state player and scored a team-high 23 goals and had six assists for the Broncs. He led Sheridan to an overall record of 15-5 and a runner-up finish at the Class 4A state championships.
In the classroom, Coon maintains a 3.71 GPA. He has volunteered as a mentor within Big Brothers Big Sisters and participates in Sheridan's Bronc Builders initiative. He has also donated time with Sheridan High School's WYO Rodeo.
Coon remains undecided about a college destination.
This award recognizes not only outstanding athletic excellence but also high standards of academic achievement and exemplary character demonstrated on and off the field. It distinguishes Coon as Wyoming's best high school football player. He is now a finalist for the prestigious Gatorade National Football Player of the Year award, which will be announced later this month.
Being a Gatorade Player of the Year means paying it forward for the next generation. Through Gatorade's Play it Forward initiative, every Player of the Year receives a grant to give to one of Gatorade's social impact partners, supporting Gatorade's ambition to fuel the future of sport. To date, Gatorade Player of the Year winners' grants has totaled more than $3.5 million across more than 1,300 organizations.
Coon joins recent Gatorade Wyoming Football Players of the Year Graedyn Buell (2020-21) from Cheyenne East, Garrett Coon (2019-20) of Sheridan, and Parker Christensen (2018-19) from Sheridan.
Information from a press release from The Gatorade Company was used in this story.
2022 4A Football Championship-Sheridan vs. Cheyenne East
2022 4A Football Championship-Sheridan vs. Cheyenne East