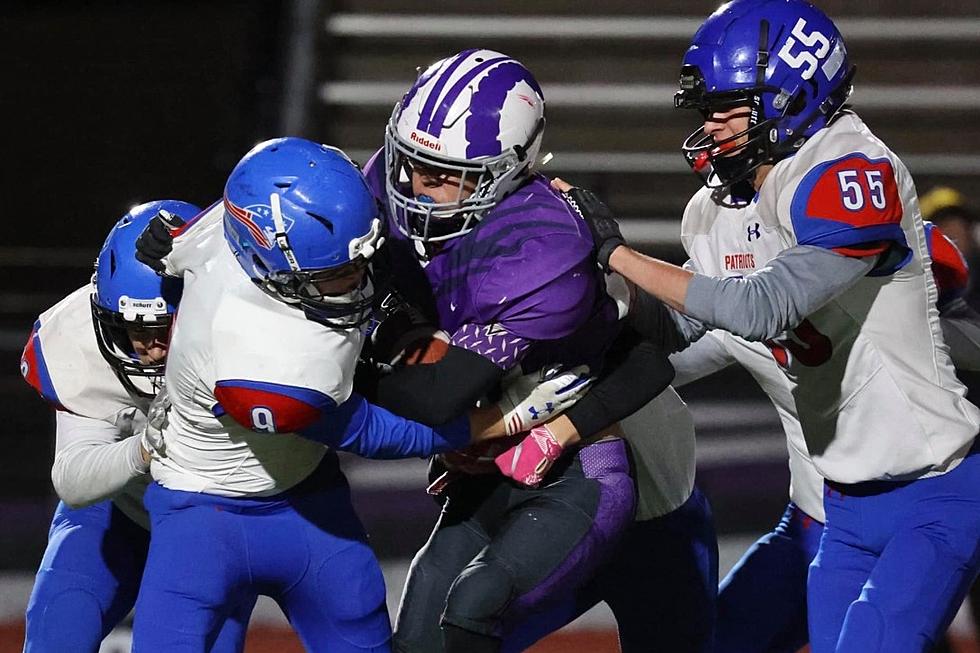 Upton-Sundance Inches Closer to Playoffs, Shutting Out Glenrock
Marsha Barritt Townsquare Media
Upton-Sundance is certainly a playoff-worthy team and took a big step towards the postseason with a 45-0 road win over Glenrock on Friday night. The Patriots put 13 points on the board in the first quarter and led 19-0 at halftime. A big 19 point 3rd quarter put the game out of reach as the Pats improved to 5-2 overall and 4-2 in the 2A East.
Individually, Luca Brooks had a sensational game for Upton-Sundance with 4 touchdown catches of 35,28,44, and 41 yards. The Patriots also ran the ball effectively as Reese Barritt had 99 yards on the ground and Levi Rudloff had 96. Keaton Mills had 2 rushing in the game for Upton-Sundance who rang up 397 yards of total offense.
The Patriots can punch their ticket to the 2A playoffs with a win over Big Horn and with some help can grab the #2 seed or the #3 seed, The Patriots can still get in with a loss as #4 seed or in some scenarios, not make it all with a loss.
It's been tough sledding for Glenrock as they are 2-6 overall and 0-6 in conference play. The Herders will conclude the regular season with a home game against Tongue River
We have some fantastic photos from Friday's game in our gallery thanks to Marsha Barritt so be sure and take a look at those!
Upton-Sundance Vs. Glenrock Football
Upton-Sundance Vs. Glenrock Football
Wyoming Vs. Fresno State Football 10-16-21
Wyoming Vs. Fresno State Football 10-16-21