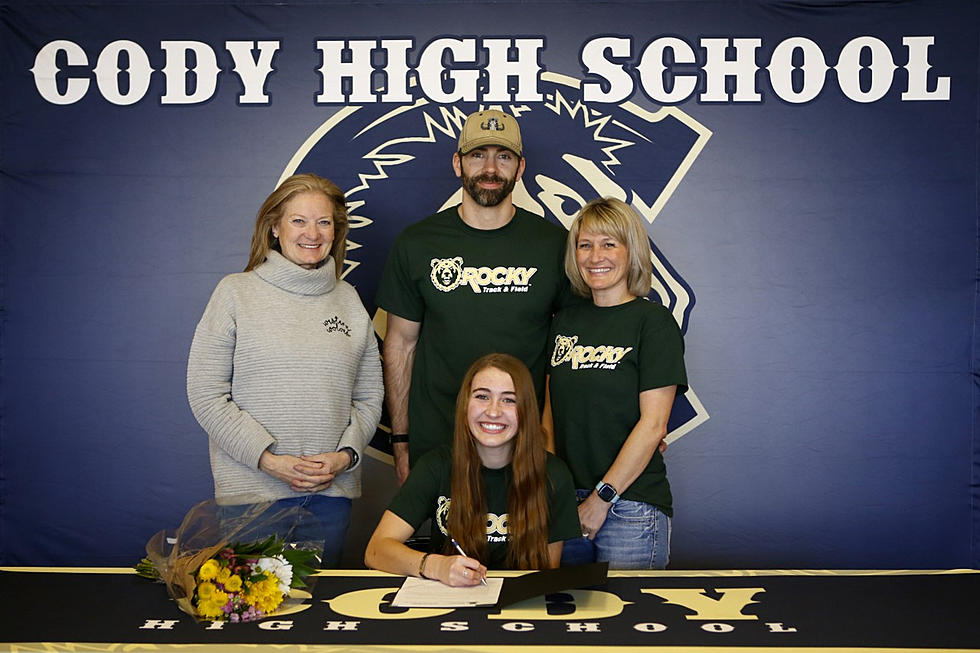 Cody's Taylen Stinson Will Run at Rocky Mountain College
Courtesy: Amber Steinmetz, Cody Enterprise
Cody senior Taylen Stinson recently signed to run cross country and track at Rocky Mountain College.
Stinson has earned nine varsity letters in cross country, indoor and outdoor track during her prep career at Cody High School.
She has also earned all-state awards in all three sports. Stinson has won four state championships as a member of relay teams in both indoor and outdoor track.
As a senior last fall, Stinson took third place in the Class 3A cross-country state championships. She crossed the finish line at a time of 19:47.12. Stinson received an all-state award and helped Cody win its fourth straight Class 3A girls' team championship. She ran cross-country for the first time in the fall of 2021 and competed at the state meet.
In indoor track, Stinson has received two all-state awards. She lettered and qualified for the state indoor track championships all four years of high school. At the 2023 championships, the senior was a member of the victorious 4x400 and sprint medley relays that set two new state records. Their time was 4:13.75 in the 4x400 meter relay and 4:21.11 in the sprint medley relay. Stinson took second in the 1600 meters and was third in the 800 meters. In 2022, she was part of the winning 4x400-meter relay at the state championships.
Stinson garnered an all-state award in the 2022 outdoor track and field season. She helped Cody win the 4x800 meter relay in Class 4A at a time of 9:49.37. Stinson also competed on two other relays and ran the 1600 meters, individually. She also qualified and ran at the 2021 outdoor state track meet. Her 2020 outdoor season was canceled due to Covid.
Stinson has also lettered twice in girls' swimming and diving. She qualified for the Class 3A state championships in 2020, swam the 200 and 500 freestyle races, and helped the Fillies place second.
Rocky Mountain College competes at the NAIA level of intercollegiate athletics. They are a member of the Frontier Conference. The Battlin' Bears women's cross-country team won two meets in the 2022 season, finished second on three occasions, which included the conference meet and competed at the NAIA national championships last November in Tallahassee, FL.
3A Girls State Cross Country
3A Girls State Cross Country