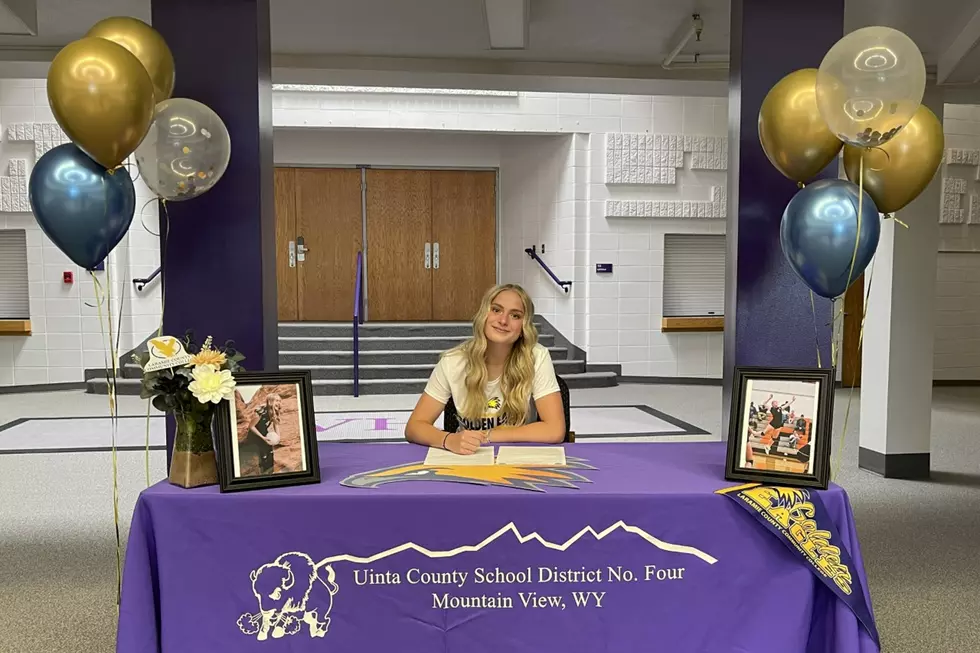 Emalee Bugas of Mountain View Signed for Volleyball at Laramie County Community College
Courtesy: Dustin Rees, Mountain View HS
Mountain View's Emalee Bugas decided to play volleyball at Laramie County Community College in Cheyenne.
Bugas was an all-conference selection her senior year for the Buffalos. She helped Mountain View to a runner-up finish at the Class 3A state volleyball tournament and an overall record of 33-4. The Buffalos won the 2021 Class 3A West Regional title. Bugas was also a part of Mountain View's Class 3A state championship volleyball team in 2020.
In her senior season, Bugas had a serve percentage of 96.2 percent. She had 29 aces and only 17 errors. Bugas averaged a 2.05 in serve receive on 352 serves received with only 12 errors. She had 290 digs, 51 assists, and 45 total blocks in the 2021 season.
Mountain View head coach Diana Tims said of Bugas, "Emalee is an incredible person and athlete. She is coachable, level-headed, consistent, genuine, kind, disciplined, a fast learner, and will give it her all in any situation. She will be an asset to LCCC's program with her top-notch ball control, amazing work ethic, and impressive volleyball skills and IQ. I am very proud of this amazing young lady."
Bugas also played basketball and soccer at MVHS. She was a two-time all-conference soccer player and helped the Buffalos to a fourth-place finish in 2021, their inaugural season, and a third-place finish in the 2022 season.
Emalee plans on majoring in Nursing with a minor in Nutrition. Someday, she'd like to be a traveling nurse.
Information courtesy of a release by Mountain View High School.
Lyman Vs. Mountain View 3A Volleyball Championship
Lyman Vs. Mountain View 3A Volleyball Championship