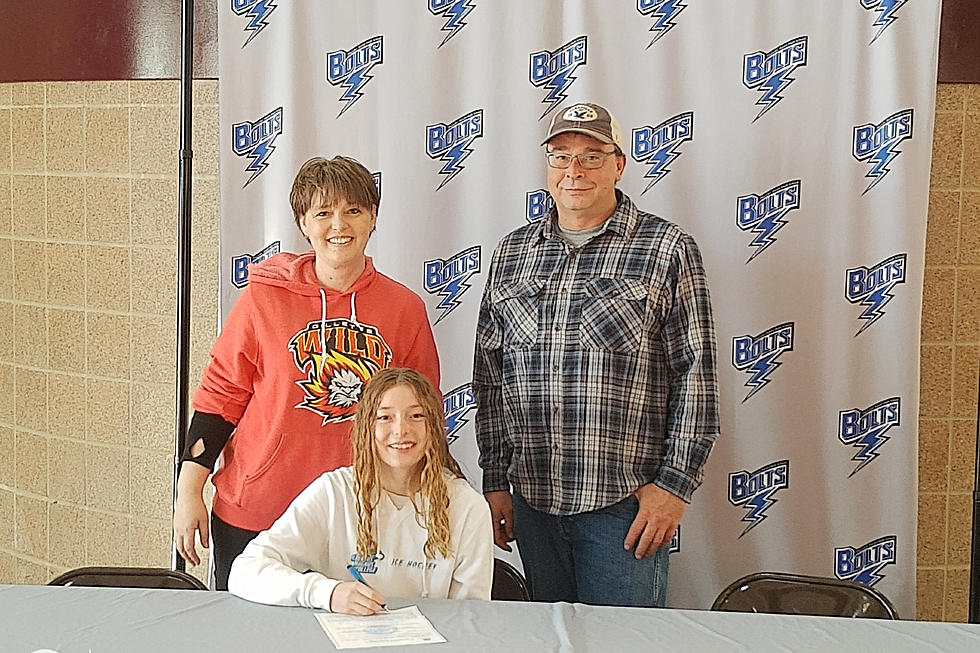 Gillette's Zoey Soost Will Play Hockey at Albertus Magnus College
Courtesy: Jara Soost
Thunder Basin senior Zoey Soost signed her National Letter of Intent for hockey at Albertus Magnus College.
Soost is the first goalie from Gillette to sign to play college hockey.
The senior played for the Gillette Grizzlies. She helped them win the state championship in the girls' 19U division of the Wyoming Amateur Hockey Association.
In the regular season, Soost had a 10-6-4 record in 20 games in goal. She finished with 555 saves and a 2.25 goals-against average. Her save percentage was .925 in 959 minutes. Soost posted three shutouts for the Grizzlies, who tied for second in the regular season.
At the state tournament, Soost went 3-0 with a .925 save percentage and a 2.32 goals-against average. She made 86 saves over three games and had one shutout. Soost's efforts helped Gillette win the state championship. They beat Sheridan, 3-1, in the title game.
Albertus Magnus College is in New Haven, CT. The Falcons will have their inaugural season of women's hockey starting this fall of 2023. They compete at the NCAA DIII level and are members of the Great Northeast Athletic Conference (GNAC).
Wyoming High School Sports Pics of the Week: Mar. 30-Apr. 1
Wyoming High School Sports Pics of the Week: Mar. 30-Apr. 1