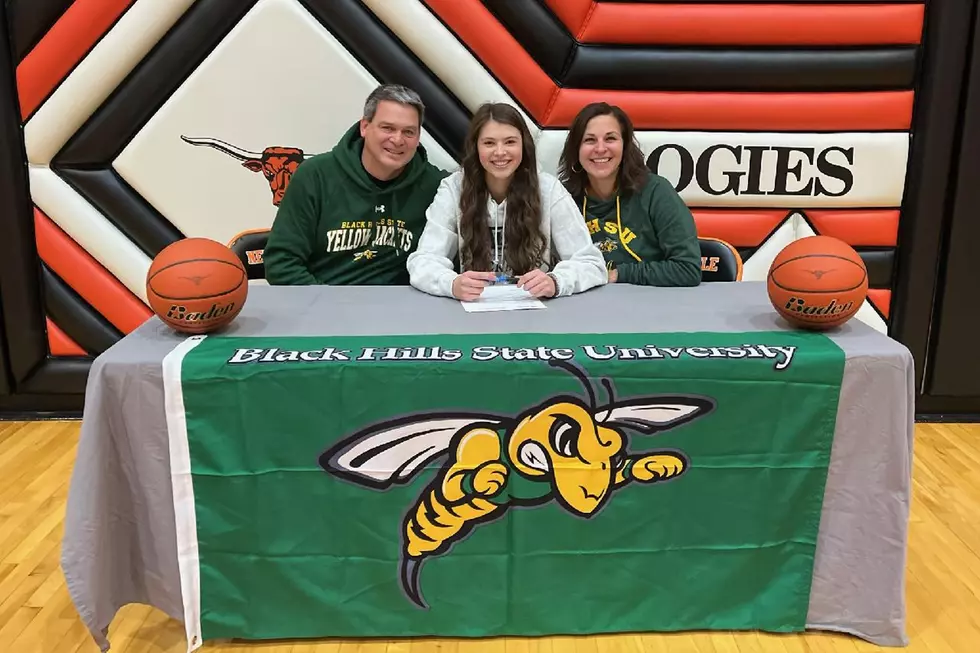 Jaylen Ostenson of Newcastle Signs for Basketball at Black Hills State
Courtesy: Chad Ostenson
Newcastle standout Jaylen Ostenson has decided to play basketball at the next level for the Black Hills State Yellow Jackets.
Ostenson recently signed with BHSU. She still has her senior season to play.
She is a three-time all-state and all-conference selection over the first three years of her high school basketball career. Ostenson has already surpassed 1,000 points in her career. Entering her senior season, Jaylen has scored 1,214 career points. She has averaged 16.9 points per game over the first three years at Newcastle High School.
In the 2021-22 season as a junior, Ostenson led Newcastle to a 23-3 record. They won the regular season conference title in 3A Northeast Quadrant with a 6-0 mark. The Dogies captured the consolation trophy at the 3A state tournament. Last season, Ostenson averaged 17.2 points, 7.6 rebounds, and 3.6 assists per game.
As a sophomore, she averaged 19.7 points and 7 rebounds per game. The Dogies finished 14-9 that season. In her freshman year, Ostenson averaged 13.7 points and 8 rebounds per game. Newcastle was 9-14 that season.
Jaylen has also played volleyball and competed in track and field for the Dogies. She was a four-time all-conference selection on the volleyball court. Ostenson helped Newcastle reach the 3A volleyball state tournament the last two seasons. In track and field, Ostenson qualified for the state meet in three events during her sophomore year in 2021.
Black Hills State University is in Spearfish, SD. The Yellow Jackets compete at the NCAA Division II level and are part of the Rocky Mountain Athletic Conference.
Newcastle Vs. Douglas Girls Basketball
Newcastle Vs. Douglas Girls Basketball