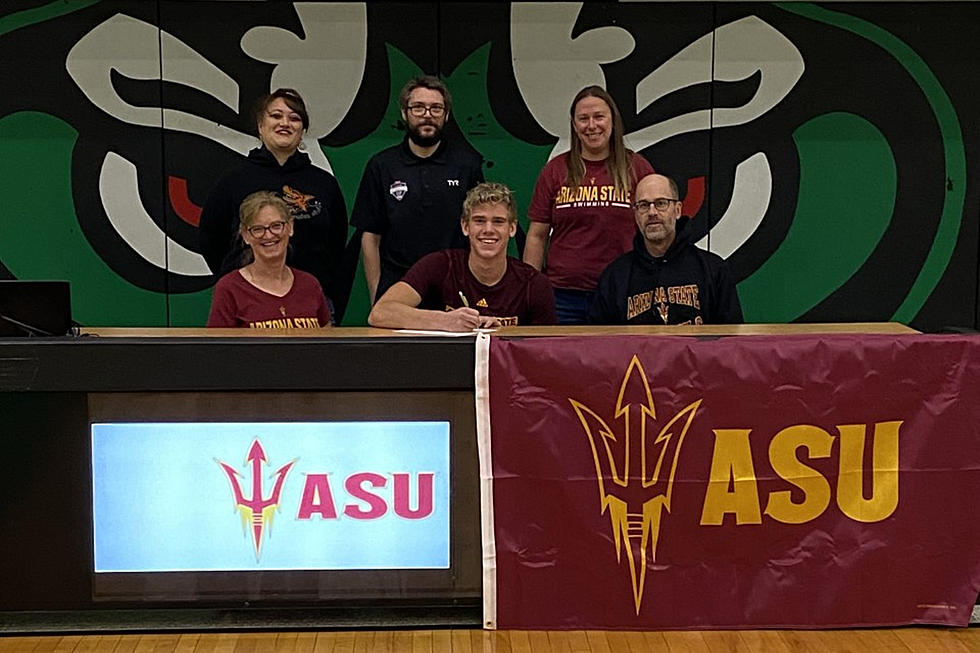 Lander's Jonny Kulow Makes it Official, Signs to Swim at Arizona State
Courtesy: Brad Neuendorf, Lander Valley High School
After committing a year ago, Lander star swimmer Jonny Kulow has signed his National Letter of Intent to Arizona State.
Kulow is the No. 1 ranked swimmer in Wyoming. He's a three-time all-state swimmer and has led Lander to the last three Class 3A boys' team state championships. That's helped the Tigers continue their streak of 25 consecutive state titles.
The senior has won 11 of the 12 events he has swum at the 3A state championships. Kulow has placed first in two 100 freestyle races, a pair of 200 individual medley races, one butterfly race, and one backstroke race. He's also been part of five relay crowns. Two of those are in the medley relay, two are in the 400 freestyle relay, and one is in the 200 freestyle relay.
Kulow holds five individual state records. Three of those are all-class state marks. He has the Wyoming record of 44.56 seconds in the 100 free, 48.29 seconds in the 100 butterfly, and 1:50.94 in the 200 IM. Kulow also has two Class 3A state records in the 50 free at 20.36 seconds and the 100 back at 50.08 seconds.
He's also part of three relay all-class records in the state for the medley, 200 freestyle, and 400 freestyle.
Kulow swam at last summer's US Olympic Trials in the 50-meter freestyle.
He was one of 12 swimmers or divers to sign with the Sun Devils earlier this month.
Kulow will swim for Bob Bowman, who serves as the head coach for swimming at ASU.
If you have any information regarding a high school student-athlete signing to participate in sports at any level of college, please email any info to david@wyopreps.com. WyoPreps also would like any photo of a student-athlete signing or in competition to accompany the story.
The Occupations That Employ The Most People in Wyoming
Jobs, you'll spend about a
third of your life
at one. Yep, thirty percent of the average human's life is spent working at a job. So, what are people doing to get that check, and where are they doing it?
The folks at
CareerOneStop
(sponsored by the U.S. Department of Labor) dug into the number and came up with the list of the occupations that employed the most people in Wyoming (according to 2018 numbers). There's a good chance that you or someone you know works in one of these fields.