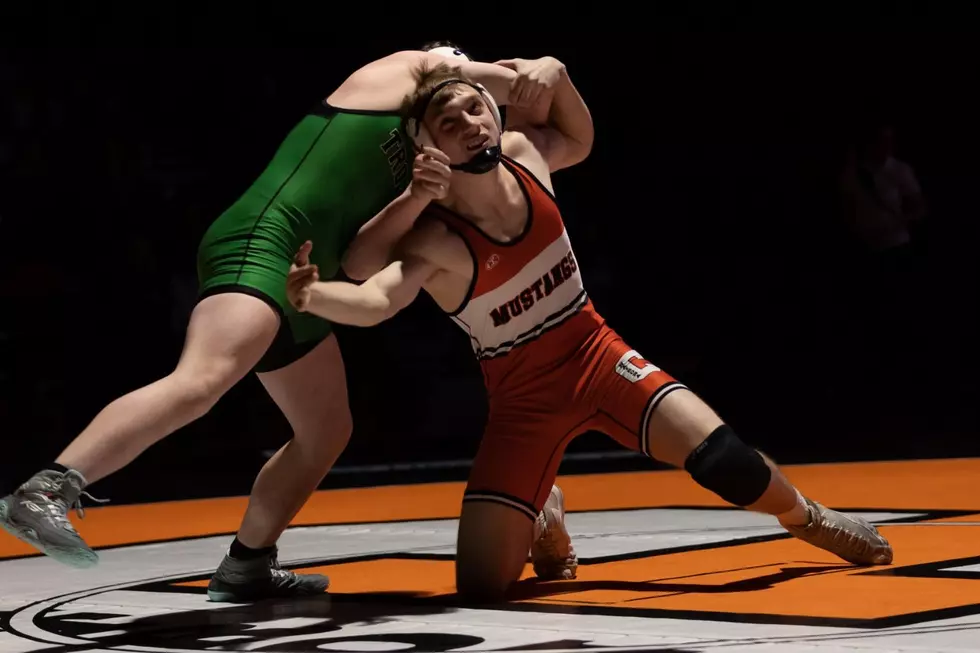 Natrona Wrestlers Win Miller Cup over Kelly Walsh
Photo Courtesy: Libby Ngo
The Casper schools, Kelly Walsh, and Natrona County met on the mat on Thursday night in the annual Miller Cup in front of an enthusiastic crowd at the NC Gym. The feature match was at 106 pounds featuring KW's Dylan Sorensen who won a Ron Thon Tournament title against NC's Tristen Tromble who placed 2nd at this weight at the 4A 2022 state tournament. Sorensen prevailed 2-1 in a match that was good as advertised. Natrona overall had the upper hand in the dual as they posted 5 pins and with a couple of major decisions. One of those pins came from defending 4A 182-pound state champion Noah Sides. The Mustangs won the dual 48-16.
There were four matches on the girls' side with the teams splitting those. Natrona got pins from Addison Bauer and Andraya Canchola. Kelly Walsh had 2 victories by fall from Alyse Richardson and Abbi Dickerson.
We have some great photos to share from the Miller Cup courtesy of Libby Ngo and Shannon Dutcher. They can be found in our gallery below. Enjoy!
Natrona vs. Kelly Walsh Wrestling 2023 Miller Cup
Natrona vs. Kelly Walsh Wrestling 2023 Miller Cup