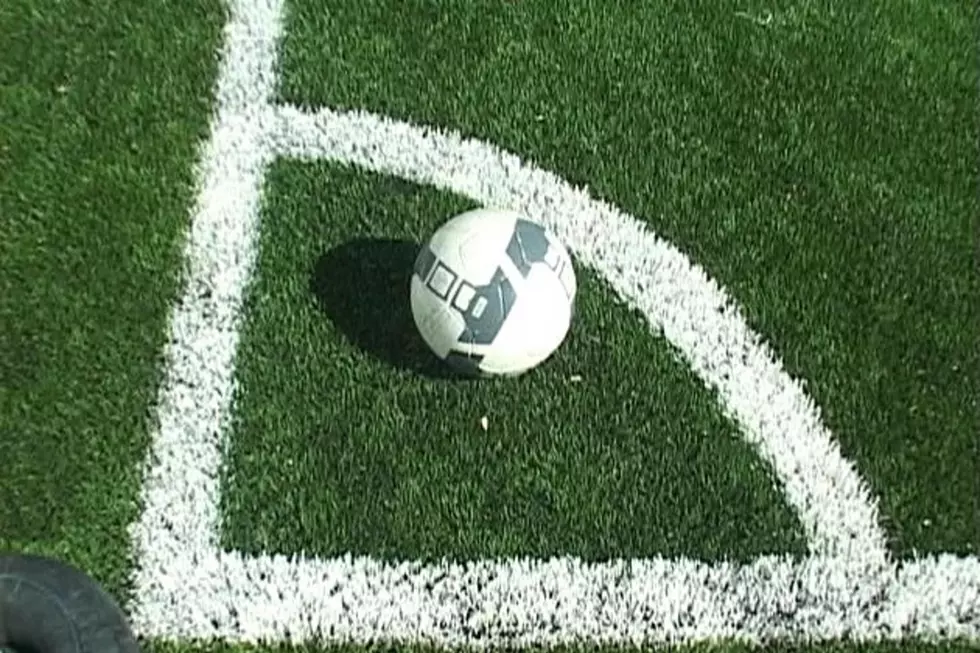 Wyoming High School Boys Soccer Scoreboard: April 26 – May 1, 2021
Kevin Koile, WyoPreps.com
Boys' soccer teams in Wyoming will be playing each day this week, the seventh week of the prep soccer season.
Postponed matches from earlier in the season are being made up this week. Teams have to make up the conference matches for seeding purposes at 4A regional tournaments or which 3A teams advance to the state tournament. There are a handful of other matches on the slate as well.
Here are the matches on the schedule for Week 7. Schedules are subject to change.
MONDAY, APRIL 26
Class 3A:
#5 Douglas 3 Newcastle 1 (conference match) - Bearcats had a 3-1 lead when lightning stopped the match with 25 minutes left. The match could be resumed when they meet for their 2nd conference game.
TUESDAY, APRIL 27
Class 4A:
Cheyenne East at Cheyenne Central, 4 p.m. (conference match) - postponed to tomorrow
Final Score: Rock Springs 1 Evanston 0 (conference match)
Class 3A:
Final Score: #1 Worland 5 #3 Lander 1
Interclass Opponent:
Final Score: 3A Torrington 5 4A Campbell County 1
WEDNESDAY, APRIL 28
Class 4A:
Final Score: #5 Cheyenne Central 4 Cheyenne East 0 (conference match)
Final Score: Evanston 3 Green River 1 (conference match) - Perez with the hat trick
Class 3A:
Final Score: Rawlins 6 Lyman 1
THURSDAY, APRIL 29
Class 4A:
Final Score: Laramie 6 Cheyenne South 0 (conference match)
Final Score: Rock Springs 2 Green River 1 (conference match)
Class 3A:
Final Score: #2 Powell 3 #5 Cody 1 (conference match)
Final Score: #3 Lander 4 Pinedale 1 (conference match)
Out-of-State Opponent:
Final Score: 3A #4 Douglas 4 Gering, NE 0 - Jackson Hughes with the hat trick
FRIDAY, APRIL 30
Class 4A:
Final Score: #3 Kelly Walsh 1 #1 Jackson 0 (conference match)
Final Score: #2 Thunder Basin 5 Laramie 0 (conference match)
Final Score: #4 Sheridan 3 #5 Cheyenne Central 2 (conference match)
Final Score: Cheyenne East 3 Campbell County 2 - OT (conference match)
Final Score: Natrona County 2 Star Valley 1 (conference match)
Class 3A:
Final Score: #4 Douglas 2 Rawlins 1 - OT (conference match) - Hughes GW PK with 7 mins left in 2nd half of OT
Final Score: Torrington 3 Buffalo 1 - OT (conference match)
Final Score: Riverton 10 Newcastle 0 (conference match)
Final Score: #1 Worland 14 Lyman 0 (conference match)
SATURDAY, MAY 1
Class 4A:
Final Score: #1 Jackson 6 Natrona 1 (conference match)
Final Score: #4 Sheridan 3 Cheyenne East 0 (conference match)
Final Score: #5 Cheyenne Central 2 Campbell County 0 (conference match)
Final Score: #3 Kelly Walsh 5 Star Valley 0 (conference match)
Final Score: #2 Thunder Basin 14 Cheyenne South 0 (conference match)
Class 3A:
Final Score: #1 Worland 17 Mountain View 0 (conference match)
Final Score: Riverton 3 Buffalo 2 (conference match)
LOOK: 15 Discontinued McDonald's Menu Items