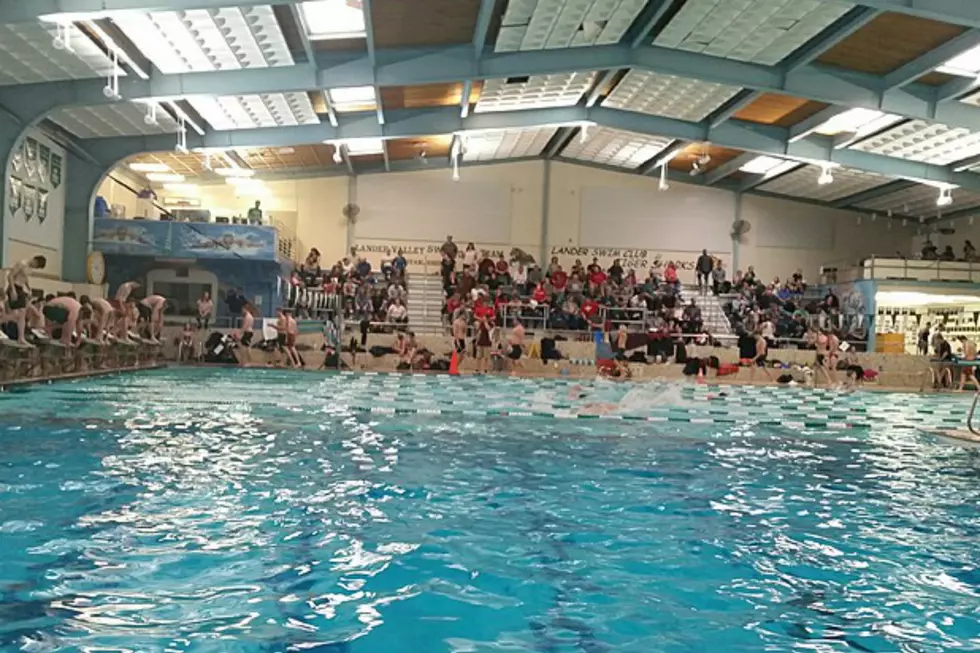 Wyoming High School Boys Swimming Scoreboard: Jan. 18-22, 2022
Frank Gambino, WyoPreps.com
The push towards the state championships is hitting full stride for boys' swimming & diving teams across the state.
It's week seven of the season. Opportunities to qualify for the state meets are starting to wind down a little.
Some three, four, and five teams meets are scattered throughout the week, but the biggest is the annual Bruce Gresly Invite in Lander on Saturday, which features ten schools.
Schedules are subject to change. If you see something missing or a change has been made, please email david@wyopreps.com.
Tuesday, Jan. 18:
CODY TRIANGULAR – Cody, Powell, Worland
Scores: Powell 96 Worland 84; Worland 109 Cody 52; Powell 123 Cody 54
Cody's Bradley McKenzie won the 50 and 500-freestyle races. Worland's Traeten Quigley won the IM and Backstroke races. Worland swept all 3 relays.
GREEN RIVER AT LANDER – dual
No team scores were kept.
LARAMIE QUAD – Cheyenne Central, Cheyenne East, Cheyenne South, Laramie
Scores: Laramie 125 South 54; Laramie 135 East 38; Laramie 102 Central 78; South 102 East 68; Central 118 South 63; Central 133 East 47
Thursday, Jan. 20:
GREEN RIVER INVITE – Evanston, Green River, Lyman, Rawlins, Rock Springs, Sublette County
Rock Springs' John Spicer captured the 50 and 100 freestyle races. Brady Young of Green River won the 200 and 500 freestyle races. Lyman's Bo Busskohl won the IM and backstroke races. Rock Springs won two of the three relays.
Team Scores: Rock Springs 262, Green River 244, Sublette County 214, Evanston 194, Lyman 188, Rawlins 125
NEWCASTLE TRIANGULAR – Buffalo, Douglas, Newcastle
Team Scores: Buffalo 92, Douglas 44, Newcastle 35
Friday, Jan. 21:
4A DUALS IN LARAMIE (1 dual) – Campbell County, Kelly Walsh, Laramie, Thunder Basin
Scores: Laramie 103 Kelly Walsh 74; Campbell County 73 Thunder Basin 42.
Cheyenne Central 107 Cheyenne East 67 – dual
CHEYENNE SOUTH AT LANDER – mixer
Green Mix Up 94 Gold Mix Up 92
Sublette County 103 Kemmerer 56 – dual
Evanston 114 Lyman 65 – dual
Riverton 167 Natrona County 56 – dual
Saturday, Jan. 22:
4A DUALS IN LARAMIE (2 duals) – Campbell County, Kelly Walsh, Laramie, Thunder Basin
AM Dual Scores: Kelly Walsh 129 Thunder Basin 35; Laramie 102 Campbell County 52
PM Dual Scores: Laramie 101 Thunder Basin 42; Kelly Walsh 122 Campbell County 55
BRUCE GRESLY INVITE in Lander – Buffalo, Cheyenne South, Cody, Douglas, Green River, Kemmerer, Lander, Rawlins, Riverton, Rock Springs
Lander sets a new state record in the 200 Medley relay with a time of 1:32.97. That's an automatic All-American qualification time.
Team Scores: Lander 359, Buffalo 194, Cheyenne South 162, Rock Springs 144, Green River 138, Rawlins 98, Riverton 92, Cody 66, Kemmerer 62, Douglas 56
Powell 94 Worland 92 – dual
Wyoming's Underground Geothermal Cave is Real and You Proved It