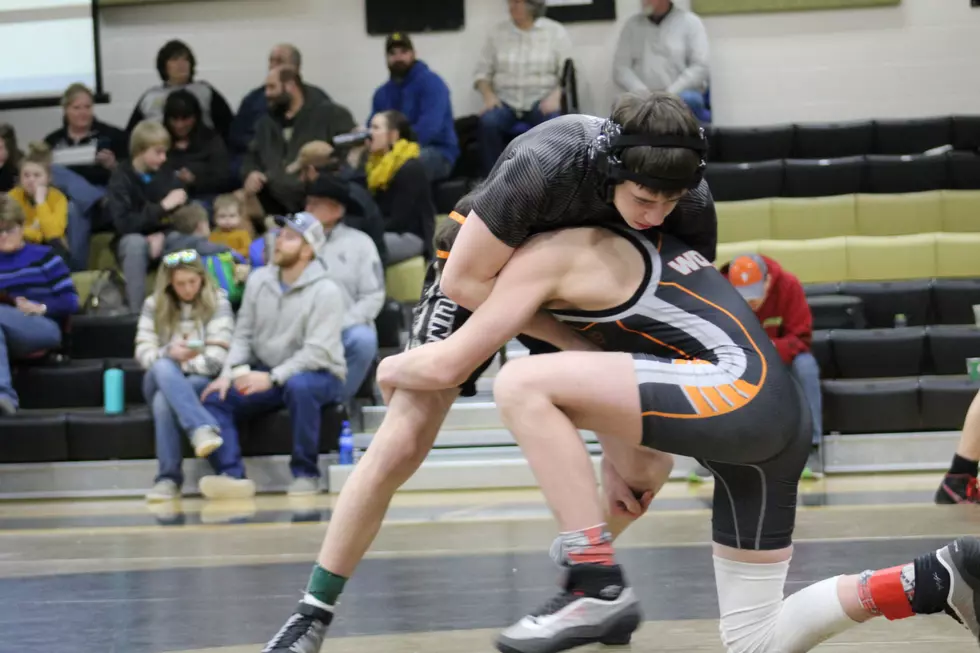 Wyoming High School Wrestling Scoreboard: Dec. 8-10, 2022
Mollie Lee
Townsquare Media
This is the first weekend of the 2022-2023 Wyoming High School Wrestling season. There is a ton of action as teams travel for tournaments and invites.
There are a couple of duals this week, but most teams are headed to either Cheyenne East for the Charlie Lake Invite or to Powell for their invite. There are also a couple of schools hosting smaller tournaments or traveling out of state.
All schedules are subject to change.
Thursday, Dec. 8
Spring Creek, NV at Evanston - missing results
Torrington 48 Cheyenne South JV 31
Cheyenne Central 36 Wellington, CO 24
Glenrock Triangular = Buffalo, Douglas, Glenrock - missing results
Friday, Dec. 9
Braves Brawl at Star Valley HS = Cokeville, Star Valley, American Falls (ID), Logan (UT), Shelley (ID), Sky View (UT), Sugar-Salem (ID), Thunder Ridge (ID)
Charlie Lake Duals at Cheyenne East HS = Burns/Pine Bluffs, Cheyenne Central, Cheyenne East, Cheyenne South, Douglas, Kelly Walsh, Laramie, Rawlins, Rock Springs, Torrington, Wheatland, Berthoud (CO), Eaton (CO), Fort Collins (CO), Fossil Ridge (CO), Mead (CO), Ogallala (NE), Scottsbluff (NE), Sidney (NE), Thompson Valley (CO)
Evanston Invite at Evanston HS = Big Piney, Evanston, Jackson, Lyman, Mountain View, Pinedale, Rock Springs JV, Bear River (UT), Duchesne (UT), Northridge (UT), Orem (UT), Spring Creek (NV), Weber (UT)
Lusk Invite at Lusk HS = Glenrock, H.E.M., Hulett, Kelly Walsh JV, Lingle-Ft. Laramie/Southeast, Moorcroft, Newcastle/Upton, Lusk, Saratoga, Tongue River, Wright, Banner County (NE), Crawford (NE), Hay Spring (NE), Hemingford (NE), Minatare (NE), Morrill (NE), Newell (SD), North Park (CO), Sioux County (NE)
Powell Invite at Powell HS = Buffalo, Campbell County, Cody, Dubois, Greybull/Riverside, Lander, Lovell, Natrona County, Powell, Riverton, Rocky Moutain, Sheridan JV, Shoshoni, Thermopolis, Thunder Basin JV, Wind River, Worland, Wright, Wyoming Indian, Hardin (MT), Huntley Project (MT), Laurel (MT), Lockwood (MT), Park/Livingston (MT), Park/Sweet Grass (MT), Red Lodge (MT)
Rapid City Invite at The Summit Arena in Rapid City, SD = Sheridan, Thunder Basin, Worland
Wasatch Intermountain Duals at Wasatch HS in Heber City, UT = Green River, Kemmerer
Saturday, Dec. 10
Braves Brawl at Star Valley HS = Cokeville, Star Valley, American Falls (ID), Logan (UT), Shelley (ID), Sky View (UT), Sugar-Salem (ID), Thunder Ridge (ID)
Charlie Lake Tournament at Cheyenne East HS = Burns/Pine Bluffs, Cheyenne Central, Cheyenne East, Cheyenne South, Douglas, Kelly Walsh, Laramie, Lingle-Ft. Laramie/Southeast, Rawlins, Rock Springs, Torrington, Wheatland, Bayard (NE), Berthoud (CO), Eaton (CO), Erie (CO), Fort Collins (CO), Greeley West (CO), Kimball (NE), Liberty Common (CO), Ogallala (NE), Poudre (CO), Scottsbluff (NE), Sidney (NE), Thompson Valley (CO), Windsor (CO)
Powell Invite at Powell HS = Buffalo, Campbell County, Cody, Dubois, Greybull/Riverside, Lander, Lovell, Natrona County, Powell, Riverton, Rocky Moutain, Sheridan JV, Shoshoni, Thermopolis, Thunder Basin JV, Wind River, Worland, Wright, Wyoming Indian, Hardin (MT), Huntley Project (MT), Laurel (MT), Lockwood (MT), Park/Livingston (MT), Park/Sweet Grass (MT), Red Lodge (MT)
Rapid City Invite at Summit Arena in Rapid City, SD = Sheridan, Thunder Basin
Wasatch Intermountain Duals at Wasatch HS in Heber City, UT = Green River, Kemmerer
PhotoFest Rewind! State High School Football
PhotoFest Rewind! State High School Football