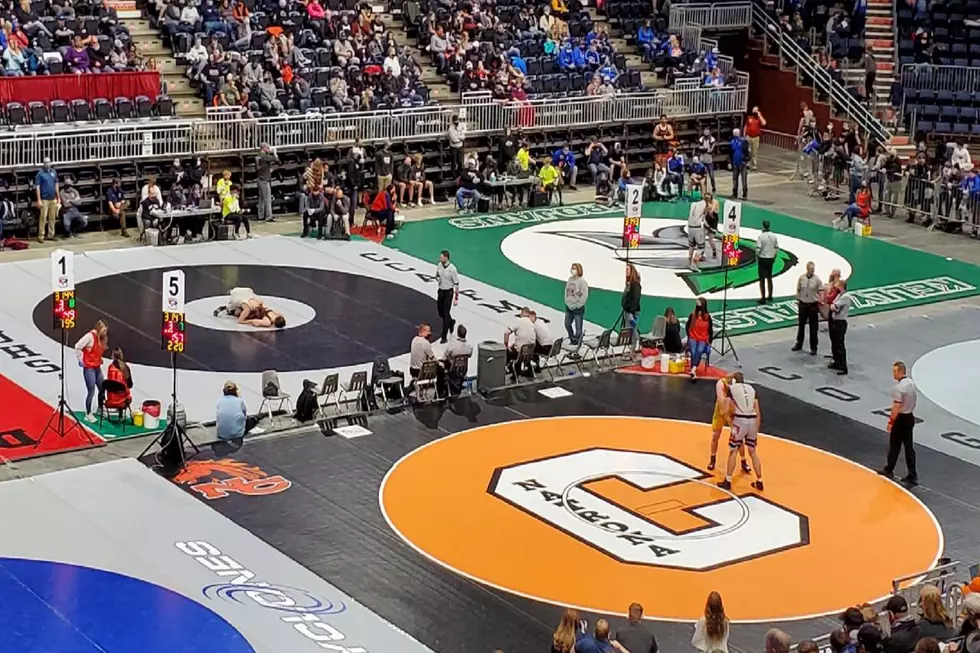 2022 Wyoming High School Wrestling State Tournament Insights [VIDEOS]
Frank Gambino, WyoPreps.com
The all-class state wrestling championships are Friday and Saturday at the Ford Wyoming Center.
After having sub-regional tournaments and separate one-day state tournaments last year, this year, it was back to a normal schedule. Six venues hosted regional tournaments last weekend, and now the state tournament is back to a two-day, all classes event.
The first round begins at 9 a.m. on Friday. The semifinals are slated for 7 p.m. on Friday. The placing matches start at 1 p.m. on Saturday, and the championships matches are at 3:45 Saturday afternoon.
The defending champions are Natrona County (4A), Star Valley (3A), and Wright (2A).
In 2A, seven champions return for a shot at another title. They are Karl Haslem from Kemmerer, Connor Vickrey of Kemmerer, Nathaniel Boreen of Rocky Mountain, Wyatt McDermott from Thermopolis, Shoshoni's Pehton Truempler, Roedy Farrell of Thermopolis, and Wind River's Tucker Jensen.
According to wyowrestling.com, Kemmerer enters the state tournament as the team favorite in 2A, followed by Lingle-Ft. Laramie/Southeast, and Lusk. Don't count out Moorcroft, who had a great showing last week, as the Wolves won the 2A East Regional.
The Rangers have some highly rated wrestlers entering the state championships. In addition to Haslem and Vickrey, Roany Proffit, Gabe Emery, and Riggen Walker will all have a shot at a title this weekend.
WyoPreps reached out for some insight on Class 2A at the state tournament but our inquiries were not returned.
For Class 3A, the question is, can anyone dethrone Star Valley. The Braves have won six straight team titles.
SVHS is led by seniors Zachary Patterson (182) and Harrison Hoopes (195), who are both undefeated going into the state championships. WyoPreps spoke with Star Valley head coach Eddie Clark about their chance at extending the streak, how they might be able to do it, knowing Douglas is the biggest threat, his two undefeated seniors, and more.
The Braves showed their depth at last week's 3A West Regional Tournament in Lander, as they won the title but had only two individual champions. Douglas is right on Star Valley's heels. The Bearcats won the East Regional Tournament and had six champs.
Six wrestlers will be seeking another crown on the 3A mats. They are Kale Knezovich from Green River, Lyman's Sefton Douglass, Star Valley's Jacob Guild, Colton Gehlhausen of Pinedale, Cody Phelps from Pinedale, and Lane Ewing from Douglas.
Class 3A has the distinction of having the only two wrestlers in this year's field who have a chance at joining the elite club of four-time state champs. There's only been 24 in the history of the state. Douglass from Lyman and Phelps at Pinedale, both have a shot this weekend.
In Class 4A, the team race looks very tight between last year's champ, Natrona County, plus Thunder Basin and Sheridan. Cheyenne East and Evanston may have some impact on the outcome, as well.
WyoPreps talked with Thunder Basin head coach Mikah Kadera about the 4A race for the top, what might push his team to the top, how his two defending champions look at different weight classes, and more.
The Mustangs return just one champion in Kaeden Wilcox, who is wrestling at 160 this year. NC does have some other highly regarded wrestlers, such as Kaden Orr, Tate Tromble, Dylan Brenton, Billy Brenton, Noah Sides, and Brendyn Nelson.
Thunder Basin returns a pair of champs in Antonio Avila and Lane Catlin. Both are wrestling in different weight divisions in 2022.
The other returning champ is Broc Fletcher from Rock Springs. There's a fifth defending champ in 4A, but Brock Steel from Sheridan did not wrestle this season due to an injury.
The Broncs will look to Dane Steel, Colson Coon, Jim Strobbe, Kelten Crow, Rudy Osborne, and Kolten Powers to lead their charge towards a possible title.
In the last two years in 4A, the team race has been decided by four points or less. It might come down to the last match, yet again.
Good luck to all the competitors on the mat this weekend!
Our friends at SVI Media also did an in-depth preview of state wrestling. You can enjoy that at the link below.
PhotoFest! Wrestling Regionals
PhotoFest! Wrestling Regionals