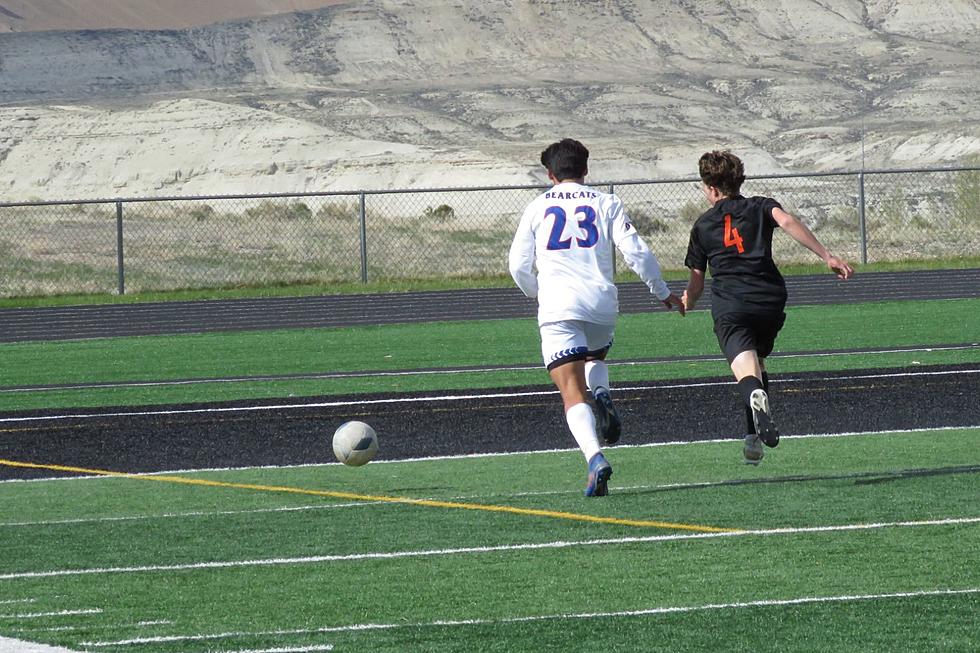 2023 All-Conference Honors for 3A-4A Wyoming High School Boys Soccer
David Settle, WyoPreps.com
The prep soccer season has been completed in the Cowboy State. It is time to hand out the conference postseason awards for boys' soccer in 2023.
These players were awarded all-conference in a vote by the head coaches. 
Players are listed by school name first, and then alphabetically by their last name.
3A BOYS EAST ALL-CONFERENCE
Goal-Keepers:
Jose Morales - Rawlins
Kade Weber - Worland
Defenders:
Brogan Byram - Buffalo
Luke Ewing - Douglas
Dian Henson - Rawlins
Kaden Riggs - Torrington
Trae Bennett - Worland
Ryan Deniz - Worland
Midfielders:
Ryan Nicholas - Buffalo
Lane Ewing - Douglas
Finn Gerlaq - Newcastle
Anthony Arnusch - Torrington
Carter Clark - Worland
Tyshon Swalstad - Worland
Forwards:
Garrett Chamberlain - Buffalo
Jackson Hughes - Douglas
Elijah Hatch - Torrington
Court Gonsalez - Worland
3A BOYS WEST ALL-CONFERENCE
Goal-Keepers:
Brody Hamby - Pinedale
Holden Cooper - Powell 
Defenders:
Remy Broussard - Cody
Wilkins Radakovich - Cody
Abram Vegara - Green River
Callen Wheeler - Lander
Tyden Hill - Lyman
Steven Stambaugh - Powell
Midfielders:
Matt Nelson - Cody
Braxton Cordova - Green River
Odas Beason - Lander
Silas Wheeler - Lander
Nash Piekkola - Mountain View
Jacob Orr - Powell
Forwards:
Conner Moss - Cody
Braxton Doak - Green River
Carter Ayers - Lander
Cameron Carpenter - Powell
Chance Franks - Powell
4A BOYS EAST ALL-CONFERENCE
Goal-Keepers:
Patrick Lynch - Campbell County
Abraham Bangoura - Laramie
Beck Haswell - Sheridan
Defenders:
Jon Garibay - Campbell County
Ignatius John - Cheyenne Central
Brock Pederson - Cheyenne Central
Kai Boyer - Laramie
Breck Reed - Sheridan
Terner Reynolds - Sheridan
Ivan Delgado - Thunder Basin 
Ricardo Ruiz - Thunder Basin
Midfielders:
Jose Aguayo - Campbell County
Nate Brenchley - Cheyenne Central
Sam Shumway - Cheyenne Central
Brenden Bohlmann - Cheyenne East
Karson Busch - Laramie
Connor Bateson - Sheridan
Caleb Howell - Thunder Basin
Angel Ontiveros - Thunder Basin
Forwards:
Josue Angulo - Campbell County
Logan Custis - Cheyenne Central
Colson Coon - Sheridan
Dane Steel - Sheridan
Hunter Fitzgerald - Thunder Basin 
Riley Ringer - Thunder Basin
4A BOYS WEST ALL-CONFERENCE
Goal-Keepers:
Kason Adsit -  Kelly Walsh
Rylee Murray - Riverton
Hudson Conrad - Rock Springs
Defenders:
Braden Hills - Jackson
Jaime Perez - Jackson
Hudsen Hollinger - Kelly Walsh
Kameron Jimenez - Kelly Walsh
Ruger Stowell - Riverton
Karson Curtis - Rock Springs
Jesus Duarte - Rock Springs
Brandon Beck - Star Valley
Midfielders:
Johan Garcia - Jackson
Jared Perez - Jackson
Britton Butler - Kelly Walsh
Parker O'Neill - Kelly Walsh
Jael Reyes - Natrona County
Paxton Stoneking - Natrona County 
Cristian Perez - Rock Springs
Kayson Haderlie - Star Valley
Forwards:
Ricardo Renova - Evanston
Kyrem Beristain - Jackson
Jenson Smock - Jackson
Beau Barclay - Kelly Walsh
Ethan Leslie - Kelly Walsh
Filiberto Benitez - Rock Springs
2023 Wyoming HS Softball State Championship Day
Photos from the final day of the 2023 Wyoming HS Softball State Championships