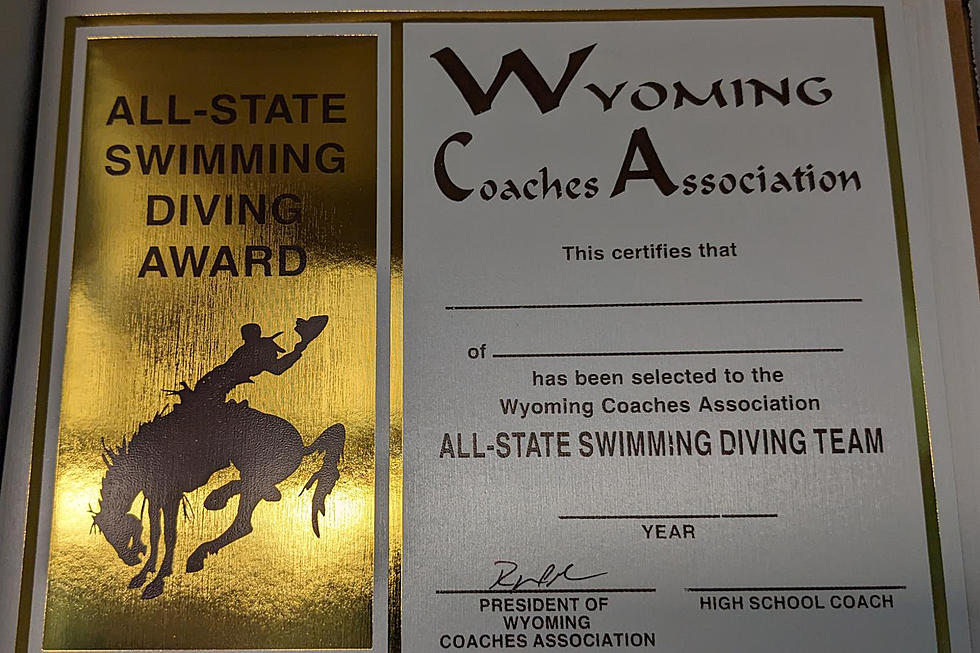 2023 All-State Girls' Swimming and Diving Honors Released by the Wyoming Coaches Association
David Settle, WyoPreps.com
The Wyoming Coaches Association revealed the All-State awards for the 2023 Wyoming High School girls' swimming & diving season.
Swimmers and divers earn all-state recognition by finishing in the top two of an individual event or as part of a winning relay in each classification, according to WCA guidelines. This accolade is not voted on.
Congratulations to Izzy DeLay from Cheyenne Central and Chayse Schierkolk of Kelly Walsh, who earned all-state all four years of their high school career.
Seven more swimmers received the award for the third time in their prep career.
Here are the recipients. They are listed in order by the school's name and then alphabetically.
CLASS 4A:
Haily Creary – Campbell County (All-State in 2021 & 2022)
Zoe Gallion – Campbell County (All-State in 2020 & 2022)
Brooke Noble – Campbell County
Izzy DeLay – Cheyenne Central (4X All-State! 2020-2023)
Kayleigh Hood – Cheyenne Central (All-State 2022)
Emily Meares – Cheyenne Central (All-State 2022)
Ila Musclow – Jackson
Amaya Olivieri – Jackson (All-State 2022)
Vega Sanchez – Jackson (All-State 2022)
Maren Tattersall – Jackson (All-State 2022)
Norah Wilson – Jackson (All-State 2022)
Maggie Johnson – Kelly Walsh
Shea Opdahl – Kelly Walsh
Sydney Rogers – Kelly Walsh
Chayse Schierkolk – Kelly Walsh (4X All-State! 2020-2023)
Rowyn Birdsley – Laramie (All-State 2022)
Maggie Turpin – Laramie
Madi Zach – Thunder Basin (All-State 2022)
CLASS 3A:
Olivia Maertens – Buffalo (All-State 2021)
Payton Yost – Douglas (All-State in 2021 & 2022)
Rachel Johnson – Evanston
Tavia Arnell – Green River (All-State 2022)
Courtney Clark – Green River (All-State in 2021 & 2022)
Haley Clevenger – Green River (All-State 2022)
Ivory Neher – Green River
Tanith Smith – Green River (All-State in 2021 & 2022)
Brianna Uhrig – Green River (All-State in 2021 & 2022)
Kylie Price – Kemmerer (All-State 2022)
Emily Anderson – Lander
Katy Anderson – Lander (All-State 2022)
Josey Johnson – Lander (All-State 2022)
Emma Jones – Lander
Daegan Reinhardt – Lander
Lara Robertson – Lander (All-State in 2021 & 2022)
Wyoming High School Sports Pics of the Week: Oct. 26-28
Wyoming High School Sports Pics of the Week: Oct. 26-28
Gallery Credit: Kellie Jo Allison, Frank Gambino, Bridgett Truempler, Karen Peroulis, Jolie Fay, Susan Bullard, Erin Hager, Libby Ngo, Dave Treick, Chrissy Sanchez, Angie Erickson, Jessica Schooner, Chary Porter, Tony Montoya, Tina Frady, Anita Bartlett, Jamie Tippetts, Sadie Snively, Brian Mitchell, Ashley Jessen,