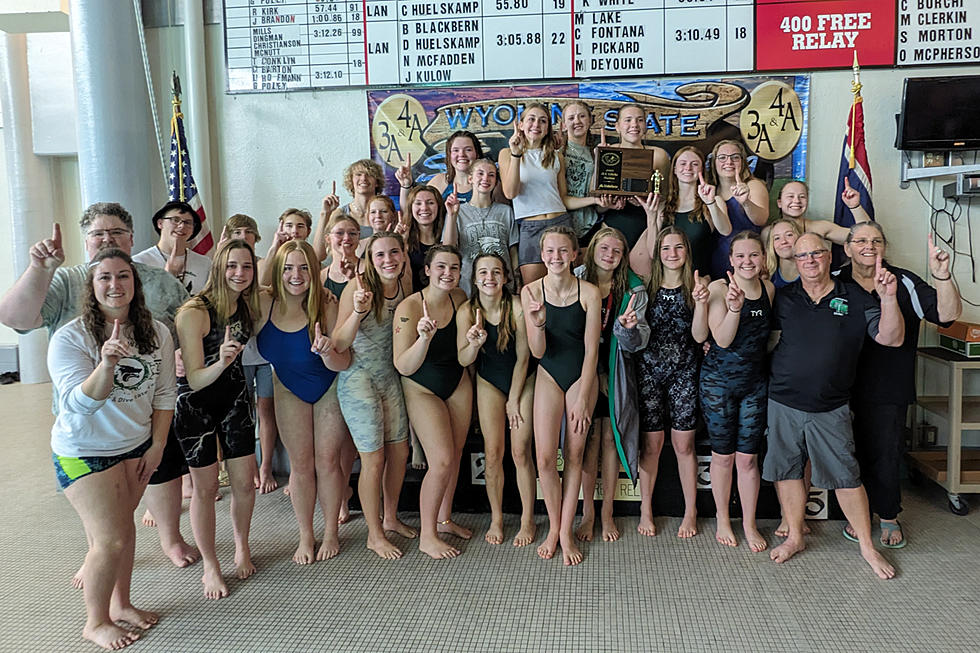 Green River's Power Leads to 3A Girls Swimming State Title [VIDEOS]
David Settle, WyoPreps.com
Thanks to winning six events, the Green River Wolves won their fifth girls' swimming and diving state championship on Saturday in Gillette.
Sophomore Tavia Arnell and junior Tanith Smith combined for four individual victories. Both were on two relays that placed first. It helped the Wolves capture the 3A title with 296 points.
Arnell and Smith shared the Athlete of the Meet honor after their performances. WyoPreps spoke to the dynamic duo after the meet.
Arnell won the 200-individual medley at 2:10.08. She came back later and won the 100-butterfly race at 57.61 seconds. Arnell set the 3A state record at 56.39 seconds in fly during Friday's prelims.
Smith swept the sprint freestyle races. She touched the wall first in the 50 free at 24.72 seconds and came back with the fastest time in the 100 free at 53.23 seconds.
Both led Green River to a first-place finish in the 200-medley relay (1:52.32) and 200-freestyle relay (1:41.24).
Arnell was chosen as the 3A Athlete of the Year.
Green River head coach Colleen Seiloff said it was a great two days for the Wolves in the pool.
There were 11 more top-six finishes for Green River.
Lander finished second in the team standings with 260 points. The Tigers won four events. Junior Lara Robertson won the distance freestyle (200 & 500) races. Sophomore Katy Anderson won the 100-backstroke. The Tigers also won the 400-freestyle relay.
The other event winners were Evanston sophomore Rachel Johnson and Douglas senior Payton Yost.
Johnson won a tightly contest diving by 0.10 points. Johnson finished at 398.20 points. Runner-up Olivia Maertens scored 398.10 points.
Yost touched the wall first in the 100-breaststroke race. She finished at 1:08.53 and won by only 0.16 seconds.
Powell finished third in the team standings with 185 points.
Green River head coach Colleen Seiloff was selected as the 3A Coach of the Year. Kemmerer's Jessie Willoughby was chosen as the 3A Assistant Coach of the Year.
Wyoming High School Sports Pics of the Week: Oct. 26-28
Wyoming High School Sports Pics of the Week: Oct. 26-28
Gallery Credit: Kellie Jo Allison, Frank Gambino, Bridgett Truempler, Karen Peroulis, Jolie Fay, Susan Bullard, Erin Hager, Libby Ngo, Dave Treick, Chrissy Sanchez, Angie Erickson, Jessica Schooner, Chary Porter, Tony Montoya, Tina Frady, Anita Bartlett, Jamie Tippetts, Sadie Snively, Brian Mitchell, Ashley Jessen,