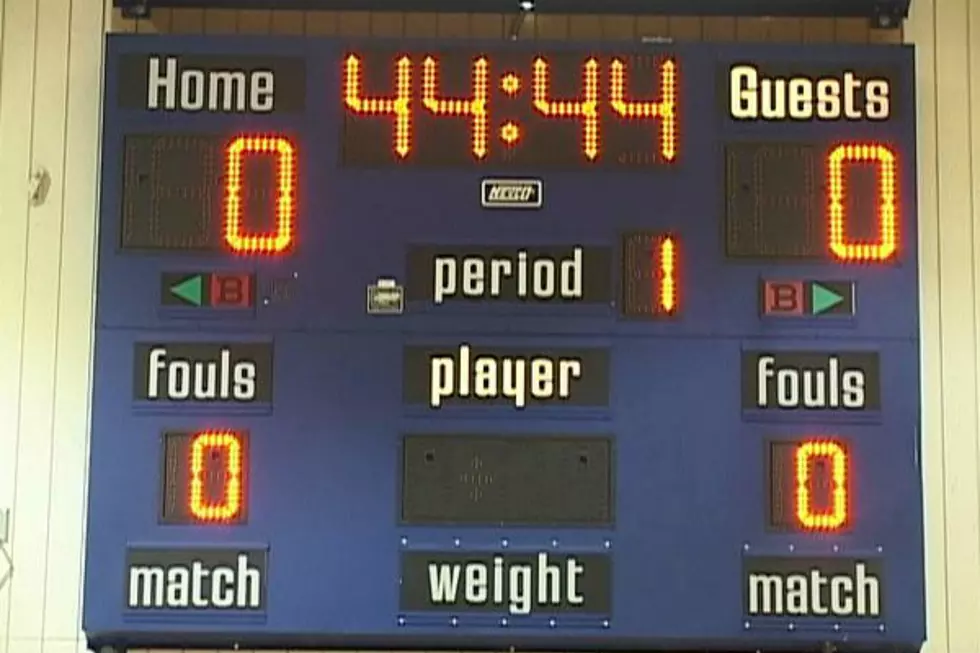 2023 Wyoming High School 3A-4A Boys Basketball Regional Scoreboard
Kevin Koile, WyoPreps.com
It's time for the 2023 regional basketball tournament for boys' teams in Class 3A and 4A on Thursday, Friday, and Saturday.
Two wins qualify a team for the state tournament next week in Casper. With two losses, a team is eliminated.
Mountain View, Torrington, Afton, and Casper will host the regional tournaments this weekend. This schedule is according to brackets sent to WyoPreps. These are subject to change.
3A EAST REGIONAL – Torrington (High School)
THURSDAY, MARCH 2:
Final Score: Game 1: (SE-2) Torrington 61 (NE-3) Moorcroft 34
Final Score: Game 2: (NE-1) Buffalo 54 (SE-4) Rawlins 42
Final Score: Game 3: (SE-3) Wheatland 38 (NE-2) Glenrock 34
Final Score: Game 4: (SE-1) Douglas 64 (NE-4) Newcastle 14
FRIDAY, MARCH 3:
Final Score: Game 8: Moorcroft 43 Rawlins 40 - Outlaws are eliminated
Final Score: Game 9: Glenrock 50 Newcastle 39 - Dogies are eliminated 
Final Score: Game 5: Buffalo 59 Torrington 36 - Bison qualify for state
Final Score: Game 6: Douglas 32 Wheatland 21 - Bearcats qualify for state
SATURDAY, MARCH 4:
Final Score: Game 10: Wheatland 48 Moorcroft 29 - Bulldogs qualify for state; Wolves are eliminated
Final Score: Game 11: Torrington 53 Glenrock 43 - Trailblazers qualify for state; Herders are eliminated 
Final Score: Game 12: Wheatland 41 Torrington 30 – 3rd Place Game
Final Score: Game 7: Douglas 58 Buffalo 44 – Championship Game
3A WEST REGIONAL – Mountain View (High School)
THURSDAY, MARCH 2:
Final Score: Game 1: (SW-1) Lyman 73 (NW-4) Thermopolis 51
Final Score: Game 2: (NW-2) Powell 66 (SW-3) Pinedale 57
Final Score: Game 3: (NW-1) Worland 45 (SW-4) Mountain View 27
Final Score: Game 4: (NW-3) Lovell 49 (SW-2) Lander 41
FRIDAY, MARCH 3:
Final Score: Game 8: Pinedale 72 Thermopolis 58 - Bobcats are eliminated
Final Score: Game 9: Lander 51 Mountain View 44 - Buffalos are eliminated 
Final Score: Game 5: Lyman 59 Powell 47 - Eagles qualify for state
Final Score: Game 6: Worland 64 Lovell 62 - 2OT - Warriors qualify for state
SATURDAY, MARCH 4:
Final Score: Game 10: Lovell 49 Pinedale 47 - Bulldogs qualify for state; Wranglers are eliminated
Final Score: Game 11: Powell 63 Lander 39 - Panthers qualify for state; Tigers are eliminated
Final Score: Game 12: Powell 61 Lovell 30 – 3rd Place Game
Final Score: Game 7: Worland 52 Lyman 42 – Championship Game
4A EAST REGIONAL – Casper (at Natrona County HS & Natrona MAC)
THURSDAY, MARCH 2:
Final Score: Game 1: (SE-3) Laramie 55 (NE-2) Sheridan 41
Final Score: Game 2: (SE-1) Cheyenne East 42 (NE-4) Campbell County 41
Final Score: Game 3: (NE-1) Thunder Basin 67 (SW-4) Cheyenne South 25
Final Score: Game 4: (NE-3) Natrona County 52 (SE-2) Cheyenne Central 45
FRIDAY, MARCH 3:
Final Score: Game 5: Campbell County 67 Sheridan 59 - OT - Broncs are eliminated
Final Score: Game 6: Cheyenne Central 64 Cheyenne South 48 - Bison are eliminated 
Final Score: Game 7: Cheyenne East 56 Laramie 41 - Thunderbirds qualify for state
Final Score: Game 8: Thunder Basin 47 Natrona County 36 - Bolts qualify for state
SATURDAY, MARCH 4:
Final Score: Game 9: Campbell County 48 Natrona County 42 - Camels qualify for state; Mustangs are eliminated
Final Score: Game 10: Laramie 47 Cheyenne Central 44 - Plainsmen qualify for state; Indians are eliminated 
Final Score: Game 11: Laramie 61 Campbell County 58 – 3rd Place Game
Final Score: Game 12: Thunder Basin 65 Cheyenne East 62 – OT - Championship Game
4A WEST REGIONAL – Afton (Star Valley HS & Middle School)
THURSDAY, MARCH 2:
Final Score: Game 1: (NW-1) Riverton 61 (SW-4) Green River 45
Final Score: Game 2: (NW-3) Rock Springs 73 (SW-2) Jackson 53
Final Score: Game 3: (SW-3) Evanston 58 (NW-2) Cody 54 - OT
Final Score: Game 4: (SW-1) Star Valley 57 (NW-4) Kelly Walsh 46
FRIDAY, MARCH 3:
Final Score: Game 8: Jackson 53 Green River 38 - Wolves are eliminated
Final Score: Game 9: Cody 49 Kelly Walsh 35 - Trojans are eliminated
Final Score: Game 5: Riverton 54 Rock Springs 41 - Wolverines qualify for state
Final Score: Game 6: Star Valley 60 Evanston 51 - Braves qualify for state
SATURDAY, MARCH 4:
Final Score: Game 10: Jackson 60 Evanston 43 - Broncs qualify for state; Red Devils are eliminated
Final Score: Game 11: Cody 60 Rock Springs 47 - Broncs qualify for state; Tigers are eliminated
Final Score: Game 12: Jackson 59 Cody 51 – 3rd Place Game 
Final Score: Game 12: Star Valley 56 Riverton 53 – Championship Game
Wyoming High School Sports Pics of the Week/Feb 16-18
Wyoming High School Sports Pics of the Week/Feb 16-18