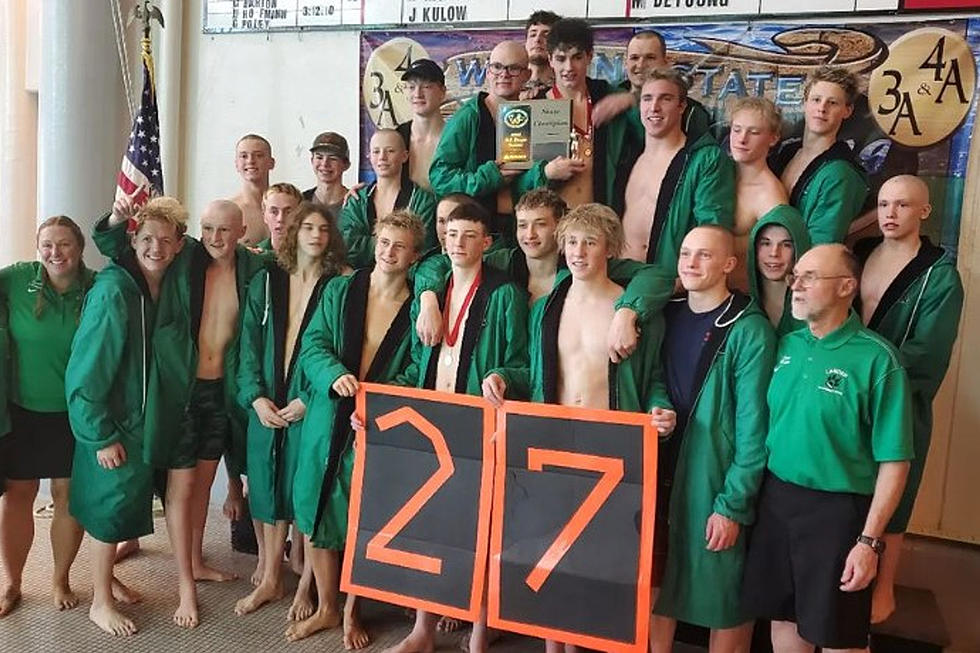 New Year, Same Result, Lander Wins 2023 Class 3A Boys Swimming State Championship
Frank Gambino, WyoPreps.com
Make it 27 in a row for the Lander Tigers. They won the 2023 Class 3A Wyoming High School Boys Swimming and Diving State Championship on Friday in Gillette.
Lander won six of the 12 events, and thanks to their depth, the Tigers' streak continued. They scored 326 points. Buffalo took second at 220 points, and Green River came in third at 177.5 team points.
Senior Dylan Huelskamp won a pair of individual events. He captured the 200-freestyle for the third straight year at 1:43.63 and followed that with a win in the 100-butterfly race at 51.52 seconds. Huelskamp was named the Class 3A Athlete of the Meet and shared Class 3A Athlete of the Year honors with Green River's Brady Young.
The Tigers won the 200-medley relay (1:35.28) for the ninth consecutive year. They also touched the wall first in the 400-freestyle relay at 3:12.89. The other victories came from sophomore Finn Richards in the 200 IM (1:56.54), and junior Benny Kulow captured the 100-freestyle race (46.97).
Amazingly, in the six events that Lander did not win, they took second place.
Coach of the Year accolades went to Shawna Morgan from Lander.
Green River had two victories at the state meet. Brady Young broke his own 3A state record (set in the prelims) in the finals of the 500-freestyle at 4:45.80. Teammate Braxton Cordova completed a three-peat on the diving board with 437.85 points. His margin of victory was over 33 points.
Buffalo finished with three event wins. Brogan Byram won the 50-freestyle race at 21.35 seconds. The Bison won the 200-freestyle relay at 1:28.50. Finally, Tommy Wonka touched the wall first in the 100-breaststroke at 56.51 seconds.
The only event that wasn't won by a swimmer, diver, or team not among the top three teams was the 100-backstroke race. Cody's Joseph Killpack captured that event at 52.08 seconds.
This was the 30th state championship in school history for the Tigers.
WyoPreps will have photos and videos from the state championships in the next few days.
Wyoming High School Sports Pics of the Week/ Feb. 9-11
Wyoming High School Sports Pics of the Week/ Feb. 9-11