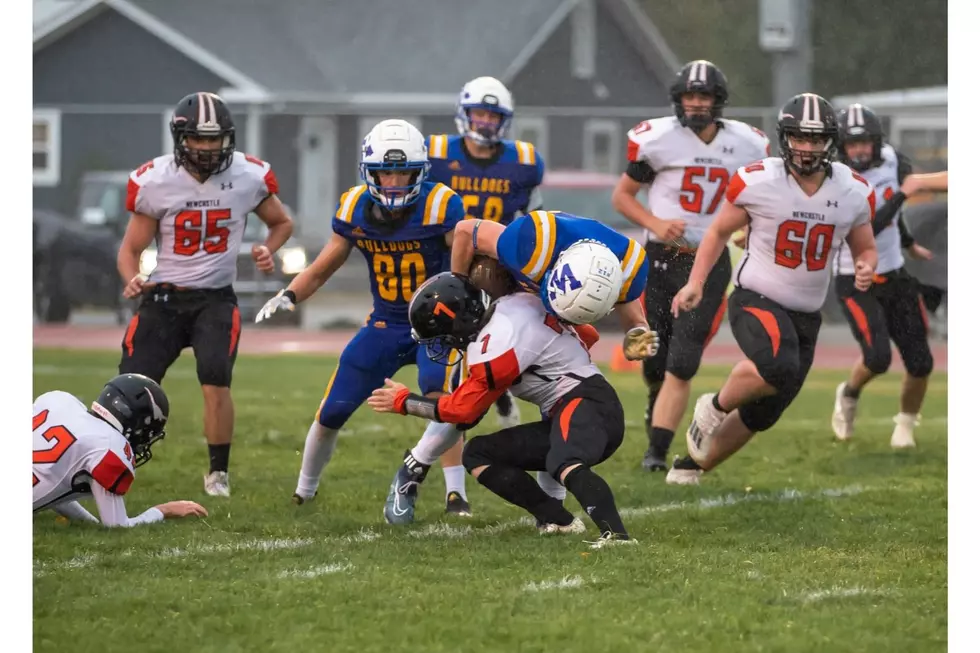 Newcastle Nips Wheatland in Two Overtimes
Photo Courtesy: Tony Montoya
If there was a team that needed a confidence boost, it was the Newcastle Dogies. The program has won 5 games over the course of 4 years but scored a monumental 20-18 double overtime win over Wheatland on Friday night.
Each team found the end zone in the first quarter as Wheatland's Ryland Petroski got in from the 1 for the touchdown and Newcastle's Quin Perino tossed a 49-yard pass to Hogan Tystad for a Dogie TD but both teams missed the extra points. It was 6-6 the rest of the way in regulation so it was time for overtime.
In the first overtime, Petroski scored again for Wheatland from 4 yards out. The extra point was missed so the Bulldogs led 12-6. Newcastle scored in that first OT on a 6-yard run from Conner Stollhammer but the extra point was missed so it was tied at 12 going into the 2nd overtime.
Newcastle put a TD on the board thanks to a 17-yard gallop from Collin McConkey and McConkey converted the 2-point try so the Dogies led 20-18.  Wheatland did answer with a touchdown of their own as Brock Peasley tossed a 10-yard pass to JP Anderson but the Bulldogs failed to convert the 2-point try for the tie. Newcastle wins it 20-18 to get to 1-1 on the year after a season-opening loss to Buffalo. Wheatland is 0-3 after a week zero loss to Mitchell, Nebraska, and a home loss to Mountain View.
Newcastle will host Burns this week and Wheatland will be on the road in Torrington. be sure and take a look at some of the images from this game in our gallery below, compliments of Tony Montoya. Enjoy!
Newcastle-Wheatland Football
Newcastle-Wheatland Football