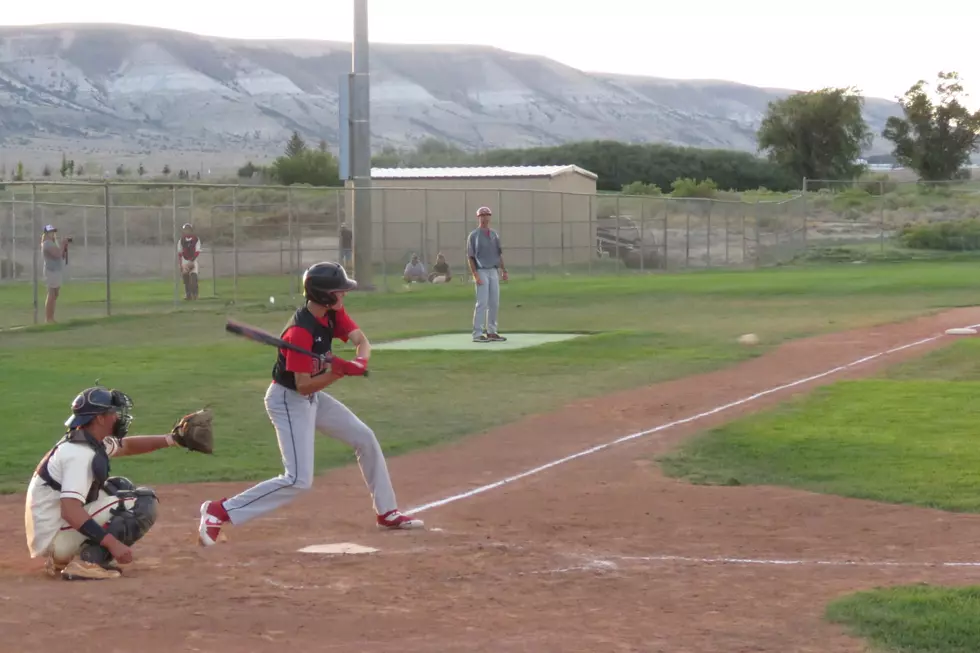 Sixers and Riders Get Key Wins to Reach the Semifinal Game
David Settle, WyoPreps.com
The favorites entering the Wyoming Legion Baseball Class 'AA' State Tournament in Rock Springs won their second-round games and now prepare to face off Friday night.
Cheyenne and Gillette took care of business on Thursday to advance to the winner's bracket semifinal.
Cheyenne 14 Evanston 0
The Sixers scored 11 runs over two innings and hit two home runs in their shutout of the Outlaws on Thursday.
Cheyenne took a quick 3-0 lead in the first inning. A passed ball, an RBI-double by Andrew Johnson, and a sacrifice fly from Keldon Hastings got the Sixers on the board.
A six-run third inning put Cheyenne in control. After another Johnson RBI-double, Zach Costopolous hit a 2-run home run to centerfield. A single, another sacrifice fly, and a passed ball made 9-0 in favor of the Sixers.
They would add five more runs in the fourth inning. Jackson Hesford had an RBI-single that got it going. Bradley Feezer hit a two-run home run for a 12-0 lead. Colter McAnelly added a two-run single.
Johnson, Costopolous, and Hesford led the offense with two hits & 2 RBI's apiece.
Garrett Oswald got the win. He, Ty Lobmeyer, and Trenton Rodriguez combined on a 2-hit shutout.
Gillette 7 Jackson 1
A four-run second inning propelled the Roughriders to their victory over the Giants Thursday night.
Gillette took a 1-0 lead on a Mason Powell RBI-double in the first.
In the second, Kaden Race had an RBI-single that made it 2-0. The lead grew to 4-0 with a bases-loaded walk that forced home a run and an RBI-sacrifice fly. Brody Richardson added an RBI-single for a 5-0 advantage.
Jackson scored their only run on an opposite-field home run to right by Connor Lang in the second inning. That made it 5-1.
The Riders added two more in the sixth on Richardson's two-run single to leftfield.
Matt Newlin got the win. He, along with Jason Fink, and Dalton Martin allowed only one run on five hits.
Richardson led the offense with two hits and three RBI's.
Meanwhile, Jackson used six different pitchers in the game. Parker Bleggi took the loss.
Cheyenne and Gillette will square off Friday at 7 p.m. The winner gains a berth in the championship game on Sunday.
Evanston and Jackson will play loser-out games on Friday. The Outlaws will face Sheridan at 1 p.m. followed by the Giants against Casper at 4 p.m.
Enter your number to get our free mobile app