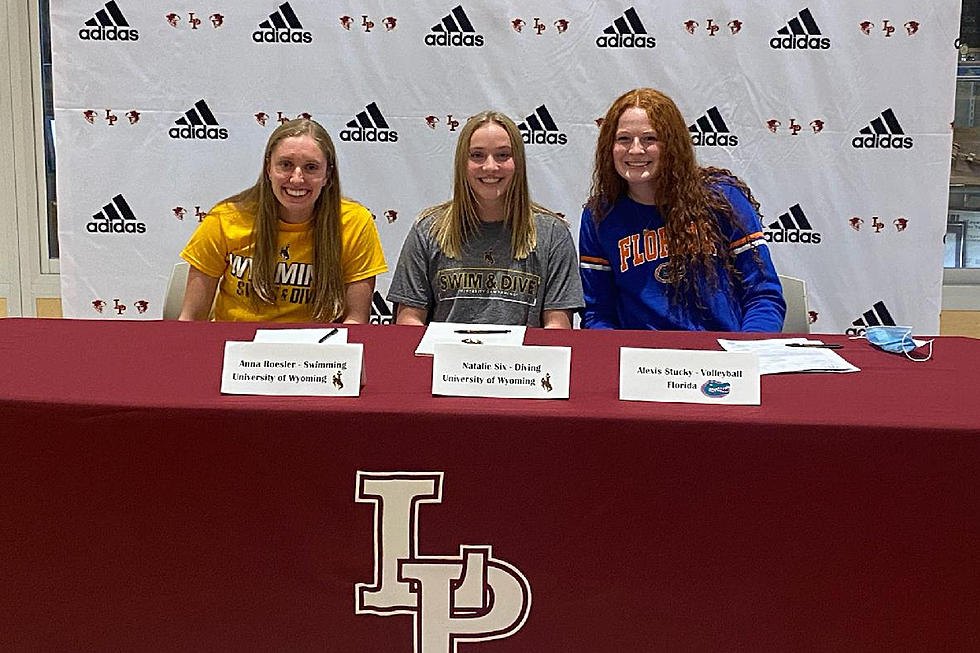 Three Laramie High School Athletes Sign Division I
Courtesy: Jill Stucky, Laramie HS Volleyball Coach
Laramie High School seniors Anna Roesler, Natalie Six, and Alexis Stucky are taking their talents to the next level.
In a recent ceremony at Laramie High School, Roesler and Six chose to stay at home and signed with the University of Wyoming. Meanwhile, Stucky made it official with her signing at the University of Florida.
Stucky enjoyed one of the best volleyball careers ever at Laramie High School. She led Laramie to back-to-back Class 4A team state championships in 2020 and 2021. Stucky was a four-time all-state and all-conference selection. She was named the 4A East Conference Player of the Year three times. Stucky was honored as the 2020-21 Gatorade Wyoming Volleyball Player of the Year. She concluded her career at LHS with 1,378 kills, 1,004 digs, and 858 assists.
She verbally committed to Florida in July 2020. Now, 16 months later, Stucky officially signed her National Letter of Intent (NLI).
Stucky said it's crazy.
"I feel like I committed to Florida so long ago, that now it's actually here, I'm so excited about it, and I can't wait for what's next."
Stucky said what stuck out about the Gators during recruiting was the relationships she formed with the coaches and players she'd be playing with at UF.
The senior will graduate at semester and enroll early at Florida for the spring semester of 2022.
Stucky said, "The opportunity to go early is something I couldn't pass up. To get in the gym with everyone they have and to get in the strength program, there's no better opportunity to get ahead."
She will play at the setter position in college.
Anna Roesler was a seven-time state champion in swimming at Laramie High School. She helped LHS to four state championship team titles throughout her prep career.
Individually, Roesler won the 100 butterfly race at the 2020 state meet. She followed that with a state title in the 200 freestyle in 2021. Roesler was also part of five state champion relays with the Lady Plainsmen.
Six was a three-time all-state selection at LHS. She was also part of four team championships during her high school career.
Six was a three-time runner-up on the diving board. She lost by less than four points her sophomore season and by fewer than two points as a senior. Six lost only one diving event during the 2021 season.
30 Ways To Say You're From Wyoming Without Saying You're From Wyoming
These are the most mentioned ways to say you're from Wyoming, without actually saying you're from Wyoming.
- 30 Ways To Say You're From Wyoming Without Saying You're From Wyoming