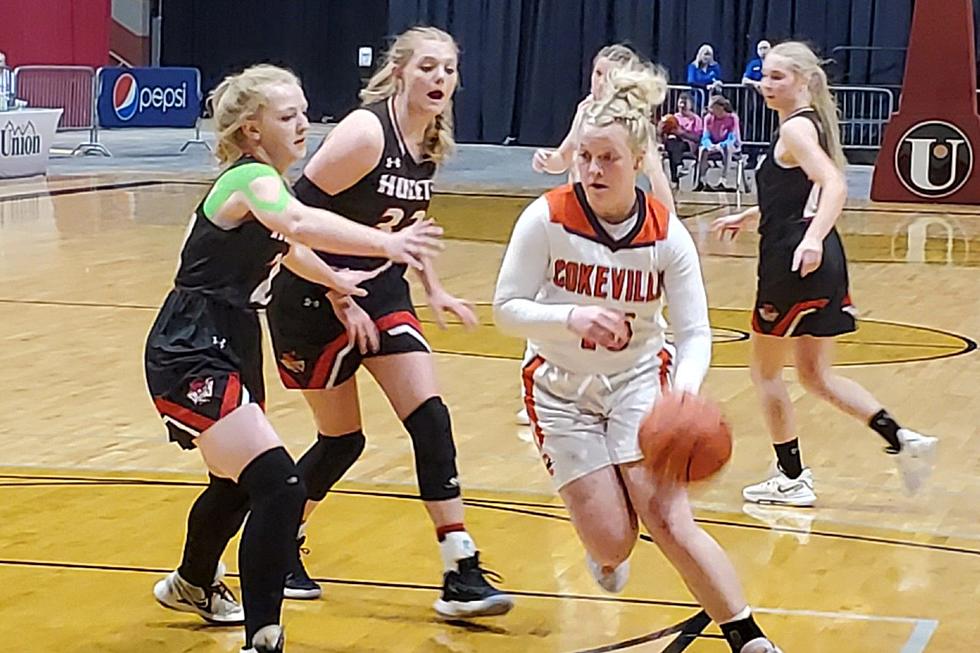 Wyoming High School 1A/2A Girls Basketball All-State Honors in 2022
Photo Courtesy: Frank Gambino-State 1A Basketball Day 1
These are the girls' basketball players that were chosen as the best of the best and received All-State awards for the 2021-2022 season.
The Wyoming Coaches Association has unveiled the All-State awards for Class 1A and 2A players, as voted on by the head coaches in each classification, respectively.
Congratulations to Emmie Barnes of Cokeville on receiving all-state all four years of her high school career! She joins an elite group of players that earned this distinction.
Of note, Cokeville's Kylee Dayton, Riverside's Caroline Schlattmann, and Saratoga's Whitney Bennett were named all-state for the third time.
CLASS 2A:

(listed alphabetically by the school; then by a player's last name)
Adelaide Williams – Glenrock
Talissa Fischbach – Moorcroft
Kailee Gill – Moorcroft (All-State in 2021)
KyAnna Petz – Moorcroft (All-State in 2021)
Abby Gray – Pine Bluffs
Caroline Schlattmann – Riverside (All-State in 2020)
Victoria Arnold – Rocky Mountain
Kiara Jolley – Rocky Mountain (All-State in 2021)
Josey Steed – Rocky Mountain (All-State in 2021)
Cana McInerney – Sundance
Bailey Hofland – Sundance
Katy Kalasinsky – Tongue River
Desireen C'Hair – Wyoming Indian
Taylor Trosper – Wyoming Indian
CLASS 1A:

(listed alphabetically by the school; then by a player's last name)
Kelsi Nicholson – Burlington (All-State in 2021)
Emmie Barnes – Cokeville (4-Time All-State! 2019-2022)
Kylee Dayton – Cokeville (All-State in 2020 & 2021)
Tyra Thoren – Farson-Eden
Sierra Kilts – Kaycee
Jackie Ramirez – Kaycee
Skylynn Ready – Little Snake River
Whitney Bennett – Saratoga (All-State in 2020 & 2021)
Sidney Anderson – Southeast
Kealy Carson – Southeast (All-State in 2021)
Brenna Herring – Southeast (All-State in 2021)
Jerrica Caylor – Upton
Alyson Louderback – Upton (All-State in 2021)
Sophie Louderback – Upton
1A Girls Basketball Championship-Southeast Vs. Upton
1A Girls Basketball Championship-Southeast Vs. Upton
2A Girls Basketball Championship-Rocky Mt. Vs. Moorcroft
2A Girls Basketball Championship-Rocky Mt. Vs. Moorcroft