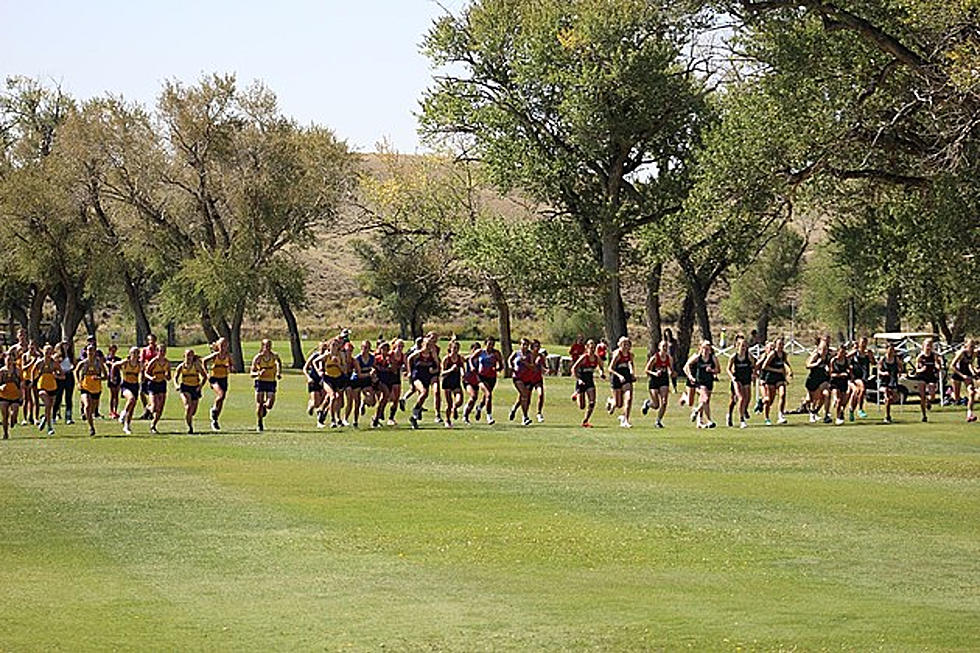 Wyoming High School Cross Country Scoreboard: Sept. 7 – 9, 2023
Mollie Lee, Townsquare Media
The third week of the 2023 cross-country season in Wyoming features three in-state meets.
Riverton has the largest in-state meet, while Big Horn also has an event. Several schools are heading to neighboring states for some big meets, including in Colorado, Idaho, and Montana.
This is the Week 3 schedule for cross country. All schedules are subject to change.
Thursday, Sept. 7:
Berry Bryant/Kyle Johnson Memorial Invitational at the Riverton Rendezvous Site – Burlington, Cody, Green River, Kelly Walsh, Lander, Natrona County, Powell, Riverton, Rock River, St. Stephens, Thermopolis, Thunder Basin, Wind River, Worland, Wyoming Indian.
Kinley Cooley of Powell and Charlie Hulbert of Cody won the individual titles. Cody swept both team titles.
Out-of-State Events:
Belle Fourche Invitational at Belle Fourche, SD – Hulett, Newcastle, Sundance.
Friday, Sept. 8:
Big Horn Cross Country Invitational at Big Horn Equestrian Center – Big Horn, Buffalo, Campbell County, Douglas, Glenrock, Lovell, Moorcroft, Tongue River, Wright.
Maya Hall (Fr.) and Ethan Rayo (Soph.) of Buffalo won the individual races. Buffalo swept the team titles.
Out-of-State Events:
Kimball Invite in Kimball, NE – Burns/Pine Bluffs, Cheyenne South, Torrington.
For the girls, Kaycee Kasmicki of Torrington took 4th at 22:59.73. Pine Bluffs won the boys' division, while Sully Wilson of Torrington was 1st at 17:54.03.
Park City AM Invitational at Round Valley/Quinns Junction, Park City, UT – Evanston, Lyman, Mountain View.
Park City PM Invitational at Round Valley/Quinns Junction, Park City, UT – Rock Springs.
Tiger/Grizz Invitational at Idaho Falls, ID – Jackson, Star Valley.
Wolverine XC Invitational at Greeley, CO – Laramie.
Laramie took 2nd in both team standings.
Saturday, Sept. 9:
Out-of-State Events:
Bozeman XC Invite in Bozeman, MT – Campbell County, Natrona County, Sheridan, Thunder Basin.
Liberty Bell XC Invitational in Littleton, CO – Cheyenne Central, Cheyenne East, Saratoga/Encampment.
Cheyenne Cross Country Meet
Cheyenne Cross Country Meet
Buffalo Cross Country Meet
Buffalo Cross Country Meet
PhotoFest: Lander Cross Country Meet
PhotoFest: Lander Cross Country Meet