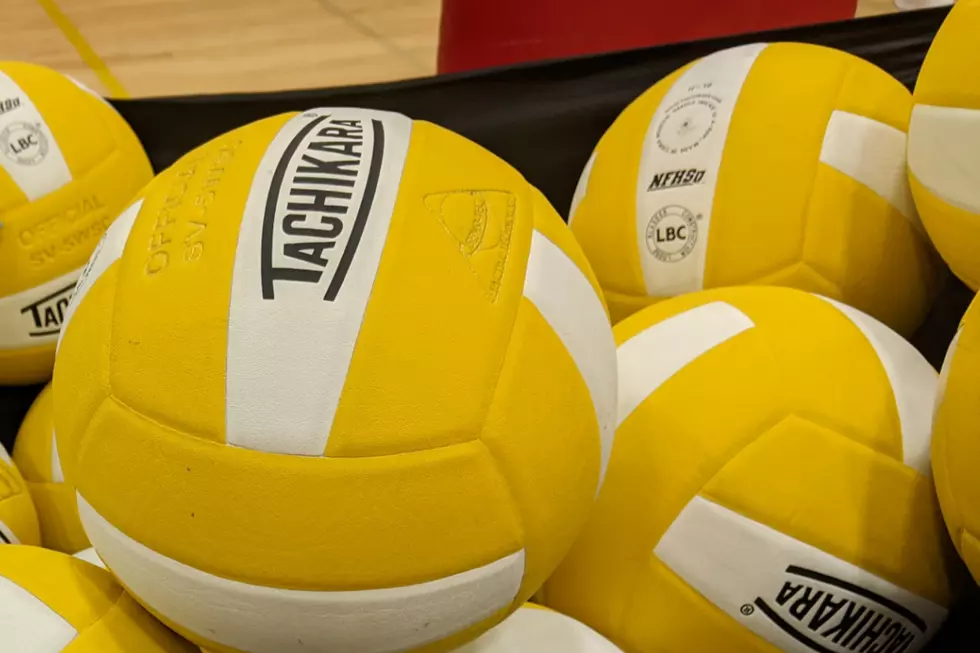 Wyoming High School Volleyball Standings: Nov. 1, 2020
David Settle, WyoPreps.com
Prep volleyball teams in Wyoming have completed Regional Tournaments, the first step in postseason play.
These standings reflect all matches played by teams through Saturday, Oct. 31 after the conclusion of Regional quadrant and cross-quadrant play.
Our apologies for not getting this posted sooner.
Teams are listed in order of their conference standing, and what their seed was at the regional quadrant tournament. If there's a tie in the standings, the higher-seeded team was listed first. The 1A Southeast Quadrant is based on a points system, and those teams are in order of their points earned in the regular season.
4A Northwest: (Overall Record, followed by Quadrant Record)
Rock Springs 18-4, 6-0
Natrona County 13-9, 4-2
Cody 10-9, 2-4
Riverton 2-16, 0-6
4A Southwest: (Overall Record, followed by Quadrant Record)
Evanston 15-9-1, 6-0
Star Valley 15-9-1, 4-2
Jackson 7-12, 2-4
Green River 1-16, 0-6
4A Northeast: (Overall Record, followed by Quadrant Record)
Kelly Walsh 16-6, 5-1
Thunder Basin 17-5, 5-1
Campbell County 6-12, 1-5
Sheridan 2-13, 1-5
4A Southeast: (Overall Record, followed by Quadrant Record)
Laramie 21-0, 6-0
Cheyenne East 12-7, 4-2
Cheyenne South 3-14, 1-5
Cheyenne Central 2-13, 1-5
3A Northwest: (Overall Record, followed by Quadrant Record)
Worland 15-7, 5-1
Lander 15-7, 5-1
Powell 7-10, 2-4
Lovell 2-18, 0-6
3A Southwest: (Overall Record, followed by Quadrant Record)
Pinedale 21-2-1, 6-0
Lyman 15-6, 4-2
Mountain View 16-8, 2-4
Kemmerer 5-14, 0-6
3A Northeast: (Overall Record, followed by Quadrant Record)
Douglas 22-2, 6-0
Buffalo 7-15, 3-3
Newcastle 3-16, 3-3
Thermopolis 1-17, 0-6
3A Southeast: (Overall Record, followed by Quadrant Record)
Rawlins 15-6, 6-0
Torrington 15-5, 3-3
Wheatland 15-8, 3-3
Burns 8-12, 0-6
2A Northwest: (Overall Record, followed by Quadrant Record)
Riverside 19-1, 4-0
Rocky Mountain 9-9, 1-3
Greybull 10-9, 1-3
2A Southwest: (Overall Record, followed by Quadrant Record)
Shoshoni 14-8, 2-0
Wind River 2-17, 1-1
Big Piney 3-14, 0-2
2A Northeast: (Overall Record, followed by Quadrant Record)
Sundance 19-2, 7-1
Big Horn 12-10, 5-3
Moorcroft 10-7, 3-5
Wright 5-13, 3-5
Tongue River 9-10, 2-6
2A Southeast: (Overall Record, followed by Quadrant Record)
Pine Bluffs 5-13, 4-0
Glenrock 9-13, 2-2
Lusk 1-18, 0-4
1A Northwest: (Overall Record, followed by Quadrant Record)
Meeteetse 17-3, 6-0
Burlington 5-15, 4-2
Ten Sleep 1-13, 1-5
Dubois 1-15, 1-5
1A Southwest: (Overall Record, followed by Quadrant Record)
Cokeville 16-7-1, 8-0
Saratoga 9-9, 4-4
Little Snake River 11-9, 4-4
Farson-Eden 7-10, 3-5
Encampment 5-11, 1-7
1A Northeast: (Overall Record, followed by Quadrant Record)
Kaycee 19-3, 8-0
Upton 16-7, 6-2
Hulett 8-9, 4-4
Arvada-Clearmont 4-9, 1-7
Midwest 6-12, 1-7
1A Southeast: (Overall Record, no Quadrant Record; matches based on a points system)
Southeast 18-4 = 39 pts
H.E.M. 17-5 = 33 pts
Lingle-Ft. Laramie 6-14 = 15 pts
Rock River 7-9 = 13 pts
Glendo 7-10 = 8 pts
Guernsey-Sunrise 5-13 = 4.5 pts
Enter your number to get our free mobile app
Weirdest Pop Culture Scams