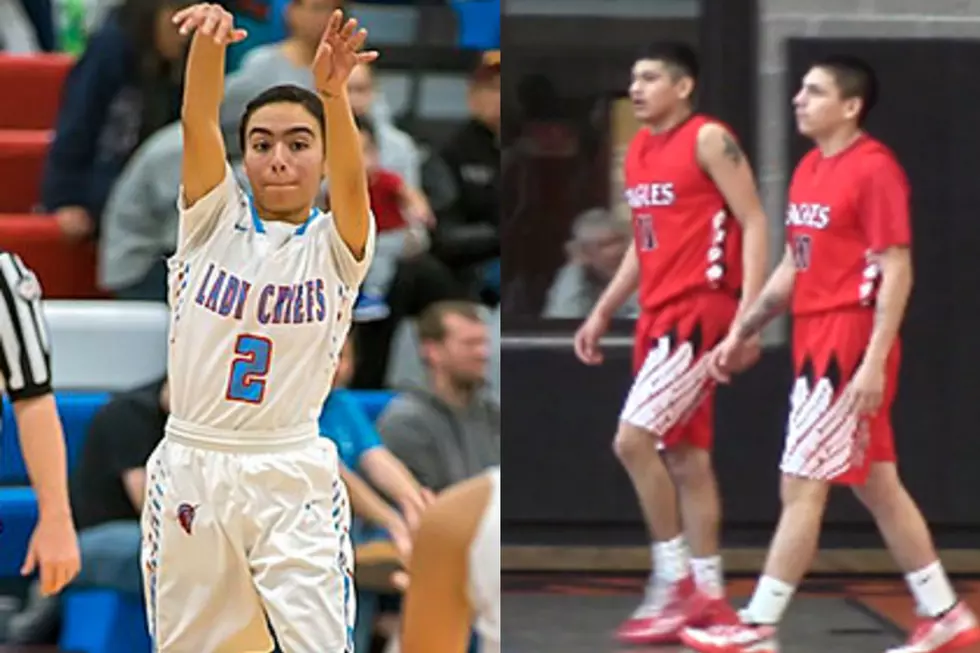 Chiefs and Eagles Receive a Chance to Play a Basketball Season
Tyrel Teran/Frank Gambino, Townsquare Media
Basketballs will be bouncing. Shoes will be squeaking. The sound of a ball going through a net will happen at both Wyoming Indian High School and St. Stephens Indian School.
A recent vote to re-open schools came from the Wind River Inter-Tribal Council and was approved by the Board of Trustees, which paves the way for the Chiefs and Eagles to get on the court over the final month of the season in Wyoming prep basketball.
Both schools were in "Tier-3," which meant virtual learning only. Now both schools will transition to a hybrid of in-person and virtual learning, or "Tier-2".
Wyoming Indian is the two-time defending Class 2A champions in both boys' and girls' basketball.
St. Stephens has moved up from Class 1A to Class 2A this year.
Both will compete in the 2A Southwest Quadrant with Big Piney and Wind River.
WyoPreps reached out for comment from the four head coaches of the basketball programs to gain their perspective on getting a chance to return to play and the impact of a shortened season.
Wyoming Indian High School girls' basketball head coach Aleta Moss is in her 33rd season with the Chiefs. She's won four state championships in her tenure.
Moss emphasized being safe but is thankful for this chance. She knows it will be tough to come together in a short time.
"We are approaching the season very cautiously. Doing all the necessary protocols so that we can finish the season safely. My Seniors had hoped for returning and I was relieved that they would have this opportunity. Even if it was for a limited time. Obviously, starting late after a non-existent pre-season will have an effect. Our kids play a lot of basketball on their own after our regular season. This year they weren't able to and they also had their Fall sports season canceled. As a coach, I will be trying to prepare them for a safe return and to do our best to progress each week for post-season play."
Wyoming Indian boys' head coach Craig Ferris is in his 16th season at the helm of the Chiefs. He admitted to having mixed feelings.
"It is always a great feeling to be in the gym and working with the guys playing basketball. The current situation has given me some anxiety towards the safety of our community but our school has put together a great plan to hopefully keep us all safe. The shortened season has really put some stress on the whole team but we are going to give it our best with the time we have."
Ferris added there's already been an impact with their condensed season.
"The biggest impact has been our participation. We are going to be working with 13 guys this year which has its pluses and minuses. Our senior leaders are doing a great job in helping the coaches get our younger guys ready for what's to come this season. I'm looking at it as an investment in our future. This experience for our younger players at the moment is going to pay off soon. I'm really proud of the guys we have and what they have done for themselves to be able to have this opportunity."
On the opposite end of the spectrum is St. Stephens's girls' head coach Shyla Nicholas. She's in her first season with the program. Nicholas said there are a lot of mixed emotions from everyone who is involved.
"It's fun for the kids to have a season, but at the same time, we're so far behind everyone else in the season. The girls are up for the challenge though, it showed in our first day of practice. All the girls worked hard and it showed they are willing to put in the work in a short amount of time. It's a short season and I know we will have our frustrations and growing pains, but we have 5 weeks to prepare for regionals."
Nicholas added that with the short season, "The main focus is adversity. A lot has been thrown at these girls this year already. The covid, deaths, a shortened season and that's just to name a few. We will overcome the short season with hard work and dedication. From the start these girls were already counted out, so they have nothing to lose. All we can do is get better each and every day and let their hard work speak for itself on the court."
WyoPreps reached out to Coach Blackburn with the Eagles boys team, but we did not receive a response.
The two programs typically receive great support from their fan base.
St. Stephens has announced they will not have fans at their home games. In a message posted on the school's Facebook page Wednesday, it read, "SSIS has made the decision to not allow fans during our home basketball events. We understand this is disappointing, but we feel as though this added precaution will help ensure our student-athletes get to finish their season."
WyoPreps reached out to Wyoming Indian High School Athletics Director Keith Bauder to see what their school is doing with attendance. Mr. Bauder state that WIHS is also not having in-person attendance at games. He did say they paid the fee for fans to watch for free through the NFHS Network.
The latest schedule update has Wyoming Indian play seven games over a three-week stretch to prepare for the regional quad. St. Stephens will play eight games over the same time frame.
The Chiefs open play on Thursday, Feb. 4, with a game at Wind River. The Eagles will start on Friday, Feb. 5 at Dubois.
The 2A Southwest Regional Quad is on Thursday, Feb. 25 at Wind River High School for the boys. The girls will play on the same date but at St. Stephens Indian School. The regional quad is where every team's season comes down to winning one game to try to qualify for this year's state tournament.
Enter your number to get our free mobile app
EXPLORE: The 10 Smallest Towns in Wyoming