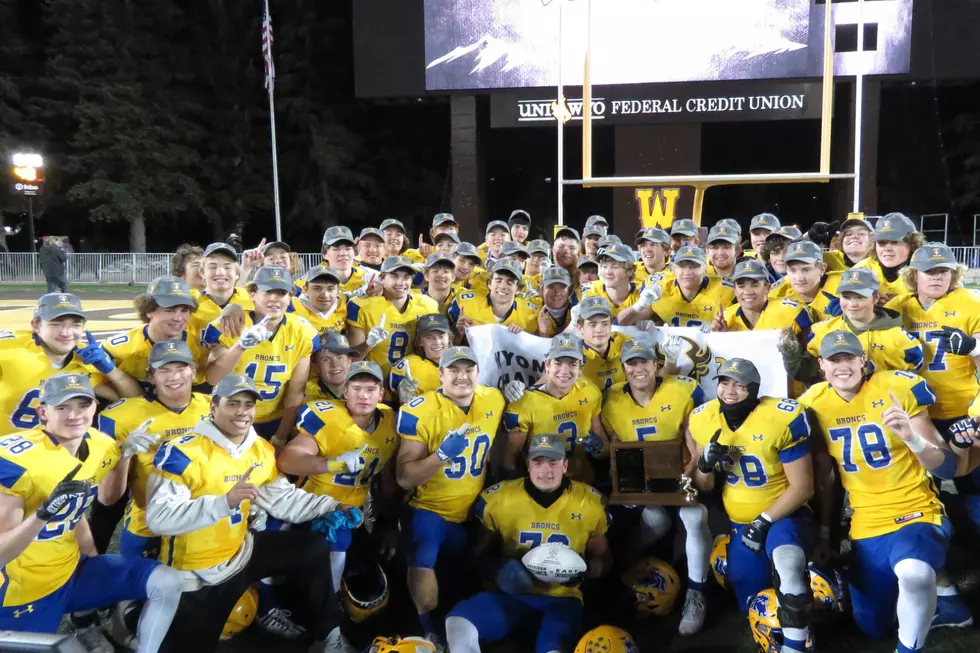 Coon Carries Sheridan Past East for the 2022 4A Football Title [VIDEO]
David Settle, WyoPreps.com
Colson Coon ran for 248 yards and 3 TDs to lead the Sheridan Broncs to a 34-23 win over Cheyenne East in the 4A football state championship game on Saturday night in Laramie.
Sheridan won its 29th state football title in school history. It's back-to-back championships, and they have won six in the last eight seasons.
Coon accounted for every single point the Broncs scored. He had the 3 TD runs, kicked 2 field goals, had a pick-six, and four PAT kicks.
As a team, Sheridan ran for 299 yards in the victory.
Head coach Jeff Mowry said this was a team together from the start.
Trailing 14-10, the Broncs took the lead for good on Coon's second TD run of 14 yards with 5:57 left in the third quarter. Coon's second field goal from 44 yards made it 20-14.
East closed within 20-17 on a Brenden Bohlmann 25-yard field goal early in the fourth quarter.
Sheridan answered with a Coon 1-yard TD run, and he iced it with a 27-yard interception return for a touchdown. That made it 34-17. The Thunderbirds scored just over a minute later for the final margin. An onside kick was recovered by the Broncs, who kept the ball for the last 4:02 of the game.
Coon ran 41 times in the game and averaged six yards per carry. Sheridan had 338 yards of total offense. They only threw for 39 yards. Coon also had 13 tackles on defense. Dane Steel added ten tackles with two sacks.
Cheyenne East finished with 383 yards on offense. Cam Hayes was 30-40 for 278 yards, 2 TDs, and 1 interception. Drew Jackson had 62 yards rushing with one touchdown. Garet Schlabs caught 11 passes for 79 yards and one TD. Jakob Culver added eight catches for 111 yards and a TD.
The Broncs took a 7-0 lead on Coon's 16-yard TD run just over four minutes into the game. East came right back with a Jackson 2-yard run and then took the lead midway through the second quarter on a 3-yard Hayes to Schlabs TD pass. That made it 14-7, Thunderbirds. Coon kicked a 41-yard field goal late in the first half. It was 14-10, East, at halftime.
Sheridan completed an undefeated season at 12-0. They ran their winning streak to 18 straight games.
Cheyenne East finished the 2022 season at 10-2.
Wyoming High School Sports Pics of the Week Nov. 4-5
Wyoming High School Sports Pics of the Week Nov. 4-5