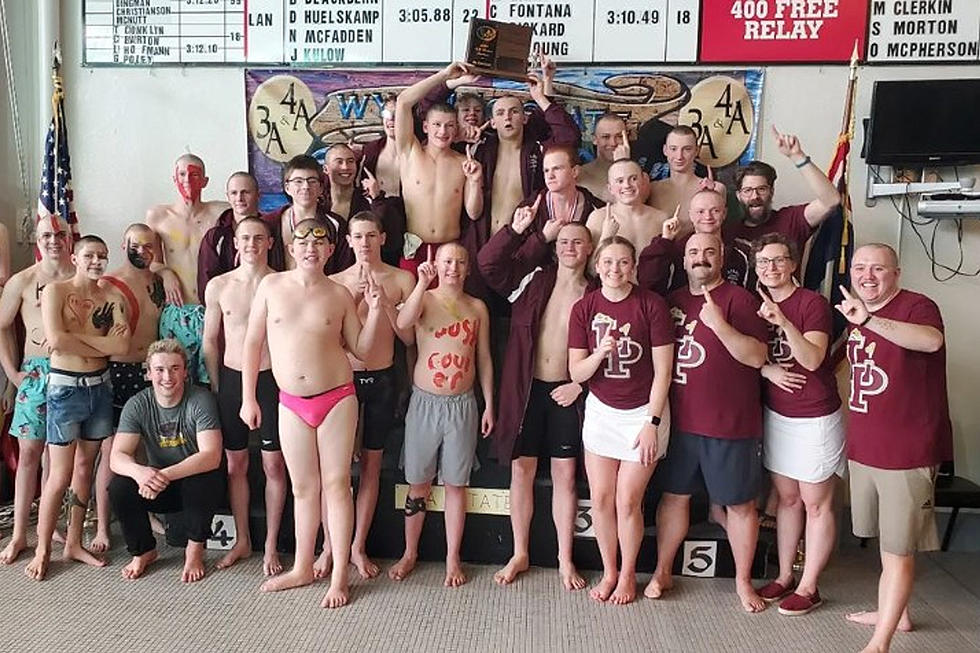 Laramie Wins Its Sixth 4A Boys State Swim Title in a Row
Frank Gambino, WyoPreps.com
Thanks to five wins and their depth, the Laramie Plainsmen won their sixth straight Class 4A Boys' Swimming and Diving State Championship on Saturday in Gillette.
The Plainsmen scored 328 points and won by 94 over runner-up Cheyenne Central (234). Sheridan took third place at 157 points, and Rock Springs was fifth with 127 points.
Senior Garrett Rees got the first win for LHS in the 50-freestyle at 21.44 seconds. That was followed by senior Ronan Robinson's victory in diving. He scored 491 points through 11 dives and won by almost 35 points. Sophomore Aiden Stakes pulled out the 500-freestyle race by 0.12 seconds.
LHS then added victories in the two freestyle relays. They touched the wall first in the 200-freestyle at 1:29.62. The Plainsmen capped the meet with an over-four-second win in the 400-freestyle relay at 3:19.03. Another four runner-up efforts helped their team's success, as well.
Laramie head coach Tamara Bretting won the 4A Coach of the Year award.
Cheyenne Central was named the 4A Athlete of the Meet. He won his third straight state title in both the 200 IM (1:57.77) and 100-breaststroke race (59.58). Merrill shared Athlete of the Year honors with Rock Springs senior John Spicer. Spicer won the 100-freestyle race at 47.30 seconds. Central's third win was in the 200-medley relay (1:39.30).
Cheyenne South had a pair of individual champions. Junior Mark Constantino won the 200-freestyle race at 1:46.83. His teammate, a junior, Caleb Brewer, captured the 100-butterfly race at 52.15 seconds.
Jackson senior Hunter Scott took the other individual event, the 100-backstroke race, at 55.40 seconds.
Combined with the six state championships won by their girls' teams, Laramie has won the last 12 Class 4A state championships in swimming and diving.
WyoPreps will have more on the 4A boys' state swim meet with videos and photos in the next few days.
Wyoming High School Sports Pics of the Week/ Feb. 9-11
Wyoming High School Sports Pics of the Week/ Feb. 9-11