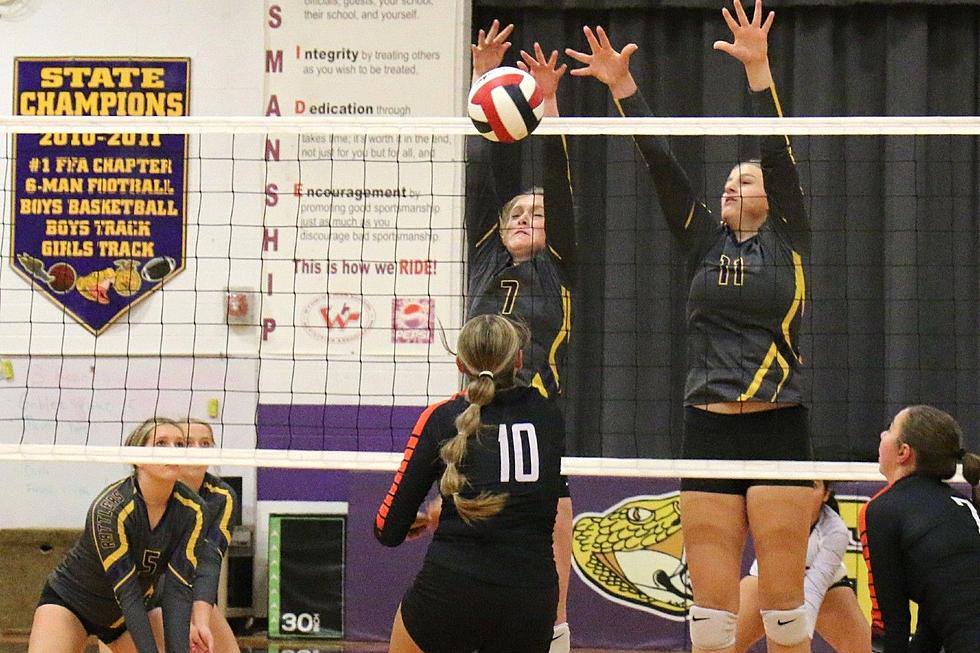 Minor Difference in the latest WyoPreps Coaches and Media Volleyball Poll
Photo Courtesy: Karen Peruolis
Not much changed in the new WyoPreps Coaches and Media Volleyball Poll at the start of October.
There were five small changes. One of those is a new team in the top five of Class 2A.
Pine Bluffs joined the 2A ranks at No. 5 in the latest poll. The Hornets received just enough votes. Big Horn continued its reign at the top and was a unanimous selection with all 13 first-place votes. Greybull and Wright were tied for second. Tongue River held onto fourth.
A tie for No. 1 highlighted the change in Class 3A. Buffalo and Mountain View shared the top spot. The rest of the top was the same with Powell, Wheatland, and Lyman at three, four, and five, respectively.
In 4A, the only difference was a tie for fifth. Laramie remained at the top with 13 of the 15 first-place votes. Thunder Basin was second. Cody stayed third and picked up two first-place votes. Kelly Walsh was fourth. The tie for fifth was between Campbell County and Star Valley, who re-entered the rankings.
In 1A, Little Snake River and Upton both earned five first-place votes. The Rattlers kept the top spot with more second-place votes. Cokeville was still third. The one slight change was no tie for fourth. Southeast was by themselves in that position, while Riverside was fifth.
Click the button below to view the voting breakdown from the coaches and media around the state.
WyoPreps provided all the coaches and some media members around the state an opportunity to vote in our third volleyball rankings of the 2023 season.
Wyoming High School Sports Pics of the Week: Sept 28-30
Wyoming High School Sports Pics of the Week: Sept 26-28
Gallery Credit: Kelsey Ticknor, Robert Galbreath, April Hanson, John Harris, Joan Snyder-Mitchell, Frank Gambino, Herder Pride, Annette Johnson, Karen Peroulis, Mary Martin, Nicole McFarland, James Yule, Treva Hurst, Jerry Schlabs, Upton-Sundance Patriots, Libby Ngo, Shannon Dutcher, Trenda Allen, Casey Muffley, Kellie Jo Allison, Marcello Monterastelli, Shelli Chance, Adria Trembly, Tony Montoya, Susan Bullard, Ashley Jessen, Jamie Tippetts,