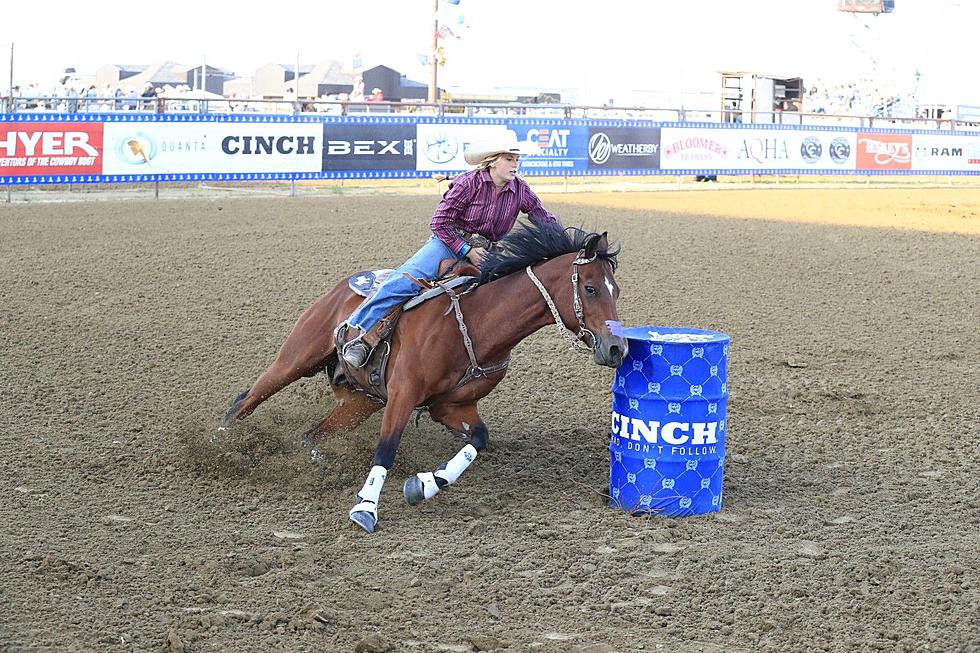 PhotoFest: National High School Finals Rodeo-Sunday
Photo Courtesy: Dee Welch
The 75th National High School Finals Rodeo kicked off Sunday night in Gillette and it's billed as the largest outdoor rodeo in the world. Over 1700 boys and girls will compete in the Finals which will run through Saturday.
In performance #1, Tuker Carricato of Saratoga posted an 80 to put him in 2nd place at the time in the bareback. Gillette's Hayden Welsh had a 75 in bull riding, which was the 2nd best effort for the night.
On the ladies' side, Sheridan's Abigail Olson had the best time on Saturday night with a 20.253 in the pole bending. Shayda Lesmesiter of Rozet recorded a 17.732 in the barrel racing which was 3rd for the night. Sydnee Roady out of Worland posted a 282 in the reined cow horse event which was the 4th-best score of the night. Bailey Lane from Huntley had a 140 in girls cutting which was tied for 6th while Yoder's Hadley Thompson had a 12.42 in the breakaway roping and that put her in 17th for the night.
We have a few photos to share from the Camplex on Saturday night, compliments of Deel Welch. They can be found in our gallery below. Enjoy!
National High School Finals Rodeo-Sunday
National High School Finals Rodeo-Sunday