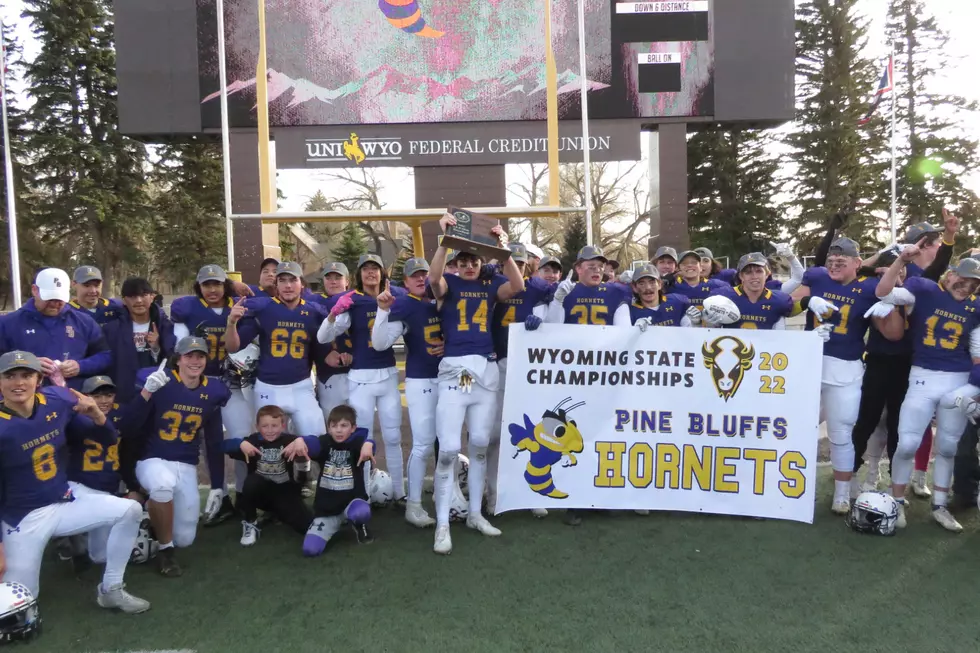 Pine Bluffs Outlasts Shoshoni for 9-Man Title, 33-27 [VIDEO]
David Settle, WyoPreps.com
Dalton Schaefer scored on a 13-yard touchdown run with 53 seconds left to propel Pine Bluffs to the Class 1A 9-Man State Championship with a 33-27 win over Shoshoni on Saturday in Laramie.
The Hornets won their third football state championship in school history and the first since 2017. It was also Pine Bluffs' first 9-man title.
Schaefer ran for 182 yards and three touchdowns. Tayler Beeken added 66 yards rushing and one TD for the Hornets. They overcame two turnovers and 13 penalties for 103 yards.
With the game tied and 5:43 left, Pine Bluffs took over at its own 47-yard line. They marched ten plays and 53 yards in nearly five minutes to clinch the win. That drive included a conversion on fourth down and six by QB Stu Lerwick, who ran for nine yards on the play. Schaefer capped it with the game-winning score.
Pine Bluffs head coach Will Gray knew his team overcame a lot of adversity to get the victory.
Neither team led by more than seven points in the game.
Two Schaefer TD runs in the first half had the Hornets in front, 13-7. Shoshoni responded with a pair of TDs by Dom Jarvis. The first was a 70-yard catch and run. The second was a 5-yard TD pass on the final play of the first half. The Wranglers led 20-13 at halftime.
Lerwick found Ryan Fornstrom on a 77-yard touchdown pass for Pine Bluffs early in the second half. A failed PAT kick kept Shoshoni in front, 20-19. After a fumble by the Wranglers, Beeken finished a nine-play driver with a 13-yard TD run. The two-point pass made it 27-20, Pine Bluffs.
Shoshoni responded with an 11-play, 68 yards TD drive. Pehton Truempler scored from 5-yards out on the first play of the fourth quarter, and that tied the game at 27-27.
After Pine Bluffs took the lead, Shoshoni got a couple of first downs and completed a Hail Mary pass on the final play, but Cannon Campbell was tackled at the Hornets' 19-yard line after a 41-yard gain as time ran out.
Pine Bluffs has 466 yards on offense. Lerwick was 13-18 passing for 198 yards, one TD, and one interception. Fornstrom had seven catches for 107 yards and a TD for the Hornets. He also had 12 tackles on defense, two for loss, and a fumble recovery.
Shoshoni had 480 yards of total offense. They ran for 190 yards and threw for 290. Truempler had 176 yards rushing and 2 TDs. Alex Mills was 13-22 passing for 290 yards and 2 TDs for the Wranglers. Jarvis finished with four catches for 100 yards and two scores. Trey Fike added five catches for 87 yards. Truempler had 13 tackles in the game with one tackle for loss.
Pine Bluffs capped an undefeated season with an 11-0 record.
Shoshoni finished at 9-2.
Wyoming High School Sports Pics of the Week Nov. 4-5
Wyoming High School Sports Pics of the Week Nov. 4-5