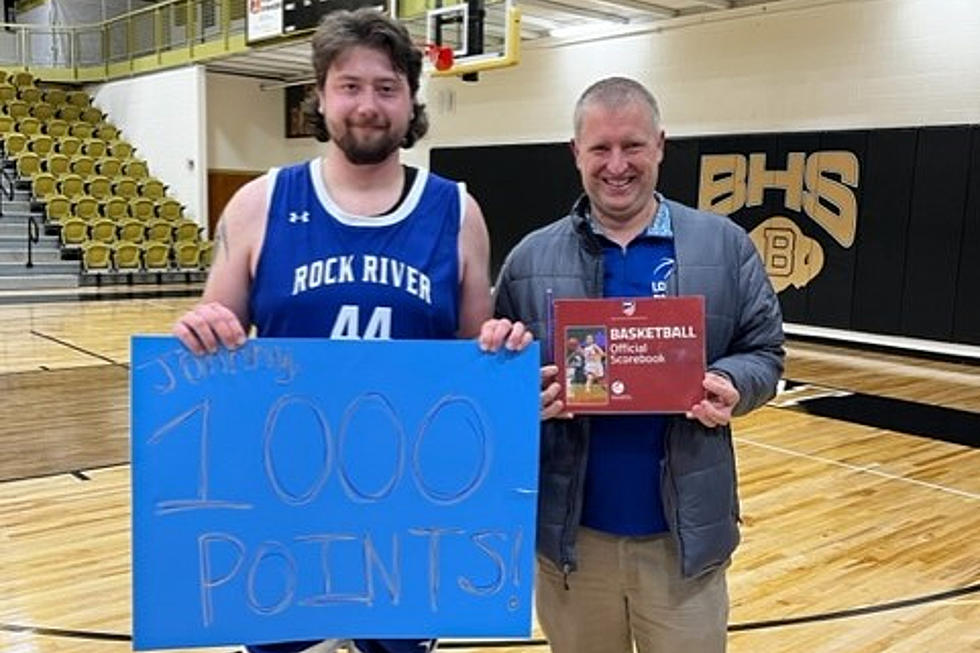 Rock River's Johnny Moore Got to 1000 Points in His Senior Year
Courtesy: Kason Winters, Rock River School
Rock River senior Johnny Moore joined the 1000-point club near the end of the 2023 Wyoming High School basketball season.
Moore has played the last season-and-a-half on a bum knee, according to Rock River coach Kason Winters.
The senior reached 1,000 points at the 1A East Regional Basketball Tournament against Upton.
Winters told WyoPreps that they went through old stat books and film and got an exact number for what it would take to reach that goal. They set a goal for Moore to reach in each game. Winters said he accomplished the feat earlier than they thought.
Winters went on to say, "all the guys on the team told him before the game that he would get it before the end of the game and they all worked tirelessly to get him the ball as much as they could. It was pretty cool."
Moore was a two-time all-conference selection during his career with the Longhorns.
As a senior, he averaged a team-high 11.8 points per game and shot 54 percent from the field and 44 percent beyond the arc. Moore added 6.5 rebounds, 1.2 assists, and 1.1 steals per game. He led the team in scoring in 10 of their 20 games during the 2022-23 season. That included a season-best 35 points against the Laramie Sophomores on Jan. 3, 2023.
In his junior year (2021-22), Moore averaged 12.1 points and 8.4 rebounds per game and shot 43 percent from the floor. He averaged 17.2 points and 9.5 rebounds per game as a sophomore during the 2021 season. Moore averaged 12.2 points and 7.6 rebounds per contest in his freshman year (2019-20).
His career high was 36 points versus the Burns JV on Jan. 21, 2021.
Congratulations to Johnny Moore on accomplishing this goal.
HS Sports Pics of the Week: Feb 23-25
HS Sports Pics of the Week: Feb 23-25