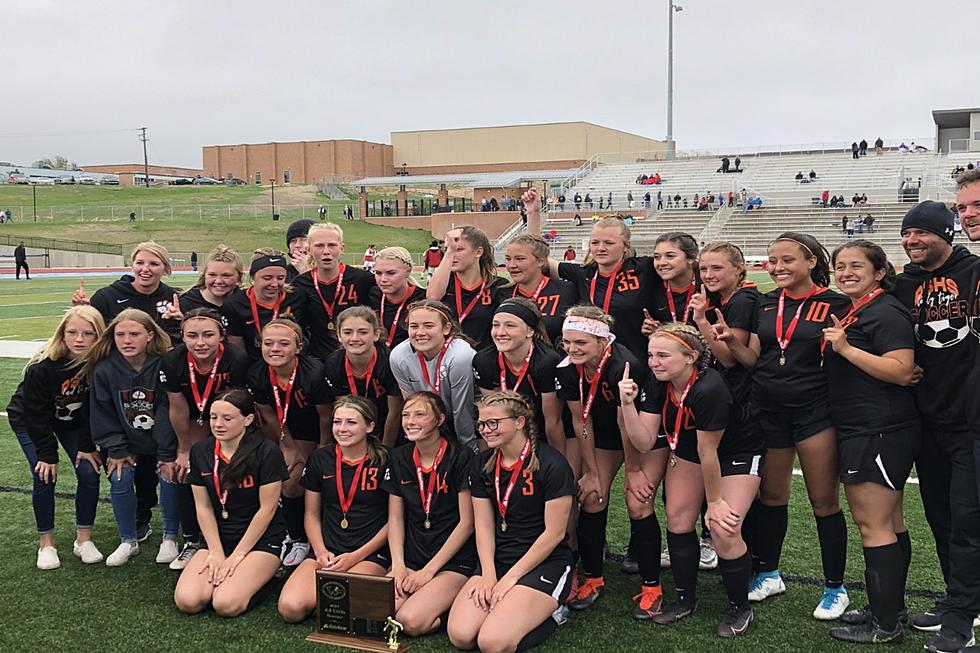 Rock Springs Wins Class 4A Girls State Soccer Title
Rocky Cordova
Townsquare Media
Rock Springs and Thunder Basin battled for the 4A girls soccer Wyoming high school state championship in Cheyenne on Saturday. 
This match was a battle between the two number one seeds in the bracket. 
Thunder Basin had an 18-0 record going into the game while Rock Springs 14-2 record going into the championship match. 
The game started on an unfortunate foot as the starting goalkeeper for Rock Springs got injured and did not return to the game. 
Karli Nelson stepped in as goalkeeper for the Tigers. 
Adversity did slow down the Tigers as the team was able to turn around and score in just the fifth minute of play 
The first goal of the match was scored by senior Olivia Politi. 
Thunder Basin was getting a good amount of possession in the first half. However, the Bolts just could not break through the Tiger's defense. 
The game was hard-fought through this half with Rock Springs holding a 1-0 lead and then with just 10:25 left to play in the first half, Olivia Politi put in another goal for her team. 
The score at halftime was 2-0 in favor of Rock Springs. 
The second half of the play saw many shots and strong offensive pressure by Thunder Basin. The Rock Springs defense did not budge. 
The play by the Tigers was strong as its defense did prevail in the second half. 
Karli Nelson played a great game for her team. She stepped in at goalie and got a clean sheet in this game. 
The Tigers are coached by Stephen Pyer. Pyer has been the head coach for six seasons now.
Five Of The Coldest Days in Wyoming History
Did you know that four of the 10 coldest temperatures ever recorded in the continental United States were here in Wyoming?