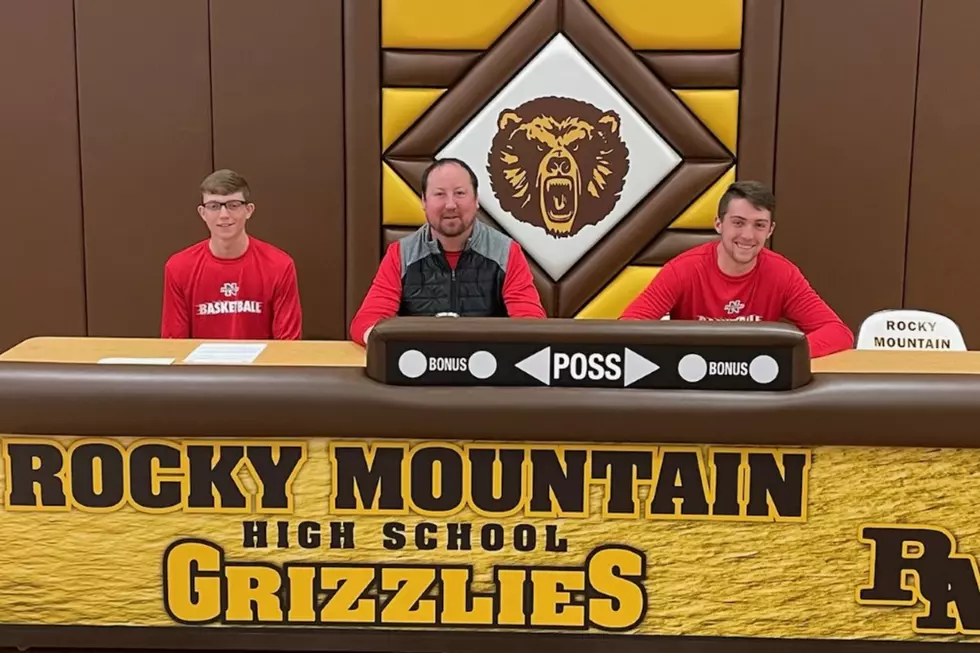 Rocky Mountain's Winland and Wambeke Sign to Play Basketball at Northwest College
Courtesy: Pat Winland
Rocky Mountain seniors Taylor Winland and Jess Wambeke will continue playing basketball at Northwest College in Powell.
The two led the Grizzlies to the Class 2A boys basketball state championship earlier this year, as Rocky Mountain finished 20-3 overall and 6-0 in the 2A Northwest Quadrant.
Taylor Winland was a three-time all-state player. He averaged 13.8 points and 6.5 rebounds per game. Winland also dished out 3.1 assists and had 1.3 blocked shots per game. He shot 60 percent from the field and 76 percent at the free-throw line. As a junior, Winland averaged 15 points, 7.7 rebounds, and shot 67 percent from the floor. He helped the Grizzlies to the 2A consolation trophy and a 21-7 overall record.
Winland was also all-state in football in the 2020 season, as Rocky Mountain made the semifinals in the Class 1A-9 man state football playoffs in the inaugural 9-man season. He also participates in track and field at Rocky Mountain High School.
Wambeke is a two-time all-state basketball player for the Grizzlies. He averaged 10.2 points, 2.7 assists, and 1.8 steals per game during the 2020-21 season. Wambeke shot 49 percent from the field his senior year. As a junior, he averaged 12.1 points, 2.3 assists, and 1.8 steals per contest and shot 48 percent from the floor. Wambeke also played football for RMHS.
The Northwest College Trappers went 7-14 last season. Jay Collins is the men's head basketball coach.
10 Cheyenne Frontier Days Souvenirs Found on eBay
2021 is the 125th annual
Cheyenne Frontier Days
. It's crazy when you stop to think about it that means the Daddy of 'Em All has been around longer than the internet, sliced bread, and cars!
Over that century-plus of Old West celebrations, millions of people have visited Cheyenne, Wyoming. Many of the people took home souvenirs of their days cheering on the rodeo participants and exploring Wyoming.
Many years later those souvenirs have made their way onto the online auction site eBay. Collectors from around the world are reading bits and pieces of Cheyenne's history of tourism. Here are a few of the treasures we found recently.