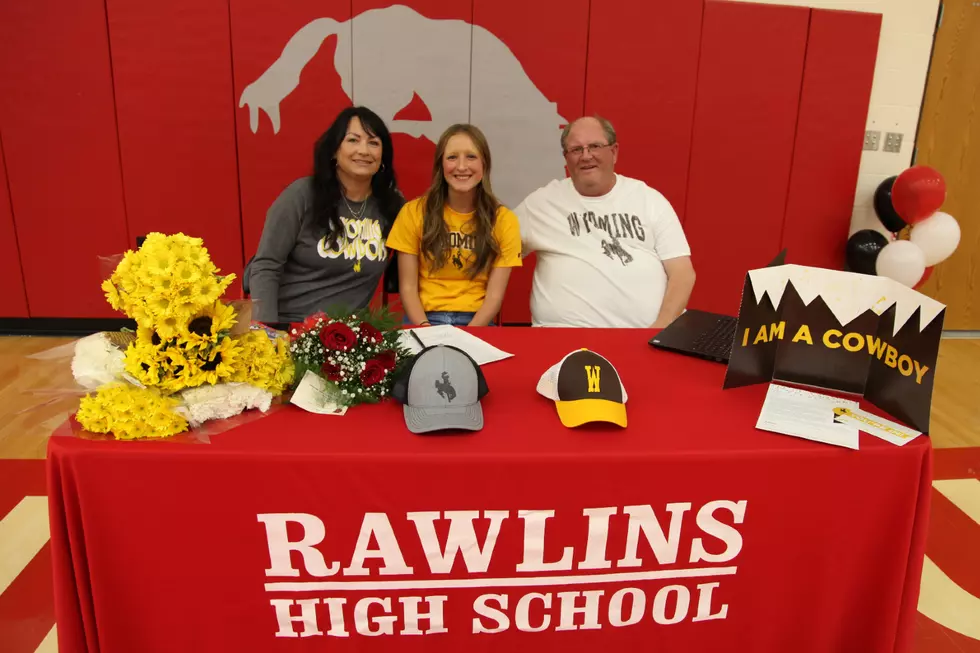 Ryann Smith of Rawlins Signs at the University of Wyoming
Courtesy: Kadence Chavez, Rawlins High School
Rawlins High School standout distance runner Ryann Smith will be a Cowgirl next fall.
Smith signed with the University of Wyoming cross country and track and field program on Wednesday.
She was a two-time all-state runner in cross-country during her prep career at RHS. Smith finished as the Class 3A runner-up at last month's 2022 state championships in Ethete, WY. Her time was 19:39.8. She placed fifth at the 3A state championships as a junior in 2021.
During her senior season, Smith won four meets. Those were the Kelly Walsh Bear Trap Invitational in late August, the Chief Nation Invitational and Rawlins XC Invitational in September, and the Class 3A East Conference Championship in October.
Smith was also second at the Leroy Sprague Invitational last month in Cheyenne with a personal-best time of 18:56.5. She placed 13th at the Wyoming Cross Country Invitational in Cheyenne and finished 17th at the Bob Firman Invitational in Boise, ID.
At last weekend's Nike Cross Nationals Northwest Regional, Smith ran 19:28.9 in Boise and came in 69th place in the Championship Division.
At the 2022 state track meet last May, Smith won the Class 3A 1600 meters with a time of 5:11.33. She was second in the 800 meters and third in the 3200 meters. Smith also helped Rawlins win the 3A 1600-meter sprint medley relay at a time of 4:25.65. She also participated in four track events at the 2021 state track meet.
Smith is also a returning starter and two-year letter-winner for the Rawlins girls' basketball team. She led the Outlaws at 7 points per game last season and also grabbed 4 rebounds per game.
3A Girls State Cross Country
3A Girls State Cross Country