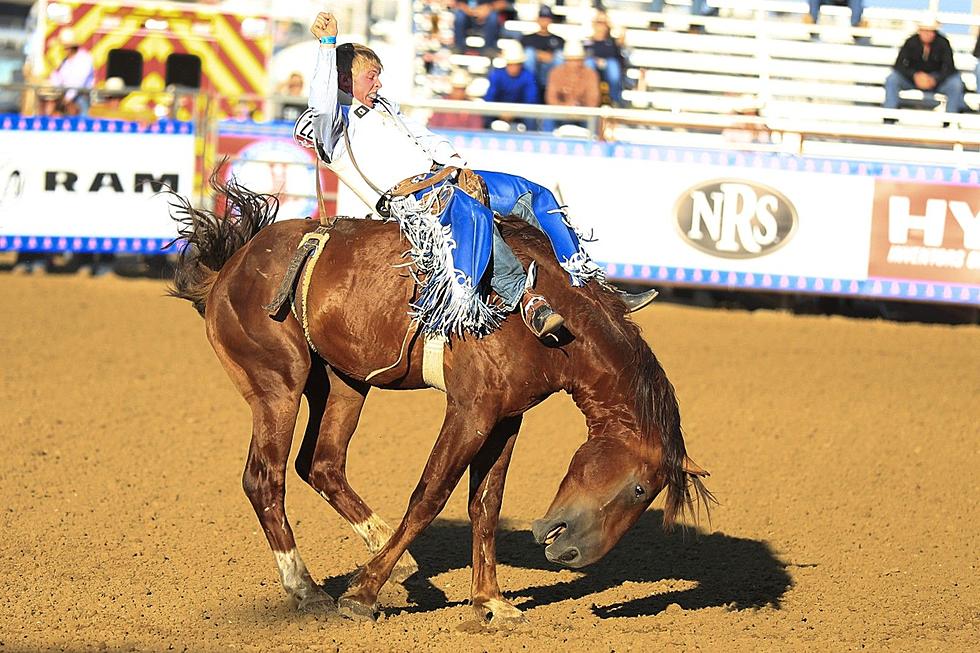 Team Wyoming Cashes In at National H.S Finals Rodeo
Photo Courtesy: Dee Welch
The National High School Finals Rodeo wrapped up on Saturday in Gillette with Saratoga's Tuker Carricato winning the world championship in the bareback. Yes, there is money to be made at the NHSFR through the jackpots. In addition to a $2500 check that Carricato received for winning the bareback title, he won an additional 3031.17 in the jackpot. He placed 2nd in the first go-round which won him $720.28, he took 3rd in the 2nd go so that was worth $570.22 then he won the short go, and that paid him $870.34. Carricato also picked up another check for $870.34 for winning the aggregate. Roedy Farrell of Thermopolis took home $420.16 by taking 4th in the short-go.
In the bull riding, Hayden Welch of Gillette won $513.20 in the first go-round and a whopping $1653.66 with an 87 in the short-go which put him 1st. Plus, $513.20 for taking 5th in the average.
Over in the tie-down roping, Jace Mayfield from Midwest won $336.13 by taking 6th in the 1st go, $1277.31 for placing 3rd in the short go, and $941.17 for placing 4th in the aggregate.
In barrel racing, Abigail Olson from Sheridan won $330.13 for 6th place in the short-go and $924.36 for 4th place in the average. She also picked up $141.05 for taking first in the first go-round of pole bending. Also in the pole bending events, Wright's Caitlin Moore won the first go-round and she won the 2nd go-round, and that paid $1636.25 for each. Morgan Watts from Eden won $534.81 for placing 5th in the 2nd go-round of the goat tying.
National High School Finals Rodeo-2023
National High School Finals Rodeo-2023