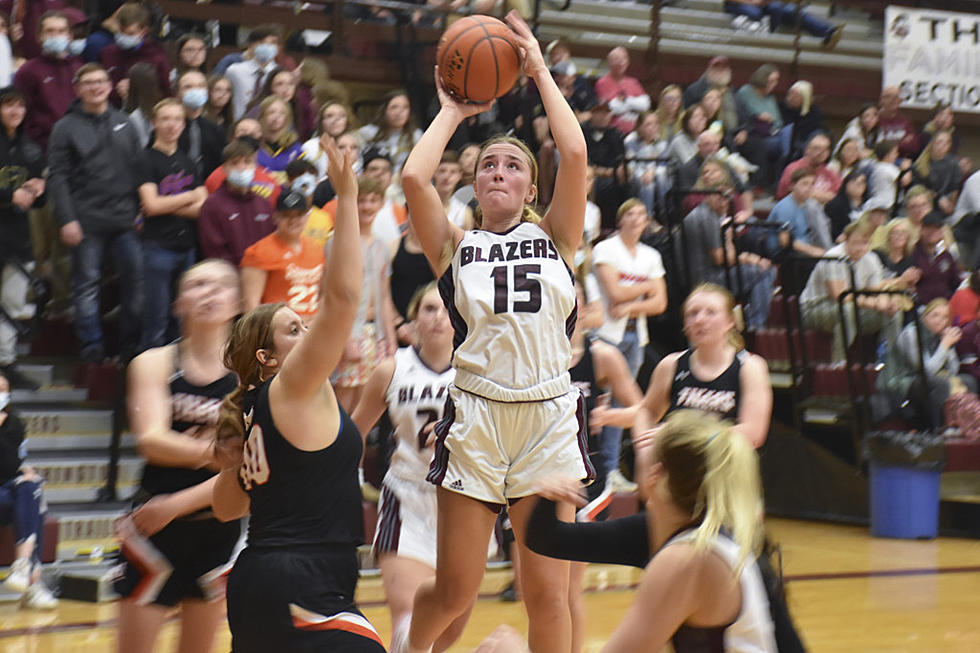 Torrington's Reece Halley Reaches 1,000 Points
Courtesy: Tyler Martineau
The date of Jan. 13, 2022, will be one Torrington's Reece Halley will remember. That's the date she passed 1,000 points in her high school basketball career.
Halley accomplished the feat in the Trailblazers 40-27 win over Mitchell, NE.
In her senior season, Halley is averaging 16.9 points per game, which is No. 5 in Class 3A. She's scored 203 points so far this season and is shooting 48 percent from the floor. Halley leads 3A in rebounding at 9.9 per game. She has helped Torrington to a 507 record thus far.
WyoPreps talked with Halley and senior teammate Mattie Jones earlier this season.
Halley is a two-time all-state and three-time all-conference selection in basketball.
As a junior, she averaged 15.4 points and 9.9 rebounds per game while shooting 45 percent from the field. Halley scored 323 points last season. She helped Torrington to an 11-12 overall record and a berth in the 3A state basketball tournament. As a sophomore, Halley scored 245 points and averaged 11.1 per game. She scored 244 points her freshman season and averaged 9.8 per contest.
Halley is a multi-sport athlete that also competes in volleyball and track and field at Torrington High School. Halley is a two-time all-conference pick on the volleyball court. She's also qualified twice for the Class 3A state track championships.
Halley is at 1,015 points for her career and counting.
If you have information on prep basketball players reaching the milestone of 1000 points in their high school career, please email david@wyopreps.com and include a game photo of the player.
High School Sports Picks of the Week Dec. 16-18
High School Sports Picks of the Week Dec. 16-18