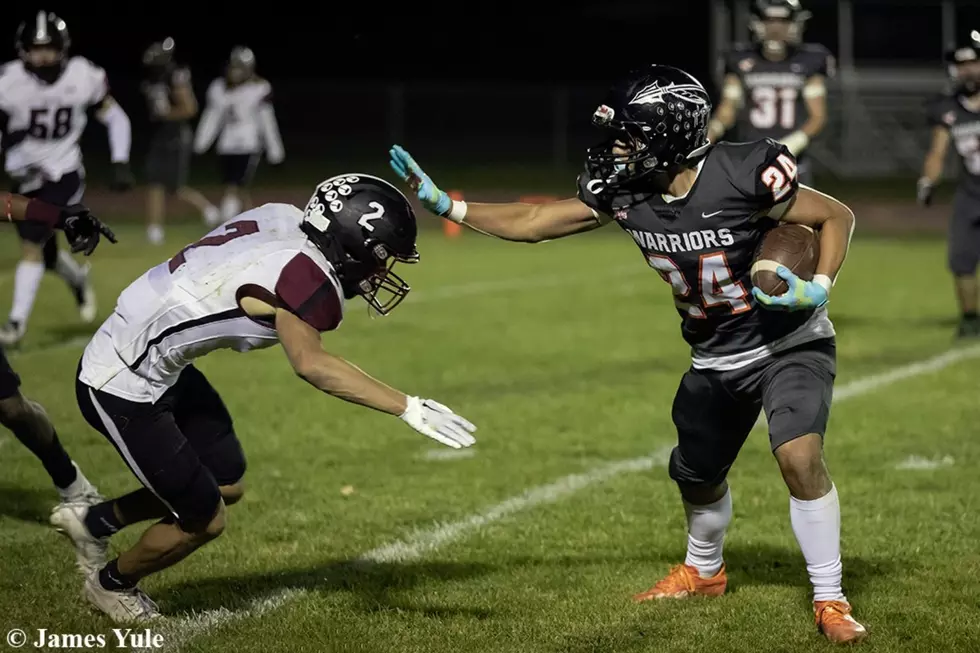 Worland Claws Their Way Into 3A Playoffs
Photo Courtesy: James Yule
It wasn't easy but the Worland Warriors punched their ticket to the 3A postseason in football with a 42-21 home win over Riverton on Friday night. The Warriors grabbed the 4th seed from the East but have a very tough game ahead of them traveling to meet defending 3A champion Cody on Friday night.
In this game on Friday, Worland scored first thanks to quarterback Kade Weber tossing a touchdown pass to Carter Clark to make it 6-0. But Riverton answered right back with 2 touchdowns in the opening quarter with quarterback Darrick Devries registering 2 rushing scores from 2 and 9 yards out respectively. That gave the Wolverines a 14-6 lead.
Worland started to assert themselves in the 2nd quarter as Weber found Clark again for a touchdown and later in the quarter, Weber scored from the doorstep so the Warriors assumed a 20-14 lead at the intermission.
Weber threw his 3rd TD pass of the game in the 3rd quarter, this one going to Trae Bennett that went for 37 yards and with the successful 2-point try, Worland led 28-14. The Warriors put the game away in the 4th quarter as Brock Douzenis contributed an 8-yard run to the end zone plus the defense turned in a score thanks to Ethan Burns.
Worland finished the regular season at 4-4 and qualified for the playoffs for the 6th straight year. Riverton was 1-7 this season and did not qualify for the postseason. Be sure and take a look at some great photographs from this game in our gallery below compliments of James Yule. Enjoy!
Worland-Riverton Football
Worland-Riverton Football