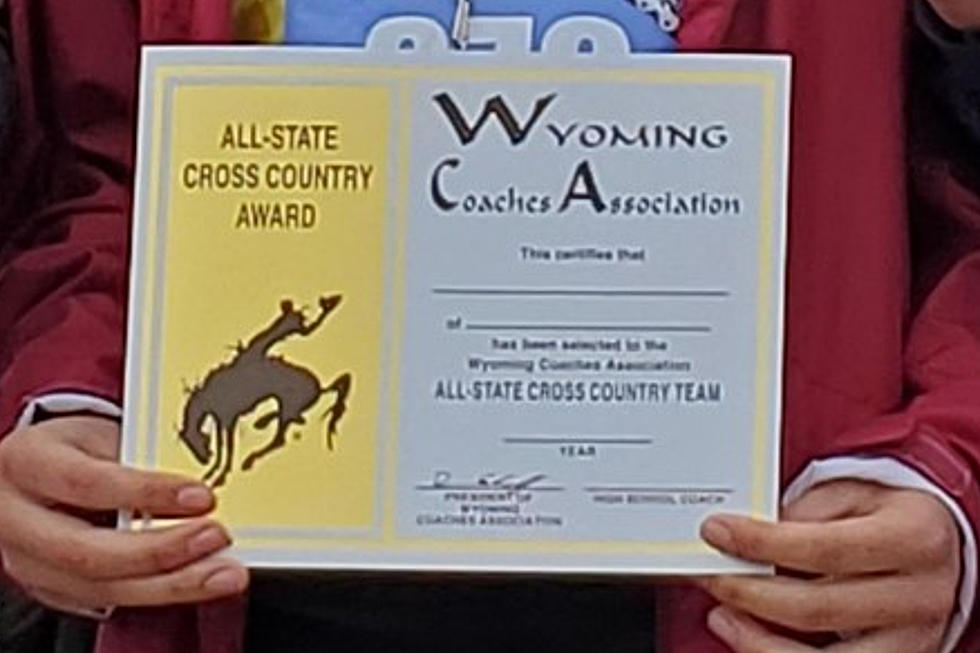 Wyoming Coaches Association Announces 2023 Cross Country All-State Awards
Frank Gambino, WyoPreps.com
The Wyoming Coaches Association released the runners that received all-state honors from the 2023 season.
Per the WCA guidelines, the top 10 finishers, including ties, in each class earned the award. There is no voting for All-State.
Congratulations to Marilee Williams from Saratoga. She was the lone runner who achieved All-State for the fourth time in her career among this year's recipients.
Nine more runners earned all-state for the third time in their prep career.  Fourteen more got their second award.
Here are the 2023 student-athletes who collected all-state honors for high school cross country in Wyoming. They are listed alphabetically by the school and then by the last name.
Class 2A Girls:
Ava Byrd – Big Horn
Jessie Michaels – Burlington (All-State 2021)
Marilee Williams – Saratoga (4X All-State! 2020-2023)
Jayda Griffin – Thermopolis
Grace Perkins – Tongue River (All-State 2022)
Laken Walker – Tongue River
Kylie Benim – Wright
Carolina Navarro – Wright
Caemlyn Nolte – Wright
Dai'onna Posey – Wyoming Indian
Class 2A Boys:
Connor Hoyt – Burlington
Howard McNiven – Burlington (All-State in 2021 & 2022)
Paul McNiven – Burlington
Marcus James – Moorcroft (All-State 2022)
Jadeth Elder – Thermopolis
Isaiah Cote – Tongue River
Dolan Glasser – Wright
Tobyn Teigen – Wright
Colton SunRhodes – Wyoming Indian
HeeyeiNiitou Monroe-Black – Wyoming Indian
Class 3A Girls:
Maya Hall – Buffalo
Lillie Kirkham – Cody
Hailie Schramm – Cody
Jocelyn Capener – Evanston
Ameya Eddy – Lander (All-State in 2021 & 2022)
Karee Cooley – Powell
Kenna Jacobsen – Powell
Kaycee Kosmicki – Torrington
Ava Tapia – Worland
Zena Tapia – Worland (All-State in 2021 & 2022)
Class 3A Boys:
Zach Freise – Buffalo
Charlie Hulbert – Cody (All-State 2022)
Benjamin Stewart – Cody (All-State in 2021 & 2022)
Bryan Baxter – Evanston
Paul Baxter – Evanston
Aidan Conrad – Evanston
Diego Lobatos – Lander (All-State 2021)
Kaden Chatfield – Riverton (All-State in 2021 & 2022)
Sully Wilson – Torrington
Trajn Swalstad – Worland (All-State 2022)
Class 4A Girls:
Rian Cordell-Reiner – Cheyenne Central (All-State in 2021 & 2022)
Emma Hofmeister – Cheyenne Central (All-State in 2021 & 2022)
Maggie Madsen – Cheyenne East
Madison Antonino – Jackson (All-State 2022)
Lexi Longhurst – Kelly Walsh
Claire Arens – Laramie
Nicole Clark – Natrona County (All-State 2022)
Ashley Gross – Natrona County (All-State 2022)
Ally Wheeler – Natrona County (All-State 2022)
Kayley Alicke – Sheridan (All-State 2022)
Class 4A Boys:
Bridger Brokaw – Cheyenne Central (All-State in 2021 & 2022)
Race Morrell – Cheyenne Central
Micah Colling – Kelly Walsh
Dominic Eberle – Laramie (All-State 2022)
Kalel Brubaker – Natrona County
Jase Burton – Star Valley (All-State 2022)
Colton Cranney – Star Valley
Peter Lorch – Star Valley
Drake Plowman – Star Valley (All-State 2021)
Habtamu Wetzel – Star Valley (All-State in 2021 & 2022)
Boys State Cross Country-2023
Boys State Cross Country-2023
Gallery Credit: Libby Ngo, Frank Gambino
2023 Girls State Cross Country
2023 Girls State Cross Country
Gallery Credit: Libby Ngo, Frank Gambino,