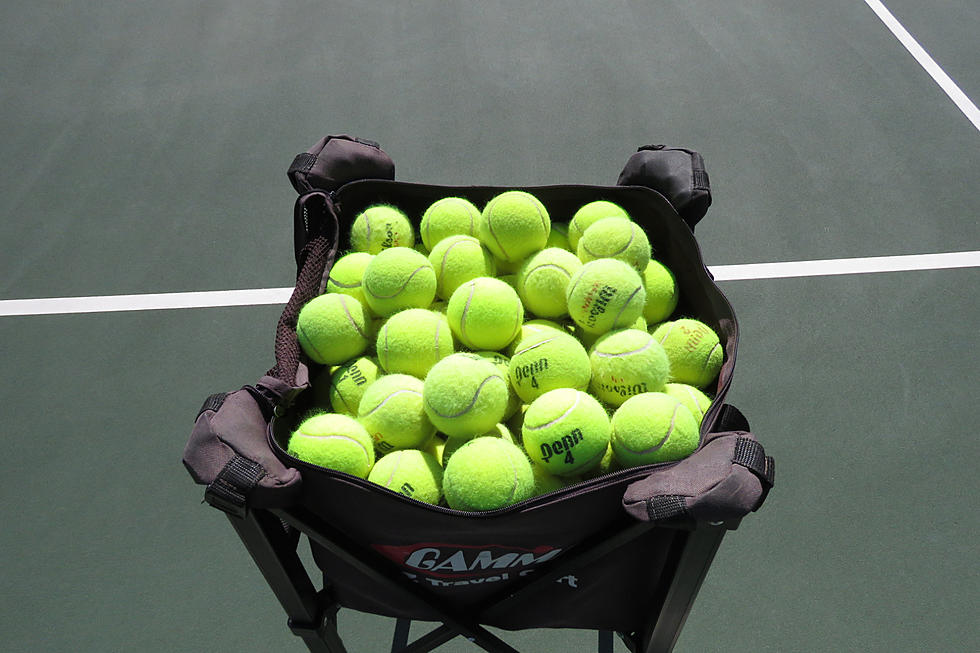 Wyoming High School Tennis Scoreboard: Sept. 7-14, 2021
David Settle, WyoPreps.com
We begin week four of high school tennis on Tuesday. Next week regional play will begin in Sheridan for the north and at Cheyenne East for the south on September 17 and 18.
This scoreboard is extended till next Tuesday due to regionals next week.
Here is a look at the action for the week; the schedules below are subject to change. The tennis scoreboard is presented by Fat Boys Tire & Auto.
Tuesday, Sept. 7
Girls: Cheyenne Central 5 Torrington 0
1S: Ashli Smedley (Cent) def. Bethany Wunibald: 6-0, 6-1
2S: Gracie Osterland (Cent) def. Jacee Shields: 7-5, 7-5
1D: Ackerman/J. Brown (Cent) def. Kayla Watson/Hurley: 6-3, 6-0
2D: Tempel/Tyler (Cent) def. West/Jackson: 6-0, 6-0
3D: Thomson/K. Brown (Cent) def. Russell/Katie Watson: 6-3, 6-1
Boys: Cheyenne Central 5 Torrington 0
1S: Isaiah Rigg (Cent) def. Aidyn Saucedo: 7-6 (6), 6-7 (4), 7-5
2S: Jackson Cook (Cent) def. Isaac Bartlett: 6-0, 6-0
1D: Van Kirk/Thornell (Cent) def. Russell/Clayton: 4-6, 6-4, 6-2
2D: Hilton/Smedley (Cent) def. A. Bartlett/Firminhac: 6-4, 6-7 (1), 6-1
3D: Villalobos-Alvarado/Ellison (Cent) def. Asmus/Brimmer: 6-0, 6-3
Girls: Cheyenne East 5 Torrington 0
1S: Paige Frazier (CE) def. Bethany Wunibald: 6-2 6-0
2S: Nedra McIlwaine (CE) def. Jacee Shields: 6-2 6-3
1D: O'Brien/Kastens (CE) def. Kayla Watson/Hurley: 6-0 6-0
2D: Baktamarian/Murphy (CE) def. West/Jackson: 6-0 6-1
3D: Woods/Farris (CE) def. Russell/Katie Watson: 6-1 6-0
Boys: Cheyenne East 3 Torrington 2
1S: Aidyn Saucedo (Torr) def. Nick Colgan: 6-4, 6-0
2S: Logan Davis (CE) def. Isaac Bartlett: 6-4, 4-6, 6-2
1D: Johnson/McMullen (CE) def. Clayton/Russell: 3-6, 6-2, 5-5 (7-1) - finished short due to loss of daylight
2D: Firminhac/A. Bartlett (Torr) def. Franklin /Schutz: 6-0 6-1
3D: Guevara/Romine (CE) def. Armas/Bremmer: 6-2 6-3
Wednesday, Sept. 8
Girls: Green River 5 Torrington 0
1S: Gabrielle Heiser (GR) def. Bethany Wunibald: 6-1, 4-6, 6-0
2S: Megan Counts (GR) def. Jacee Shields: 6-3, 6-1
1D: Harrison/Strange (GR) def. Kayla Watson/Hurley: 6-2, 6-2
2D: Brown/Travis (GR) def. West/Jackson: 6-1, 6-0
3D: Skinner/Schuh (GR) def.. Russell/Katie Watson: 6-3, 7-5
Boys: Green River 5 Torrington 0
1S: Braxton Cordova (GR) def. Aidyn Saucedo: 6-1, 6-0
2S: Korbin Arnell (GR) def. Isaac Bartlett: 6-2, 7-5
1D: Friel/Tirrell (GR) def. Clayton/Russell: 6-0, 6-3
2D: Wendel/Findlow (GR) def. Bartlett/Firminhac: 1-6, 6-3, 7-5
3D: Ross/Peterson (GR) def. Asmus/Bremmer: 6-2, 6-0
Thursday, Sept. 9
Girls: Cheyenne South 4 Rawlins 1
1S: Patricia Hartley (South) def. Alexis Townsend: 6-4, 4-2 (retired due to injury)
2S: Rawlins wins by default
1D: Lock/Jones (South) def. Clark/Chavez: 6-3, 6-2
2D: Taylor/Moore (South) def. Hooper/Pacheco: 6-0, 6-2
3D: Willoughby/Ramirez (South) def. Ochoa/Synder: 6-1, 6-1
Boys: Cheyenne South 3 Rawlins 2
1S: Andrew Lock (South) def. Spencer Searle: 6-0, 6-0
2S: Nikolas Lock (South) def. Griffin Searle: 6-1, 6-1
1D: Anderson/L. Searle (Raw) def. Davidson/Torres: 6-1, 6-1
2D: Jo. Motye/Je. Moyte (South) def. Dilworth/Holcomb: 6-2, 6-2
3D: Longog/Barto (Raw) def. Beckett/Perez: 6-1, 6-4
Girls: Natrona 3 Campbell County 2
1S: Theresa Trevojova (NC) def. Alexa Richert: 6-1, 6-0
2S: Abi Neary (CC) def. Elena Galles: 6-0, 6-0
1D: Campbell/Hurlbut (NC) def. Bouzis/Whitt: 6-2, 6-4
2D: Jacobs/Gary (CC) def. Limmer/Wilson: 6-2, 0-6, 6-2
3D: Warolin/Colling (NC) def. Alexander/Torres: 6-1, 4-6, 6-1
Boys: Campbell County 5 Natrona 0
1S: Jason Fink (CC) def.  Micah Bush: 6-1, 6-0
2S: Kody Kline (CC) def. Titus Timber: 6-1, 6-4
1D: Sarvey/Allison (CC) def. Stevens/True: 6-2, 6-2
2D: Barton/Robertson (CC) def. Wilson/Neumiller: 6-2, 6-0
3D: Lemm/Hallcorft (CC) def. Taylor/Santistevan: 6-2, 6-1
Girls: Cody 4 Powell 1
1S: Reagan Staggs (Cody) def. Chase Anderson: 4-6, 7-5, 6-3
2S: Anna Brenner (Cody) def. Kaili Wisniewski: 4-6, 7-6 (7-0), 6-0
1D: Selk/Schoessler (Cody) def. Hull/Hincks: 6-2, 6-2
2D: Harp/Terry (Pow) def. Graham/Fink: 7-5, 4-6, 6-4
3D: Christler/Wassink (Cody) def. Lee/Sessions: 6-2, 2-6, 6-1
Boys: Cody 4 Powell 1
1S: CJ Dominick (Cody) def. Ethan Bartholomew: 6-4, 2-6, 6-4
2S: Tade Geving (Cody) def. Aiden Chandler: 2-6, 6-2, 6-4
1D: Champlin/Schwab (Cody) def. Brown/Flores: 6-0, 6-2
2D: Queen/Cordes (Pow) def. Law/Idema: 7-6 (8-6), 6-4
3D: Kilpack/Thompson (Cody) def. Barrus/Hicswa: 6-2, 6-3
Kelly Walsh @ Campbell County - missing results
Kelly Walsh @ Thunder Basin - missing results
Natrona @ Thunder Basin - missing results
Friday, Sept. 10
Girls: Cheyenne Central 5 Rawlins 0
1S: Ashli Smedley (Cent) def. Kirsten Anderson: 6-0, 6-1
2S: Gracie Osterland (Cent) def. Buena Clark: 6-1, 6-1
1D: Ackerman/J. Brown (Cent) def. Townsend/Chavez: 6-3, 6-1
2D: Tempel/Tyler (Cent) def. Hooper/Pacheco: 6-0, 6-2
3D: Thomson/K. Brown (Cent) def. Ochoa/Synder: 6-2, 6-0
Boys: Cheyenne Central 5 Rawlins 0
1S: Isaiah Rigg (Cent) def. Spencer Searle: 6-2, 6-0
2S: Jackson Cook (Cent) def. Griffin Searle: 6-1, 6-2
1D: Van Kirk/Thornell (Cent) def. L. Searle/Anderson: 6-7 (7), 7-5, 6-1
2D: Hilton/Smedley (Cent) def. Dilworth/Holcomb: 6-1, 7-5
3D: Villalobos-Alvarado/Ellison (Cent) def. Barto/Longog: 6-2, 6-0
Girls: Cheyenne East 5 Rawlins 0
1S: Paige Frazier (CE) def. Kirsta Anderson: 6-0, 6-0
2S: Nedra MclIwaine (CE) def. Buena Clark: 6-0, 6-0
1D: O'Brien/Kastens (CE) def. Chavez/Townsend: 6-2, 6-1
2D: Baktamarian/Murphy (CE) def. Hooper/Pacheco: 6-1, 6-3
3D: Woods/Farris (CE) def. Ochoa/Synder: 6-0, 6-1
Boys: Rawlins 4 Cheyenne East 1
1S: Nick Coglan (CE) def. Spencer Searle: 6-0, 6-0
2S: Griffin Searle (Raw) def. Logan Davis: 6-2, 6-4
1D: Anderson/L. Searle (Raw) def. Johnson/Brown: 6-2, 6-4
2D: Delworth/Holcomb (Raw) def. Schutz/Franklin: 7-5, 6-3
3D: Longog/Barto (Raw) def. Romine/Guevara: 6-0, 4-6, 6-2
Girls: Laramie 5 Torrington 0
1S: Lina Woelk (Lar) def. Bethany Wunibald: 7-5, 4-6, 1-0 (10-6)
2S: Mia Wallhead (Lar) def. Jacee Shields: 6-1, 6-2
1D: Dorrell/Moore (Lar) def. Kayla Watson/Hurley: 4-6, 6-3, 1-0 (12-2)
2D: Kersey/Wulff (Lar) def. West/Jackson: 6-1, 6-0
3D: Gerdes/Peterson (Lar) def. Katie Watson/Russell: 6-2, 6-2
Boys: Laramie 4 Torrington 1
1S: Samuel Johnson-Noya (Lar) def. Aidyn Saucedo: 6-2, 7-5
2S: Paulo Melliza (Lar) def. Isaac Bartlett: 6-1, 2-6, 1-0 (10-7)
1D: Alexander/M. Johnson-Noya (Lar) def. Clayton/Russell: 6-1, 6-0
2D: A. Bartlett/Firminhac (Torr) def. O'Connor/Russow: 6-3, 7-6 (8-6)
3D: Baker/Hepworth (Lar) def. Asmus/Bremmer: 6-2, 6-0
Girls: Green River 5 Cheyenne South 0
1S: Gabrielle Heiser (GR) def. Patricia Hartley: 6-1, 6-0
2S: Green River wins by forfeit
1D: Harrison/Strange (GR) def. Jones/Lock: 6-1, 6-1
2D: Brown/Strauss (GR) def. Moore/Taylor: 6-2, 6-0
3D: Travis/Skinner (GR) def. Willoughby/Ramirez: 2-6, 7-5, 3-1
Boys: Green River 4 Cheyenne South 1
1S: Andrew Lock (South) def. Braxton Cordova: 6-0, 6-1
2S: Korbin Arnell (GR) def. Nikolas Lock: 6-7 (1-7), 6-2, 7-5
1D: Friel/Tirrell (GR) def. Davidson/Torres: 6-3, 4-6, 6-2
2D: Wendel/Findlow (GR) def. Jo. Moyte/Je. Moyte: 6-1, 6-2
3D: Ross/Arellano (GR) def. Perez/Beckett: 6-2, 6-1
Girls: Cheyenne South 3 Rock Springs 2
1S: Patrica Hartley (South) def. Karlie Northrup: 2-6, 6-4, 6-1
2S: Rock Springs wins via default
1D: Lock/Jones (South) def. Rodriquez/Jones: 7-5, 6-7, 6-3
2D: Taylor/Moore (South) def. Palinek/Cox: 6-2, 6-4
3D: Hamblina/Hollingshead (RS) def. Willoughby/Ramirez: 6-3, 6-7, 6-1
Boys: Cheyenne South 4 Rock Springs 1
1S: Andrew Lock (South) def. Jaxon Smith: 6-0, 6-0
2S: Nikolas Lock (South) def. Tegan Conover: 6-0, 6-1
1D: Davidson/Torres (South) def. Davies/Atkinson: 6-3, 7-5
2D: Jo. Moyte/Je. Moyte (South) def. Fox/Anderson: 7-5, 6-4
3D: Smith/Meat (RS) def. Perez/Beckett: 6-3, 6-4
Thunder Basin @ Campbell County - missing results
Saturday, Sept. 11
Girls: Cheyenne East 5 Rock Springs 0
1S: Paige Frazier (CE) def. Karlie Nandrup: 6-3, 6-3
2S: Nedra MclIwaine (CE) def. Isabella Rodriquez: 6-2, 6-1
1D: O'Brien/Kastens (CE) def. Jones/Palinek: 6-3, 6-1
2D: Baktamarian/Murphy (CE) def. Hollingshead/Hamblin: 6-0, 6-1
3D: Woods/Farris (CE) def. Cox/Woodward: 6-0, 6-1
Boys: Cheyenne East 4 Rock Springs
1S: Nick Colgan (CE) def. Jaxson Smith: 6-0, 6-1
2S: Logan Davis (CE) def. Tegan Conover: 6-7, 6-0, 6-3
1D: Johnson/Brown (CE) def. Atkinson/Davies: 6-4, 6-3
2D: Anderson/Fox (RS) def. Schutz/Franklin: 6-2, 6-3
3D: Romine/Guevara (CE) def. Yeshlur/Smith: 6-4, 6-2
Girls: Cheyenne East 3 Green River 2
1S: Gabrielle Heiser (GR) def. Paige Frazier: 5-7, 6-2, 6-4
2S: Megan Counts (GR) def. Nedra MclIwaine: 4-6, 7-5, 6-2
1D: O'Brien/Kastens (CE) def. Harrison/Strange: 6-3, 7-5
2D: Baktamarian/Murphy (CE) def. Brown/Strauss: 2-6, 6-3, 6-1
3D: Woods/Farris (CE) def. Schuh/Skinner: 6-1, 6-1
Boys: Green River 5 Cheyenne East 0
1S: Braxton Cordova (GR) def. Nick Colgan: 6-0, 6-1
2S: Korbin Arnell (GR) def. Logan Davis: 6-1, 6-4
1D: Friel/Tirrell (GR) def. Johnson/Brown: 6-1, 6-0
2D: Wendle/Findlow (GR) def. Schutz/Franklin: 6-1, 6-2
3D: Arellano/Ross (GR) def. Guevara/Romine: 6-0, 6-0
Girls: Cheyenne Central 3 Green River 2
1S: Ashli Smedley (Cent) def. Gabrielle Heiser: 3-6, 6-1, 6-2
2S: Megan Counts (GR) def. Gracie Osterland: 6-2, 6-2
1D: Harrison/K. Strange (GR) def. Ackerman/J. Brown: 6-2, 6-3
2D: Tempel/Tyler (Cent) def. Brown/B. Strange: 6-2, 7-6 (3)
3D: Thomson/K. Brown (Cent) def. Travis/Skinner: 6-2, 6-4
Boys: Cheyenne Central 3 Green River 2
1S: Braxton Cordova (GR) def. Isaiah Rigg: 6-3, 6-1
2S: Jackson Cook (Cent) def. Korbin Arnell: 7-5, 6-2
1D: Friel/Tirrell (GR) def. Van Kirk/Thornell: 4-6, 6-1, 6-4
2D: Hilton/Smedley (Cent) def. Wendel/Findlow: 6-3, 6-3
3D: Villalobos-Alvarado/Ellison (Cent) def. Arellano/Ross: 6-4, 6-4
Girls: Cheyenne Central 5 Rock Springs 0
1S: Ashli Smedley (Cent) def. Karlie Nandrup: 6-0, 6-0
2S: Gracie Osterland (Cent) def. Abby Jones: 6-0, 6-1
1D: Ackerman/J. Brown (Cent) def. Rodriguez/Palinek: 6-1, 6-1
2D: Tempel/Tyler (Cent) def. Hamblin/Hollingshead: 6-1, 6-0
3D: Thomson/K. Brown (Cent) def. Cox/Woodward: 6-2, 6-2
Boys: Cheyenne Central 5 Rock Springs 0
1S: Isaiah Rigg (Cent) def. Jaxon Smith: 6-1, 6-1
2S: Jackson Cook (Cent) def. Tegan Conover: 6-3, 6-1
1D: Van Kirk/Thornell (Cent) def. Atkinson/Davies: 6-2, 7-5
2D: Hilton/Smedley (Cent) def. Fox/Anderson: 6-4, 6-2
3D: Villalobos-Alvarado/Ellison (Cent) def. Yeshlur/Meats: 6-0, 6-0
Girls: Cody 3 Natrona 2
1S: Theresa Trvajova (NC) def. Raegen Staggs: 6-2, 6-0
2S: Anna Brenner (Cody) def. Avery Olsen: 6-0, 6-1
1D: Schoessler/Selk (Cody) def. Campbell/Hurlbut: 3-6, 6-3, 6-2
2D: Limmen/Tavlealea (NC) def. Graham/Fink: 4-6, 6-2, 6-1
3D: Wassink/Christler (Cody) def. Colling/Klosterman: 6-1, 6-2
Boys: Cody 5 Natrona 0
1S: CJ Dominick (Cody) def. Micah Bush: 6-3, 6-1
2S: Tade Geving (Cody) def. Titus Timbers: 6-0, 6-0
1D: Champlin/Schwab (Cody) def. Stevens/True: 6-1, 6-1
2D: Idema/Law (Cody) def. Neumiller/Sentisteven: 6-1, 6-0
3D: Thompson/Kilpack (Cody) def. Wilson/Taylor: 6-0, 6-1
Girls: Kelly Walsh 5 Cody 0
1S: Finley Klinger (KW) def. Reagen Staggs: 6-1, 6-0
2S: Gabby Blumberg (KW) def. Anna Brenner: 6-2, 6-2
1D: Strand/Nokes (KW) def. Schoessler/Selk: 6-2, 6-1
2D: H. Klinger/Catchpole (KW) def. Graham/Fink: 6-1, 6-1
3D: Collins/Wilson (KW) def. Wassink/Christler: 6-2, 6-2
Boys: Kelly Walsh 5 Cody 0
1S: Austin Putnam (KW) def. CJ Dominick: 6-1, 6-1
2S: Jackson Catchpole (KW) def. Tade Geving: 7-6 (7-5), 6-3
1D: Philips/Rasmussen (KW) def. Champlin/Schwab: 6-4, 6-3
2D: Yakel/O. Putnam (KW) def. Idema/Law: 6-7 (5-7), 6-3, 6-0
3D: Ward/Mamot (KW) def. Thompson/Kilpack: 3-6, 6-3, 6-3
Girls: Sheridan 4 Campbell County 1
1S: Sydni Bilyeu (Sher) def. Alexa Richert: 4-6, 7-5, 7-6 (7)
2S: Abi Neary (CC) def. Alli Ligocki: 6-4, 6-3
1D: Quarterman/Herzog (Sher) def. Bouzis/Whitt: 6-1, 6-3
2D: Mitzel/Lawson (Sher) def. Jacobs/Gray: 6-4, 6-1
3D: Jensen/Venn (Sher) def. Alexander/Torres: 6-2, 7-6 (5)
Boys: Sheridan 3 Campbell County 2
1S: Reed Rabon (Sher) def. Jason Fink: 7-5, 6-1
2S: Luke Lawson (Sher) def. Kody Kline: 6-2, 6-1
1D: Sarvey/Allison (CC) def. Woodrow/Hamrick: 6-4, 6-2
2D: Bujans/Jost (Sher) def. Barton/Robertson: 6-3, 7-5
3D: Lemm/Hallcroft (CC) def. Brown/Hutton: 6-4, 6-2
Girls: Sheridan 5 Thunder Basin 0
1S: Sydni Bilyeu (Sher) def. Sarah Rasse: 6-1, 6-1
2S: Alli Ligocki (Sher) def. Ali Morgan: 6-1, 6-3
1D: Quarterman/Herzog (Sher) def. M. Bruse/Angelos: 6-1, 6-7 (5), 6-0
2D: Mitzel/Lawson (Sher) def. Kendrick/Ketchum: 0-6, 6-1, 6-4
3D: Jensen/Venn (Sher) def. K. Bruse/Tachick: 6-4, 7-5
Boys: Sheridan 5 Thunder Basin 0
1S: Reed Rabon (Sher) def. Luke Lass: 6-0, 6-3
2S: Luke Lawson (Sher) def. Josh Klaassen: 6-2, 6-2
1D: Woodrow/Hamrick (Sher) def. Chambers/Moore: 6-0, 6-0
2D: Bujans/Jost (Sher) def. Gorsuch/Hieb: 6-3, 6-0
3D: Brown/Hutton (Sher) def. Marty/Youngs: 6-2, 6-1
Girls: Natrona 3 Powell 2
1S: Theresa Trvajova (NC) def. Chase Anderson: 6-0, 6-0
2S: Kaili Wisniewski (Pow) def. Avery Olson: 6-0, 6-0
1D: Campbell/Hurlbut (NC) def. Hull/Hincks: 6-1, 6-2
2D: Harp/Terry (Pow) def. Limmer/Tavlealea: 6-4, 7-6
3D: Colling/Klosterman (NC) def. Lee/Sessions: 3-6, 6-1, 7-5
Boys: Powell 5 Natrona 0
1S: Ethan Bartholomew (Pow) def. Micah Bush: 6-2, 6-4
2S: Aiden Chandler (Pow) def. Titus Timbers: 6-2, 6-4
1D: Brown/Flores (Pow) def. Stevens/True: 6-2, 6-2
2D: Queen/Cordes (Pow) def. Neumiller/Soto Franco: 6-1, 6-1
3D: Barrus/Hicswa (Pow) def. Wilson/Taylor: 6-2, 6-2
Girls: Kelly Walsh 5 Powell 0
1S: Finley Klinger (KW) def. Chase Anderson: 6-0, 6-0
2S: Gabby Blumberg (KW) def. Kaili Wisniewski: 6-1, 6-0
1D: Strand/Nokes (KW) def. Hull/Hincks: 6-2, 6-2
2D: H. Klinger/Catchpole (KW) def. Harp/Terry: 6-3, 6-0
3D: Collins/Wilson (KW) def. Lee/Sessions: 6-3, 6-4
Boys: Kelly Walsh 5 Powell 0
1S: Austin Putnam (KW) def. Ethan Bartholomew: 6-0, 6-3
2S: Jackson Catchpole (KW) def. Aiden Chandler: 6-0, 6-0
1D: Phillips/Rasmussen (KW) def. Brown/Flores: 6-1, 6-3
2D: Yakel/O. Putnam (KW) def. Queen/Cordes: 6-3, 6-2
3D: Ward/Mamot (KW) def. Barrus/Hicswa: 6-1, 6-4
Monday, Sept. 13
Boys: Cheyenne South 5 Gering, NE 0
1S: Andrew Lock (South) def. Noah Moreno: 6-0 6-0
2S: Josiah Moyte (South) def. David Karpf: 6-2 6-1
1D: Davidson/N. Lock (South) def. Montenez/Hayer: 6-0 6-0
2D: Torres/Je. Moyte (South) def. Macias/Murrillo: 6-7 6-3 6-4
3D: Perez/Beckett (South) def. Jensen/Sauter: 6-2 7-5
Tuesday, Sept. 14
Girls: Kellly Walsh 5 Natrona 0
1S: Finley Klinger (KW) def. Theresa Trvajova: 6-3, 5-7, 6-4
2S: Gaddy Blumberg (KW) def. Elena Galles: 6-1, 6-1
1D: Strand/Nokes (KW) def. Campbell/Hurlbut:6-3, 6-4
2D: H. Klinger/Catchpole (KW) def. Tavlealea/Limmer: 6-4, 6-1
3D: Collins/Wilson (KW) def. Colling/Warolin: 6-2, 6-1
Boys: Kelly Walsh 5 Natrona 0
1S: Austin Putnam (KW) def. Micah Bush: 6-0, 6-0
2S: Jackson Catchpole (KW) def. Titus Timbers: 6-0, 6-0
1D: Phillips/Rasmussen (KW) def. Stevens/True: 6-0, 6-0
2D: Yakel/O. Putnam (KW) def. Neumiller/Soto Franco: 6-1, 6-2
3D: Ward/Mamot (KW) def. Wilson/Taylor: 6-0, 6-1
10 Crazy Bear Encounters of Summer 2020