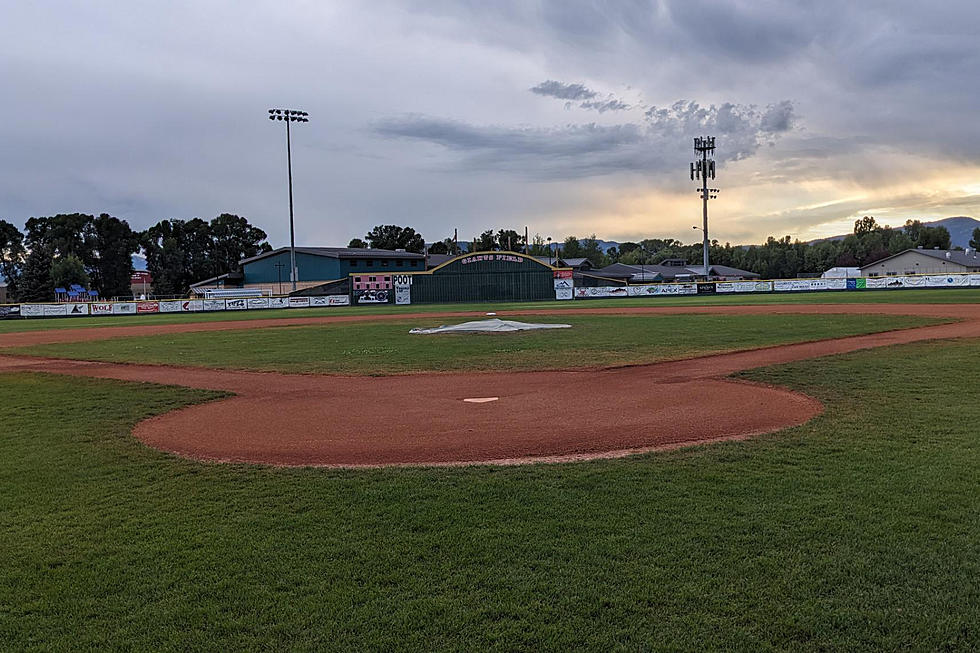 2023 Wyoming Legion Baseball AA State Tournament Scoreboard
David Settle, WyoPreps.com
Wyoming's American Legion Baseball AA State Tournament is in Jackson at Giants Field from July 24-28, 2023.
It's an eight-team, modified, double-elimination bracket. The Cheyenne Sixers are the three-time defending Double-A State Champions.
Mylocalradio.com is video streaming all of the games from Jackson. Click below for the link to their main page. Other radio stations will be live-streaming video or audio during the tournament, as well. Look for links next to the games.
Here's a look at the game schedule for the AA State Tournament. Game results will be posted after each game of the tournament has concluded.
Monday, July 24:
Final Score = Game 1: (4) Casper Oilers 7 (5) Laramie Rangers 3 - Oilers broke open a scoreless game with 6 runs in the 4th. Berens allowed 0 runs on 2 hits over 4.2 IP. Wilcox had 3 hits. Nicholls had a double & 2 RBIs. Pexton added 2 hits. Webb had 2 hits for Laramie.
Final Score = Game 4: (1) Sheridan Troopers 10 (8) Rock Springs Stallions 0 - the Troopers scored 3 runs in the 1st and never looked back. Stowe had 3 hits & 1 RBI. Ormseth had 1 hit, 2 sacrifice flies & 4 RBIs. Greenough-Groom & Maestri combined on a 2-hit shutout.
Final Score Game 2: (2) Cheyenne Sixers 10 (7) Cheyenne Hawks 0 - Sixers pulled away with 5 runs in the 6th for the victory. Swaen had 2 hits & 3 RBIs, which included a solo HR. Tafoya added 2 hits. Seelye & George combined on a 1-hit shutout for the Sixers.
Final Score = Game 3: (6) Jackson Giants 3 (3) Gillette Riders 2 - Giants got an RBI single in the top of the 7th from A. Gralund and held off Gillette. Jackson led 2-0 before Gillette's Drube tied it on 2-run HR in the 5th. Fisher added an RBI single for the Giants.
Tuesday, July 25:
Final Score = Game 5: Laramie Rangers 6 Rock Springs Stallions 3 - the Stallions had an early 1-0 lead, but Laramie rallied. The Rangers tied it in the 4th, took the lead in the 5th, and got Malone's grand slam in the 6th to open up a 6-1 lead. Moore got the win in relief & added 2 hits. Branch contributed 2 hits & 2 runs score. (Rock Springs eliminated)
Final Score = Game 6: Gillette Riders 5 Cheyenne Hawks 1 - Cheyenne took an early 1-0, but the Riders fought back. They tied it in the 2nd, took the lead in the 3rd with 2 runs, and slowly pulled away. Richards had 2 hits & 3 RBIs for Gillette. (Cheyenne Hawks eliminated)
Final Score = Game 7: Casper Oilers 3 Sheridan Troopers 2 (8 inns.) - an RBI bunt single by Pexton in the top of the 8th was the difference for Casper. Stokes went all 8 inns. on the mound. He allowed 2 runs on 8 hits with 4 Ks and 1 walk. Pexton & Locklin had 2 hits each. Greenough-Groom had 2 hits & 1 RBI for Sheridan.
Final Score = Game 8: Cheyenne Sixers 8 Jackson Giants 2 - the Giants had an early 2-0 lead, but Cheyenne scored 5 in the 3rd to take the lead, highlighted by a 3-run HR from Swaen. Feezer threw 3.1 scoreless inns. of relief with 5 Ks. Garner had 2 hits & 1 RBI for Jackson.
Wednesday, July 26:
Final Score = Game 9: Gillette Riders 4 Sheridan Troopers 2 - Riders scored 2 in the 2nd on an error & hit batter. They added two sac flies for a 4-0 lead. Troopers scored 2 in the 6th but fell short. (Sheridan eliminated)
Final Score = Game 10: Laramie Rangers 8 Jackson Giants 7 - Branch hit a 3-run HR in the 5th to make it an 8-2 lead for the Rangers. The Giants score 5 runs in the bottom of the 5th but are unable to score in the 6th or 7th as Laramie fends off Jackson to advance. (Jackson eliminated)
Final Score = Game 11: Cheyenne Sixers 6 Casper Oilers 1 - McAnelly overcame an early 1-0 deficit with 15 Ks and hit the go-ahead 3-run HR as part of a 4-run 3rd. He also had an RBI sacrifice fly. Stokes had 2 hits in the loss for Casper.
Thursday, July 27:
(Pairings for these two games will not match previous opponents against each other.)
Final Score = Game 12: Casper Oilers 7 Gillette Riders 3 - the Oilers took an early 1-0 lead on an error, then added 3 runs in both the 3rd and 5th innings. Gifford had 2 hits & 2 RBIs. Wilcox had 1 hit & drove in 3 runs. Miner pitched 6.1 inns and allowed 3 runs on 2 hits with 4 Ks and 5 walks. (Gillette eliminated)
Final Score = Game 13: Cheyenne Sixers 8 Laramie Rangers 3 - the Sixers took an early 4-0 lead. Laramie rallied within 4-3, but 3 runs in the 2nd gave Cheyenne a 7-3 lead. They added 1 late for the final margin. Seelye CG, 9H, 3R (2 earned), 1 BB, 4 Ks. Williams & Swaen w/2 RBIs each. (Laramie eliminated)
(Note: If 3 teams remain with one loss after Game 13, the winner of Game 11 will automatically be drawn into Game 14)
Friday, July 28:
Final Score =

 Game 14: State Championship Game:

Cheyenne Sixers

10 Casper Oilers 2 -

the Sixers got a solo HR from Mason Tafoya to lead off the game and never trailed. They scored 7 runs in the 1st inning. Colter McAnelly added 2 hits, including a solo HR and a sacrifice fly. He drove in 3 runs. Tafoya had 2 hits & 2 RBIs. Horton added 3 hits & 2 RBIs. Feezer got the win on the mound. He threw 6 inns. and allowed 2 runs on 5 hits with 8 Ks. Hauck led Casper with 2 hits, while Wilcox hit a solo HR and Locklin had an RBI single. The Sixers advance to the Northwest Regional in Gillette.
AA State Tournament MVP = Hayden Swaen, Cheyenne Sixers
AA State Tournament Sportsmanship Trophy = Rock Springs Stallions.
This year's winner advances to the Pacific Northwest Regional Tournament, which will be in Gillette, Aug. 2-6, 2023. The Riders automatically earn a spot in the tournament as the host team. If they win state, then the second-place team will go to the regional tournament. If not, the winner joins Gillette in the bracket.
Wyoming Legion Baseball Pics of the Week June 29-July 2, 2023
American Legion Baseball action in Wyoming during the 2023 season.