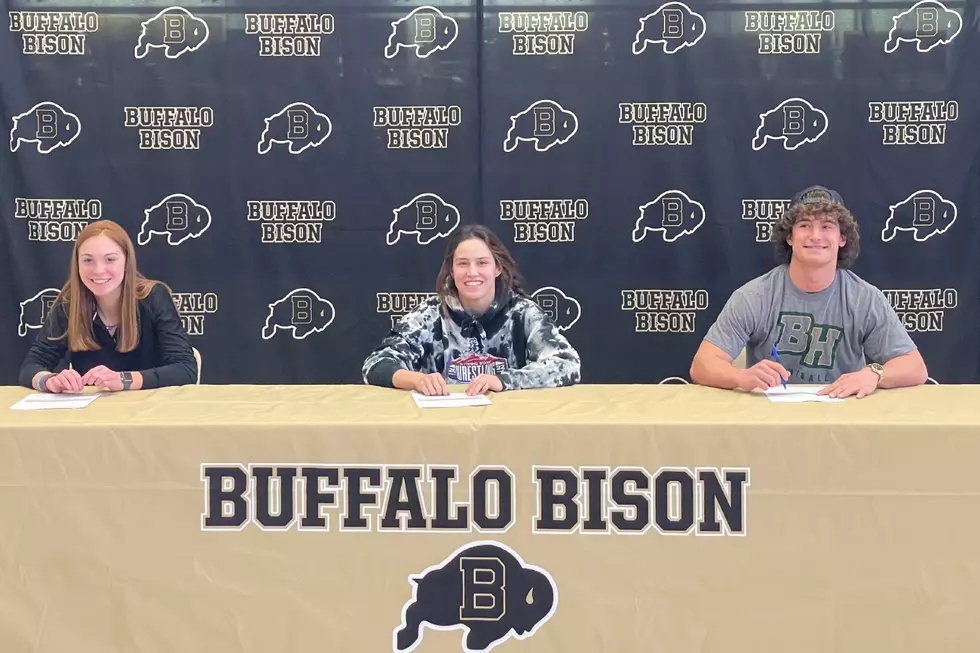 Buffalo's Verplancke, Peters, and Bell Sign for College
Courtesy: Ryan Mader, Buffalo HS
Three Buffalo High School seniors will be taking their talents to the next level after signing with colleges on Wednesday.
Sierra Verplancke will be playing soccer at Casper College, Teila Peters is going to wrestle at the University of Sioux Falls, and Blake Bell will play football at Black Hills State University.
Verplancke was an all-conference keeper last year for the Bison. She helped Buffalo to an 11-7 record and an appearance in the 3A state soccer championships. The Bison finished second in the 3A East Conference with an 8-2 record in 2022.
She'll play her senior season of soccer this spring.
Peters is the top-ranked girls' wrestler at 130 pounds in the latest rankings from WyoWrestling.com. She has lost only one match during her senior season, the first official season of sanctioned high school girls' wrestling in Wyoming. Peters will be competing in the inaugural high school state championships on Feb. 23 and 24, 2023, in Casper.
Peters has also played volleyball and competed in track and field at BHS.
The University of Sioux Falls Cougars compete at the Division II level and are a member of the National Sun Intercollegiate Conference (NISC). The school is adding women's wrestling next school year, so Peters is part of the inaugural signing class at USF.
Bell was a two-time all-state and all-conference wide receiver for the Bison on the gridiron.
He helped Buffalo to a 6-4 record last fall and a semifinal appearance in the Class 3A football playoffs.
Bell had 26 receptions for 377 yards and 3 TDs in the 2022 season. He added 296 yards rushing and 4 TDs on the ground. Bell was the top kick returner in 3A with 11 returns for 358 yards and one touchdown. That was a 98-yard kick-off return for a score against Newcastle. On defense, Bell added 68.5 tackles, 6.5 tackles for loss, an interception, five pass breakups, and one blocked kick. He also scored a defensive touchdown.
As a junior, he helped Buffalo to a 5-4 record and an appearance in the 3A playoffs.
Bell had 37 catches for 829 yards and 11 TDs. He added eight kick-off returns for 218 yards and one TD. On defense in 2021, Bell had 64 tackles, seven tackles for loss, three interceptions, and one blocked kick. He scored two TDs on defense, as well.
The Black Hills State University Yellow Jackets compete at the Division II level and are a member of the Rocky Mountain Athletic Conference (RMAC).
Wyoming High School Sports Pics of the Week/ Feb. 2-4
Wyoming High School Sports Pics of the Week/ Feb. 2-4