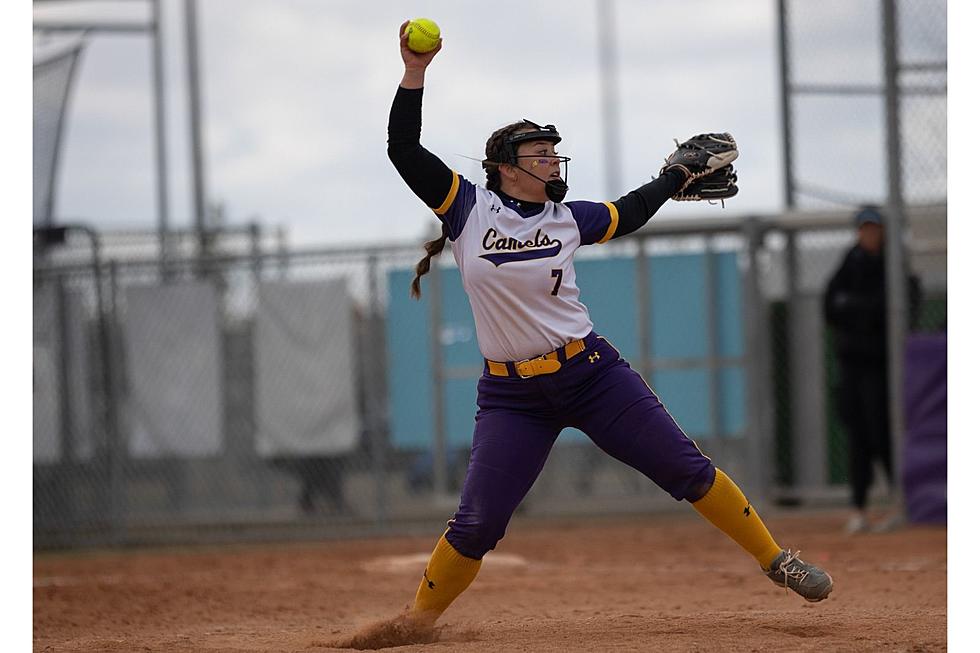 Gillette's Avery Gray Chosen the Gatorade Wyoming Softball Player of the Year for 2023
Photo Courtesy: Kellie Jo Allison
Campbell County junior Avery Gray has been selected as the Gatorade Wyoming Softball Player of the Year for 2023.
Gray is the first recipient of this honor from Campbell County High School in Gillette. The Gatorade Company released the award information on Friday.
The 5-foot-4 junior right-handed pitcher and infielder led the Camels to a 20-9 record and a third-place finish at the state tournament in the 2023 season. Gray led the state with a .707 batting average, 72 RBIs, and 70 hits. She also went 10-4 in the pitcher's circle with a 2.99 ERA and 164 strikeouts. That was an average of 1.9 strikeouts per inning. Gray has a state-record 526 strikeouts in her prep career through three years with her senior season to come next spring.
She has already earned three all-state awards in her high school career.
In the classroom, Gray has a 4.0 GPA. A National Honor Society Member, she has volunteered locally with the Blessings in a Backpack program, which provides food to needy children in the community. Gray also has donated her time giving pitching lessons to local youth softball players. She has made a verbal commitment to play softball on scholarship at Montana State University-Billings beginning in the fall of 2024.
Wheatland High School softball coach Jodie Fitzwater pointed out how valuable Gray is to the Camels.
"Avery Gray is an all-around top-notch player on the mound and at the plate. Campbell (County) relies heavily on Avery, as she is their ace pitcher and carries a lot of the team's success on her shoulders."
Gray becomes a finalist for the Gatorade National Softball Player of the Year Award, which will be announced later this month.
She joins Brogan Allen (2021-22) of Cheyenne Central as the only two Gatorade Wyoming Softball Player of the Year award winners in state history. No award was given in the first year of high school softball in Wyoming in 2021.
The Gatorade Player of the Year program annually recognizes one winner in the District of Columbia and each of the 50 states that sanction high school football, girls' volleyball, boys and girls cross country, boys and girls basketball, boys and girls soccer, baseball, softball, and boys and girls track & field, and awards one National Player of the Year in each sport. The selection process is administered by the Gatorade Player of the Year Selection Committee, which works with top sport-specific experts and a media advisory board of accomplished, veteran prep sports journalists to determine the state winners in each sport.
Being a Gatorade Player of the Year means paying it forward for the next generation. Through Gatorade's 'Play it Forward' initiative, every Player of the Year receives a grant to give to one of Gatorade's social impact partners, supporting Gatorade's ambition to fuel the future of sport. To date, Gatorade Player of the Year winners' grants has totaled more than $3.5 million across more than 1,300 organizations.
*Information from a press release from The Gatorade Company was used in this story.
2023 Wyoming HS Softball State Championship Day
Photos from the final day of the 2023 Wyoming HS Softball State Championships