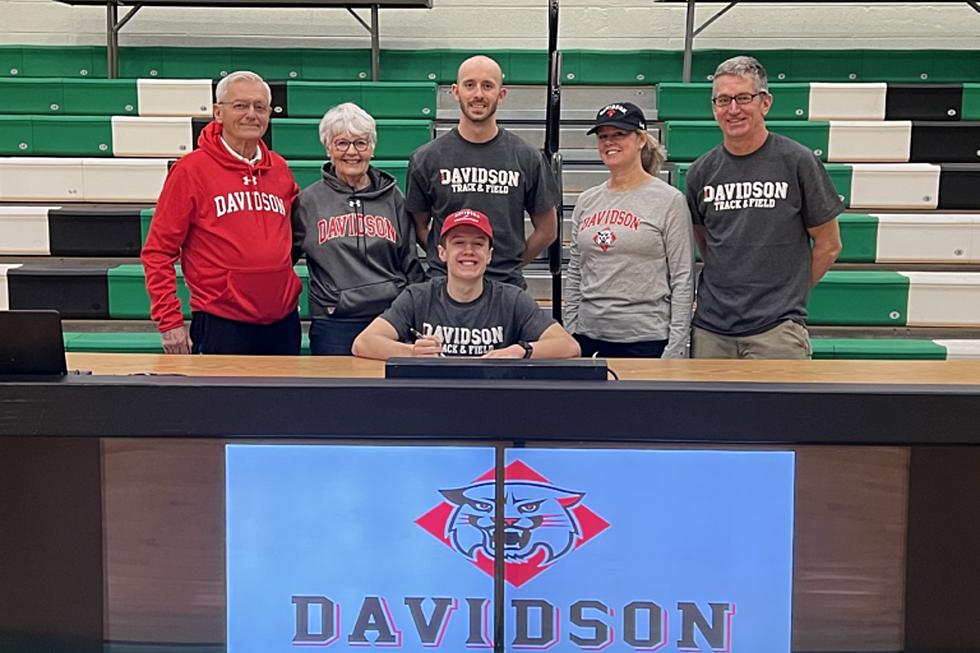 Lander's Gage Gose Signs with Davidson College for Track
Photo Courtesy: Lander H.S./ County 10
Lander superstar track athlete Gage Gose is enjoying a great indoor track season with 3 wins in last week's meet in Casper. Gose took first in the 55-meter dash. the 400-meter run and the 55-meter hurdles. That added to his impressive resume and will be taking those skills to the Division I level at Davidson College in North Carolina.
Gose is also the defending 3A state champion in both of the hurdle races on the outdoor circuit.  In 2022, he ran 14.81 to win the 110, the only runner in the finals to break 15 seconds. He ran 38.69 to take the take in podium in the 300 and he was the only runner in the field to break 40 seconds. Gose also ran on Lander's state championship 4x400 relay team and the 1600 medley as the Tigers won the 3A team state title.
As a sophomore at the 3A outdoor track state championships, he placed 3rd in the 110 and 300 hurdles and was on the 3rd place 4x400 relay. Gose has also competed in nordic skiing for Lander taking 6th in the freestyle at the state meet in 2022 and 18th in the classic. He has top 25 finishes in both the classic and skate races at the state meet in 2021
His father Ben is Lander's track coach and was a legendary athlete for Riverton as he won the state championship in 4 events at the 1987 state meet, the 100, the 200, the 400, and the 800-meter runs.
Davidson College competes in the Atlantic 10 Conference.
PhotoFest: State Track Friday
PhotoFest: State Track Friday