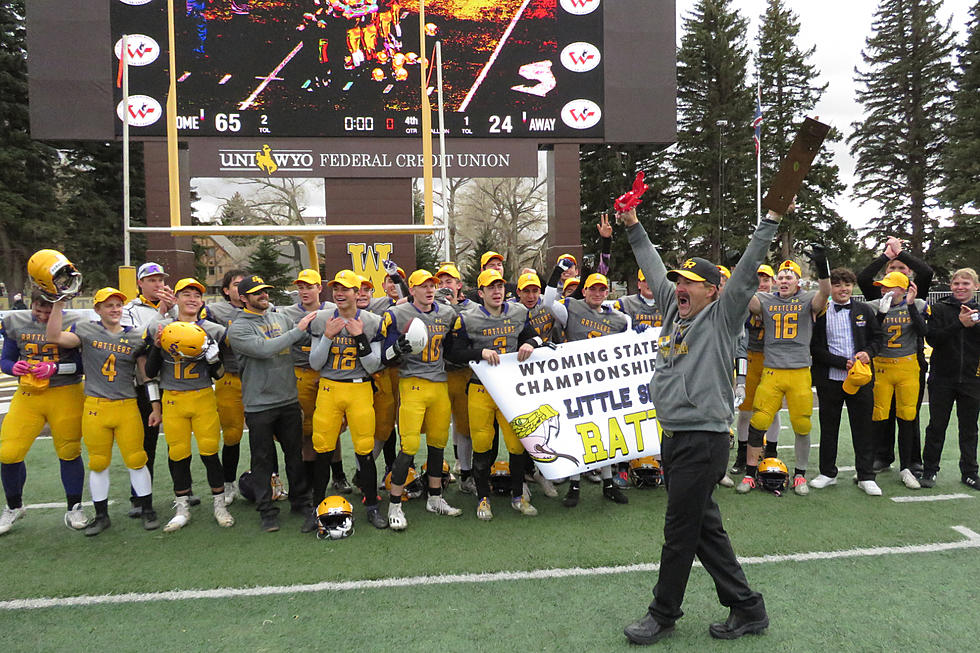 Little Snake River Cruises to Another 6-Man Football State Title
David Settle, WyoPreps.com
Little Snake River took advantage of seven Encampment turnovers, and the Rattlers beat the Tigers 65-24 for the Class 1A-6 Man state championship on Friday in Laramie.
It's the second state title in the last three seasons for Little Snake River and fourth in school history.
LSR head coach Jack Cobb said to win another title feels amazing!
"That feeling of when you come onto this field with 16, 17-year-old boys, and you can win this game, and to see that feeling come out in them, that's why you coach. That's why you're around kids. Just to see what you can get out of kids at that moment."
A 28-point second quarter put the Rattlers in control. They turned an 8-7 deficit into a 35-16 lead at halftime. Little Snake River pulled away in the second half.
Cobb added, "I just tell them that this is a part of your life that you'll never forget. The best times of your life, and I can't be more proud of a bunch of boys because we were up against the most physical team in 6-man, Wyoming football. Honestly, we just manned up and owned the trenches, and stayed true to what we were all year. Here we are, state champs!"
Hadley Myers had 159 yards rushing and three touchdowns. On defense, he had ten tackles, two interceptions, a forced fumble, one fumble recovery, and two pass breakups. Kannadis Peroulis added 115 yards and three TDs on the ground.
The Rattlers scored on their first possession when Zane Matheson hit Jeric Martinez on a 34-yard TD pass for a 7-0 lead.
Encampment answered right back with a 55-yard kick-off return for a TD by Caysen Barkhurst. A 2-point kick by the Tigers gave them their only lead of the game at 8-7 with 6:51 left in the first quarter. That was the score at the end of the quarter.
Little Snake River scored the next three TDs. Kannadis Peroulis had touchdown runs of 8 and 55-yards. Seth Maxson added a 31-yard interception return for a TD that made it 29-8, Rattlers.
Kaben Pickett found Koye Gilbert for a 45-yard TD pass for Encampment, but Peroulis answered with a 15-yard TD run and a 35-14 lead for LSR. The Tigers came right back with a 31-yard pass to Quade Jordan, but he fumbled at the Rattlers' 8-yard line on the final play of the half. Maxson recovered for Little Snake River in the field of play but went down in the end-zone. That resulted in a safety for Encampment. It was 35-16, Rattlers, at halftime.
The teams exchanged turnovers at the start of the second half. After a defensive stop by the Tigers, Encampment scored on a 53-yard TD pass from Pickett to Gilbert. That made it 35-24 with 6:33 left in the third quarter, and it's as close as the Tigers would get.
Myers had scoring runs of nine, 17, and 30 yards in the second half. Zander Risner added a 33-yard run that capped the scoring with 56 seconds left in the game.
Little Snake River ran for 358 yards and had 479 yards of total offense.
Encampment was held to 25 yards rushing. The Tigers threw for 219 yards and two TDs, but four interceptions.
Cobb said, "It's a special bunch. I can't explain it. Two years ago we were here with a different bunch, and to come back this year with a bunch of kids that last year struggled to find their identity. Like I've said before, we knew we found it at the end of the Kaycee game a year ago, and this is what I thought we were capable of doing. It just all came together, and I cannot be more proud of a bunch of boys than what I am."
The Rattlers have won state titles in Laramie in 2010, 2011, 2019, and now in 2021.
University of Wyoming's Top 50 Football Players
The rules are simple: What was the player's impact while in Laramie? That means NFL stats, draft status or any other accolade earned outside of UW is irrelevant when it comes to this list.
This isn't a one-man job. This task called for a panel of experts. Joining 7220's Cody Tucker are Robert Gagliardi, Jared Newland, Ryan Thorburn, and Kevin McKinney.
We all compiled our own list of 50 and let computer averages do the work. Think BCS -- only we hope this catalog is fairer.
Don't agree with a selection? Feel free to sound off on our Twitter:
@7220sports
- #Top50UWFB