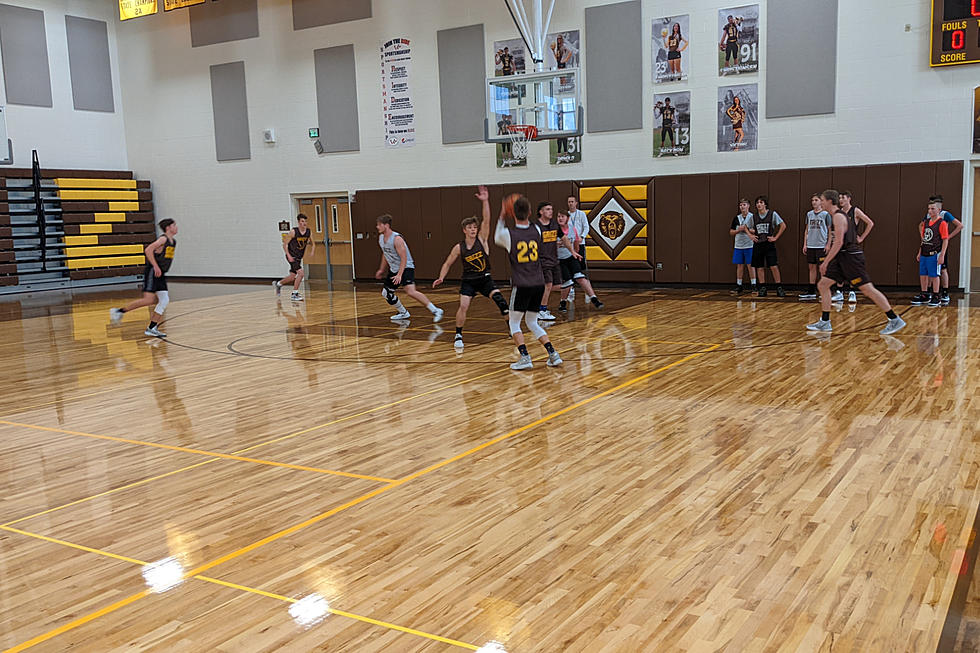 Rocky Mountain Basketball Looks For Continued Success on the Court [VIDEOS]
David Settle, WyoPreps.com
The Rocky Mountain High School basketball programs both finished at or near the top of Class 2A in 2021.
The Rocky girls' team was the Class 2A runner-up last season. A tough injury to Kiara Jolley in the first round at the state tournament didn't help their cause. The Lady Grizz lost to Wyoming Indian in the title game. In 2022, perhaps it's a little unfinished business.
Cowley was one of the stops on our recent basketball tour in the Big Horn Basin. Our David Settle had a chance to visit with four players, Kiara Jolley and Josey Steed for the girls, and Carsyn Weber and Tyson Christiansen for the boys, plus girls' head coach Eric Honeyman.
Rocky Mountain went 18-5 last year in girls' basketball. They tied for first place in the 2A Northwest Quadrant with a 5-1 record and took second at the 2A West Regional. After victories over Moorcroft and Lusk, the Lady Grizz fell in the 2A title game, 44-29.
Seniors Jolley and Steed, both returning all-state players, described the atmosphere around the girls' team this year, what they've been working on, Jolley's return from injury, using the runner-up finish as motivation, and more. Coach Honeyman knows this is a new season, which means a new team and adjusting to a slightly different approach. He describes the group as hungry.
The Rocky Mountain girls have started their new season with a 2-2 record. The weather changed their schedule the first weekend of the season. They opened with a tough, home loss to 1A Burlington. Last weekend, the Lady Grizz went 2-1 at the Wrangler Invitational in Shoshoni with wins over 1A Dubois and 1A No. 2 Upton, but a loss to 1A top-ranked Cokeville.
The Grizzlies are the defending Class 2A state champions. Trying to defend the crown won't be easy.
Rocky Mountain lost three all-state players from the title team last season. They finished with a record of 20-3. The Grizzlies went 6-0 and won the 2A Northwest Quadrant, won the 2A West Regional, and then beat Glenrock, Pine Bluffs, and Big Piney on their way to the state title.
WyoPreps chatted with junior Carsyn Weber and senior Tyson Christiansen about how this new squad is coming together, being the defending champions, what the focus is early, where they need to improve, and more.
Coach Pat Winland was unavailable during the time of our interviews in Cowley.
The Grizzlies have started their season with a record of 3-1. They opened with a tough victory over 1A Burlington in a change to the schedule due to the weather. Last weekend at the Wrangler Invite in Shoshoni, Rocky Mountain was 2-1. They beat 1A Dubois in overtime, lost to 1A top-ranked Upton, and beat 1A Cokeville.
High School Sports Pics of the Week Dec 9-11
High School Sports Pics of the Week Dec 9-11