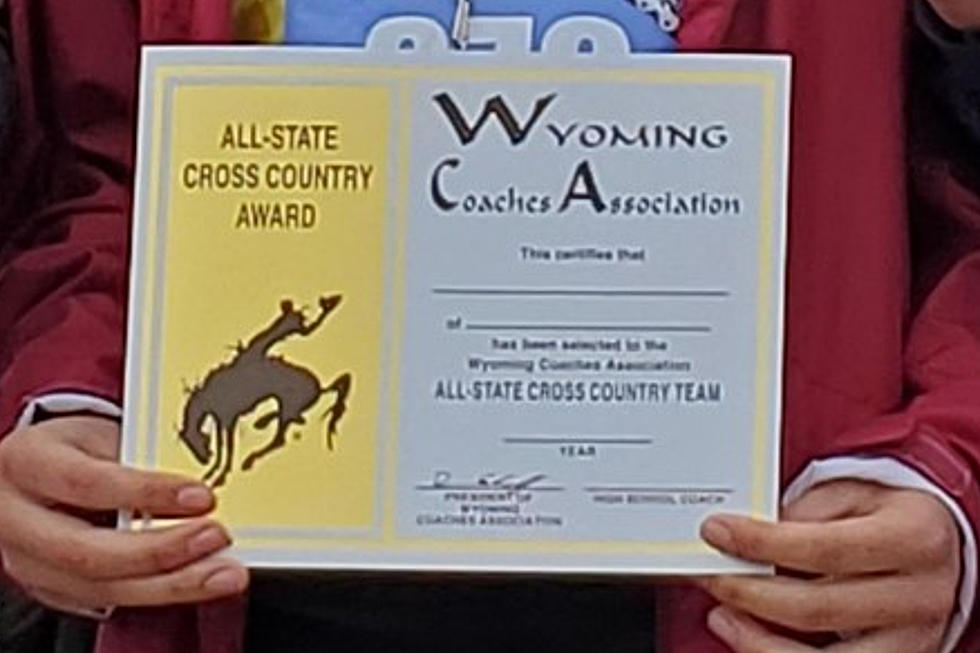 Sixty Runners Receive All-State Award in Cross Country from the Wyoming Coaches Association
Frank Gambino, WyoPreps.com
All-State honors from the Wyoming Coaches Association were earned last Saturday based upon a runner's finish at state championships.
According to WCA guidelines, the top 10 finishers, including ties, in each class receive the accolade. There is no voting for All-State.
Congratulations to one runner on earning All-State four times in her career. It's Finley Klinger from Kelly Walsh, who was the 4A runner-up for the fourth straight year.
There are 11 more runners that were all-state for the third time in their career.
Here is the list of student-athletes who collect All-State honors for high school cross country in Wyoming. They are listed alphabetically by the school and then by the last name.
Class 2A Girls:
Abby Palus – Hulett
Anessa Luna – Lovell
Mallory Jones – Moorcroft (All-State in 2020)
Jessie Michaels – Rocky Mountain
Milan Scott – Saratoga
Madison Teichman – Saratoga
Marilee Williams – Saratoga (All-State in 2020)
Rhiwan Williams – Saratoga
Maddy Hill – Tongue River
Larissa McElroy – Wyoming Indian (All-State in 2018 & 2019) – did not get to compete in 2020
Class 2A Boys:
John Halvorsen – Glenrock (All-State in 2020)
Ryan Hoyt – Rocky Mountain
Brian McNiven – Rocky Mountain
Howard McNiven – Rocky Mountain
Grant Winters – Rocky Mountain
Cody Condict – Saratoga
Grady Bartlett – Saratoga (All-State in 2019 & 2020)
Grant Bartlett – Saratoga (All-State in 2019 & 2020)
Wyatt Ostler – Tongue River (All-State in 2019 & 2020)
Al Spotted – Tongue River (All-State in 2020)
Class 3A Girls:
Lexi Rule – Buffalo (All-State in 2019 & 2020)
Ava Stafford – Cody (All-State in 2020)
Ameya Eddy – Lander
Karly Sabey – Lyman
Kate Giorgis – Mountain View (All-State in 2019 & 2020)
Emma Gonzales – Pine Bluffs (All-State in 2020)
Ryann Smith – Rawlins
Eve Mavy – Star Valley (All-State in 2019)
Lily Nichols – Wheatland (All-State in 2020)
Zena Tapia – Worland
Class 3A Boys:
David Juergens – Cody
Ben Stewart – Cody
Cameryn Spence – Douglas (All-State in 2019 & 2020)
Diego Lobatos – Lander
Owen Burnett – Mountain View (All-State in 2020)
Tanner Erickson – Mountain View (All-State in 2020)
Kaden Chatfiled – Riverton
Drake Plowman – Star Valley
Habtamu Wetzel – Star Valley
Jack Bishop – Worland
Class 4A Girls:
Reilly Wilson – Campbell County
Rian Cordell-Reiner – Cheyenne Central
Emma Hofmeister – Cheyenne Central
Sydney Morrell – Cheyenne Central (All-State in 2020)
Kaya Pillivant – Cheyenne Central (All-State in 2019 & 2020)
Kate Brigham – Jackson (All-State in 2020)
Finley Klinger – Kelly Walsh (4-time All-State)
Addison Forry – Laramie (All-State in 2020)
Delilah Baedke – Natrona County (All-State in 2020)
Hailie Wilhelm – Natrona County (All-State in 2019 & 2020)
Class 4A Boys:
Braik Hurm – Campbell County
Will Barrington – Cheyenne Central
Bridger Brokaw – Cheyenne Central
Jacob Frentheway – Cheyenne Central (All-State in 2019)
Jason Frentheway – Cheyenne Central
Mason Wheeler – Jackson (All-State in 2019 & 2020)
Jackson Dutcher – Natrona County
Tristan Enders – Natrona County
Charles Fossey – Rock Springs (All-State in 2020)
Austin Akers – Sheridan (All-State in 2019 & 2020)
15 Questions You Should Never Ask Someone From Wyoming
- 15 Questions You Should Never Ask Someone From Wyoming