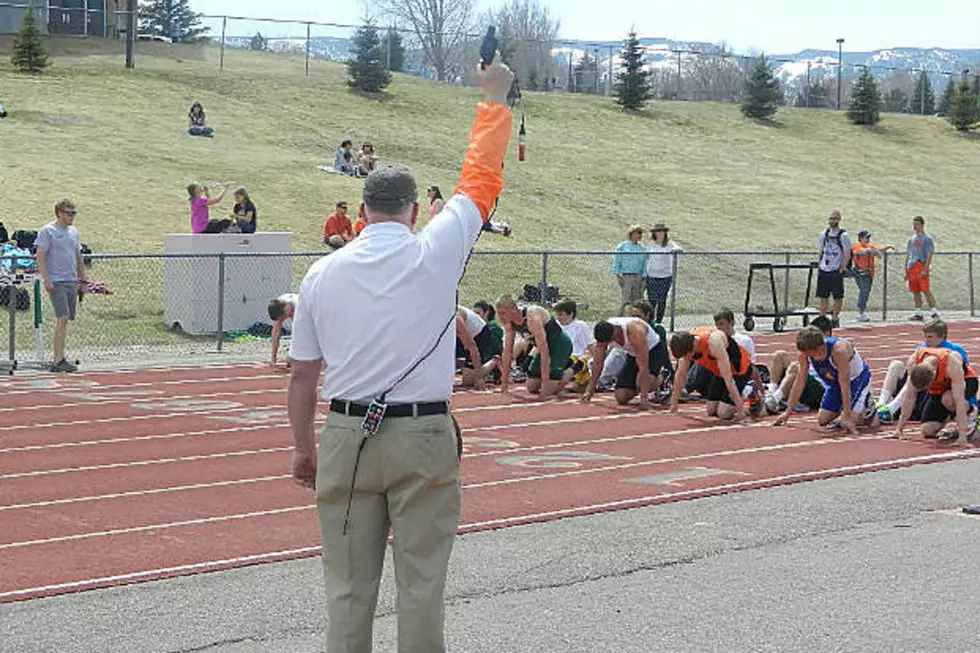 Wyoming High School Track & Field Scoreboard: April 5 – 9, 2022
Kevin Koile, WyoPreps.com
It will be a busy fourth week in the Wyoming High School outdoor track and field season.
Meets are scattered across the state. Upton holds a rescheduled event on Thursday. Cheyenne, Dayton, Glenrock, Meeteetse, and Saratoga play host on Friday. Then on Saturday, there are meets in Casper, Powell, Rock Springs, Shoshoni, and Wheatland.
A few teams are competing out of state in Idaho, Nebraska, South Dakota, and Utah.
Here is the schedule, which is subject to change.
TUESDAY, APRIL 5:
Bison-Bearcat Dual at Douglas HS – Buffalo vs. Douglas – postponed to 4-19-22 due to the weather
THURSDAY, APRIL 7:
Mick Tonkel Classic at Upton HS – Hulett, Moorcroft, Sundance, Upton
Out-of-State events:
Sugar-Salem Invite in Sugar City, ID – Star Valley
SV girls took 5th, while their boys were 7th.
Braves highlights: McKen won the 100 & 400 meters. Merritt won the 300 hurdles. For the boys, Hunting won the 1600 meters.
FRIDAY, APRIL 8:
Burt Willford Memorial Invitational at Saratoga HS – Encampment, H.E.M., Saratoga
Saratoga girls and Encampment boys won the team titles.
In girls' results: Bennett from Saratoga took 1st in the 100 hurdles, long jump, & triple jump. Scott from H.E.M. won the 100 & 400 meters. Jordan from Encampment won both throwing events.
In boys' results: Anderson from Encampment won the 100 & 200 meters, plus the high jump. His teammate, Jordan won both throwing events.
Meeteetse Invitational at Meeteetse HS – Burlington, Dubois, Meeteetse, Rocky Mountain, Thermopolis
Okie Blanchard Invite at Cheyenne East HS – Burns, Cheyenne Central, Cheyenne East, Cheyenne South, Laramie, Pine Bluffs, Rock River, Southeast, Torrington, Wheatland
Tongue River Invite at Tongue River HS in Dayton – Arvada-Clearmont, Big Horn, Greybull, Tongue River, Wright
Tony Lehner/Al Finch Invitational at Glenrock HS – Glenrock, Guernsey-Sunrise, Kaycee, Lander, Lusk, Midwest, Rawlins
Lander girls and Rawlins boys won the team crowns.
Girls' results: Taylor from Glenrock swept the sprints and also won the long jump. Nitschke of Rawlins won both hurdle events.
Boys' results: Archuleta from Rawlins won the 100 & 200 meters. Gose of Lander swept the two hurdle races. 
Out-of-State events:
Queen City Classic in Spearfish, SD – Buffalo, Campbell County, Hulett, Moorcroft, Newcastle, Sheridan, Sundance, Upton
Sheridan boys finished 1st, while their girls took 2nd.
Top results from WY athletes: A. Pendergast from Sheridan won the girls' 100 & 800 meters. Brown from Campbell County won the girls' 200 meters. Tietjen from Buffalo was 1st in the girls' 300 hurdles. The Camel girls won the 4x100 relay. Sheridan's girls won the 4x400 relay. Moser and Carroll from Sheridan went 1-2 in the girls' high jump. Maertens from Buffalo won the girls' pole vault. For the boys, McComb of Sheridan won the 100 meters. Charest of Sheridan led a 1-2-3 finish in the 800 meters. Akers from Sheridan won the 1600 meters. The Broncs won the 4x100 and 4x400 relays. Tanner from Sheridan won the shot put. Karajanis won the pole vault. 
SATURDAY, APRIL 9:
LA Kohnke Powell Invitational at Powell HS – Burlington, Cody, Lovell, Powell, Rocky Mountain, Thermopolis, Worland
Shoshoni HS Invite at Shoshoni HS – Dubois, Ft. Washakie, Greybull, H.E.M., Meeteetse, Riverside, Saratoga, Shoshoni, St. Stephens, Ten Sleep, Western Heritage Lutheran Academy, Wind River, Wyoming Indian
Ted Schroeder Meet of Hope Invitational at Rock Springs HS – Big Piney, Cokeville, Encampment, Evanston, Farson-Eden, Green River, Jackson, Kemmerer, Little Snake River, Mountain View, Pinedale, Rawlins, Riverton, Rock Springs
Trojan Invite at Kelly Walsh HS in Casper – Campbell County, Kelly Walsh, Natrona County, Riverton, Sheridan, Thunder Basin, Wright
Wheatland Track and Field Invite at Wheatland HS – Douglas, Glendo, Guernsey-Sunrise, Lingle-Ft. Laramie, Lusk, Rock River, Wheatland
Out-of-State events:
Mitchell Invitational in Mitchell, NE – Lingle-Ft. Laramie
Lingle finished 4th in the boys' division and 10th in the girls.'