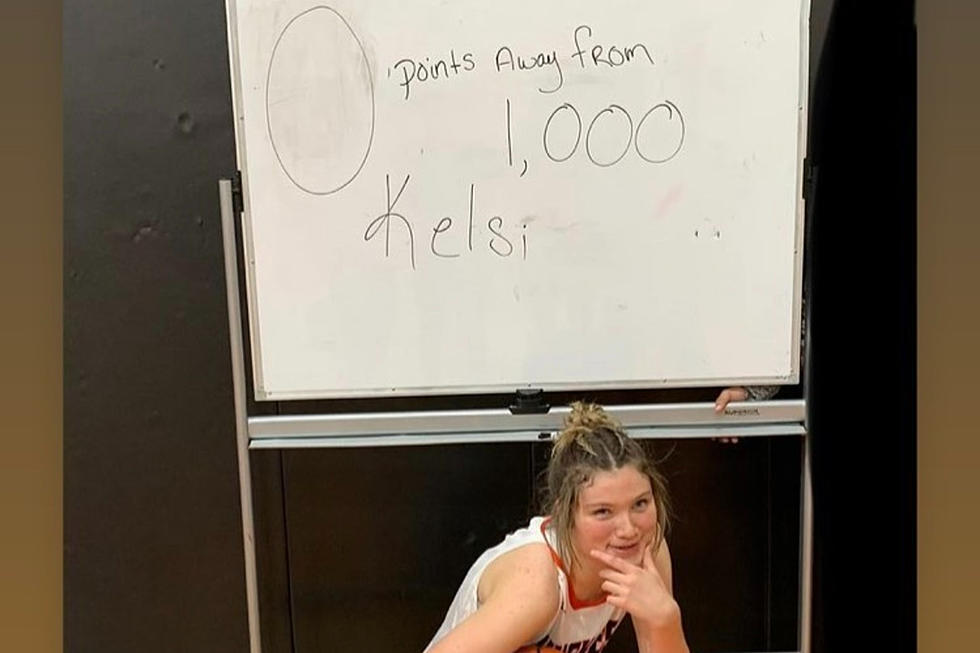 Burlington's Kelsi Nicholson Reaches 1000 Points [VIDEOS]
Courtesy: Cheryl Haslam, Burlington HS Girls Basketball Coach
Welcome to the club, Kelsi Nicholson! The Burlington High School junior surpassed 1,000 career points last week.
Nicholson accomplished the feat in the Huskies' victory at home over rival Meeteetse. She did it on a breakaway layup with her left hand.
Here are a couple of videos of the honor. The first is from a proud mom, Monica Nicholson. The second is a different angle on the court from Burlington High School student Alex Perez.
Nicholson has helped the Burlington Huskies to an overall record of 13-5 and 4-0 mark in conference quadrant games to this point of the season. Burlington is ranked No. 4 in the latest WyoPreps Coaches and Media Girls Basketball Poll. Nicholson is averaging 18.3 points per game and shooting 35 percent from the field. She is the second-leading scorer in Class 1A. Nicholson also adds 9.4 rebounds, 2.9 assists, and 5.7 steals per game.
Kelsi is a three-year starter for the Huskies. She was an all-state selection in 2021. Nicholson's a two-time all-conference player.
Last year, during her sophomore season, Nicholson averaged 17.9 points, 7.9 rebounds per game, and 5.5 steals per game. She helped the Huskies to a record of 13-10 and a berth in the 1A state basketball tournament. As a freshman in 2020, Kelsi averaged 16.4 points, 8.9 rebounds, and 4.1 steals per game.
Nicholson was also a two-time all-conference volleyball player at Burlington High School.
Congratulations on your accomplishment, Kelsi!
High School Sports Pics of the Week Feb. 10-12
High School Sports Pics of the Week Feb. 10-12